[DIGEST: LA Times, Washington Post, IFLS, The Atlantic, Time, Vice]
Science has always played a role in public policy. Scientists hold key advisory positions in many government departments, and they help shape our transportation infrastructure and energy systems; facilitate medical research, disease control, and health care; they also guide a wide range of sectors, including agriculture, food and water safety, natural resource management, weather forecasting, and disaster preparedness. Science touches every aspect of our lives, so it makes sense that scientists should have a place in politics.
---
That's what Jessica Phoenix thinks. The geologist — or, to be more precise, volcanologist — is considering a run for California's 25th district in the 2018 midterm election. Dismayed by Donald Trump's disdain for science and his administration's dramatic moves to halt scientific progress, cut off public access to scientific research, roll back environmental protections, and eliminate thousands of research jobs, Phoenix decided she could best help the public understand the importance of science from within the government.
"I've had a lot of great local, national and international experience – and as a scientist, I know how to communicate with the public effectively," she said. "So I decided that I wanted to help make the U.S. government a place where logic, sanity, and facts prevail. It may not happen, but at the very least, people like me will have tried."
Credit: Source.
Phoenix, whose background includes a history degree and parents who were both FBI agents, has long held an interest in public service. She runs an educational science nonprofit called Blueprint Earth and has seen opportunities for government and scientists work together in her district on droughts, wildfires, and a natural gas leak in recent years.
She feels that her current representative, Steve Knight, has mishandled environmental problems and disregarded the science needed to address them. In particular, Knight's poor handling of the Porter Ranch gas link, a massive natural gas leak in the Aliso Canyon that is believed to have a carbon footprint larger than that of the Deep Horizon leak in the Gulf of Mexico, may have been influenced by contributions he received from SoCalGas, the company responsible for the leaking pipeline.
"The whole thing is really hard to just sit there and watch," said Phoenix, who has appeared on the Discovery Channel and has a TED Talk. "That's why I'm like, okay, it's time to get to work. Because if not scientists, if not people who really understand what's at stake, then who is going to step up?"
Phoenix is not alone. Traditionally, scientists have avoided politics, in part because they want to maintain an impartial position and avoid any potential compromise to their research. Now, however, scientists in numerous areas realize their work is in jeopardy — and the public will pay the price. Science was mostly left out of discussions leading up to the 2016 election, despite the efforts of groups like Science Debate, who asked candidates to consider the role of science in critical issues facing the country and planet. Now, scientists are speaking up.
Rallies such as the April 2017 March for Science, during which 1.3 million people in 600 cities around the world gathered in the streets in support of science, are bringing attention to the importance science plays in every aspect of our lives. Rallies continue as part of major scientific conferences. And more scientists are deciding that it's time for them to become policy makers.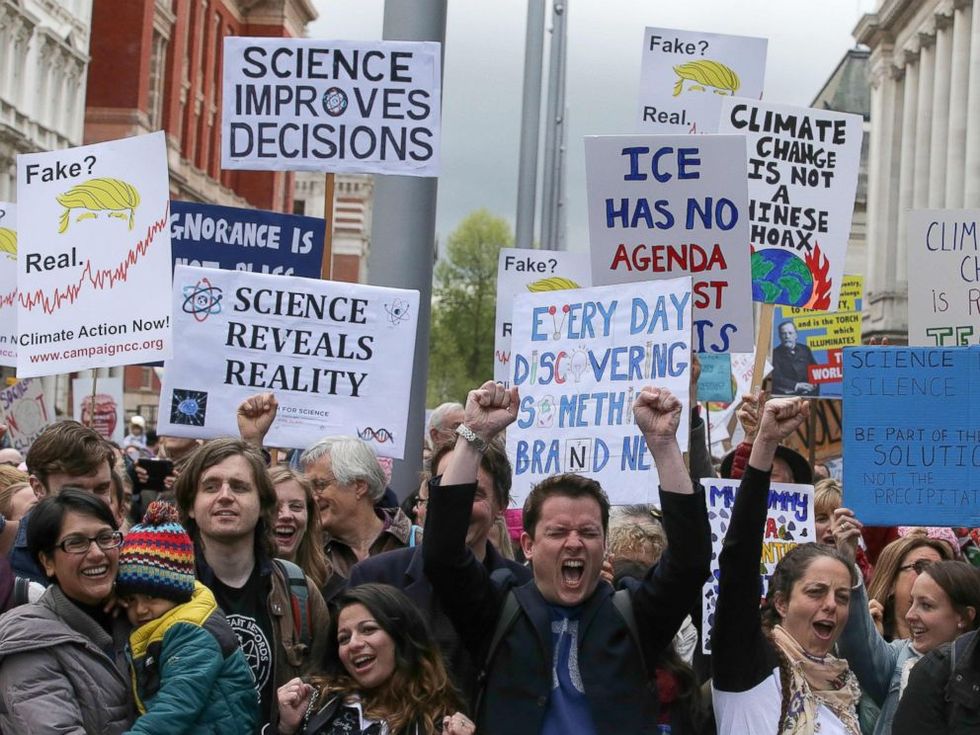 Credit: Source.
Scientists from a wide range of backgrounds, including medicine, computer science, and climate science, are considering runs for office. Tracy Van Houten, a NASA systems engineer, is runningto fill an empty seat in the 34th Congressional District of California. Michael Eisen, who teaches classes on genetics, genomics, and development at UC Berkeley, plans to run for a Senate seat currently held by Dianne Feinstein in 2018. Dr. Kathie Allen, a family physician from Utah, intends to run for the seat currently held by Jason Chaffetz.Just five people currently in Congress came from science occupations.
The political action committee 314 Action — named after the first three digits of pi — is encouraging scientists to run for office, and helping to connect them with the donors and expertise needed to make the career shift. Issues such as climate change and vaccinations have become political wedges, dividing facts from policy
"Politicians have shown us that they are unashamed to meddle in science," said 314 Action founder Shaughnessy Naughton. "I think the way to combat that is to get a seat at the table."