[DIGEST: Yahoo, Business Insider, NY Mag, MarketWatch, VentureBeat, CNN, IJR]
France is offering scientists, teachers, students and business people a four-year, fully-financed grant to work in France on solutions to climate change. The French government created the program, called Make Our Planet Great Again, in response to Trump's decision to pull the U.S. out of the Paris climate agreement.
---
The program is open to people from all countries, but the message is clearly directed at U.S. scientists, who are experiencing setbacks and uncertainty under the Trump administration's anti-science stance. French president Emmanuel Macron addressed American climate scientists in a Facebook video on June 1. Speaking English, Macron tells American "researchers, entrepreneurs, [and] engineers working on climate change" that they have a home in France, where they will receive robust funding to pursue their work.
"I do know how your new president now has decided to jeopardize your budget, your initiatives, and he is extremely skeptical about climate change," he said. "I have no doubt about climate change."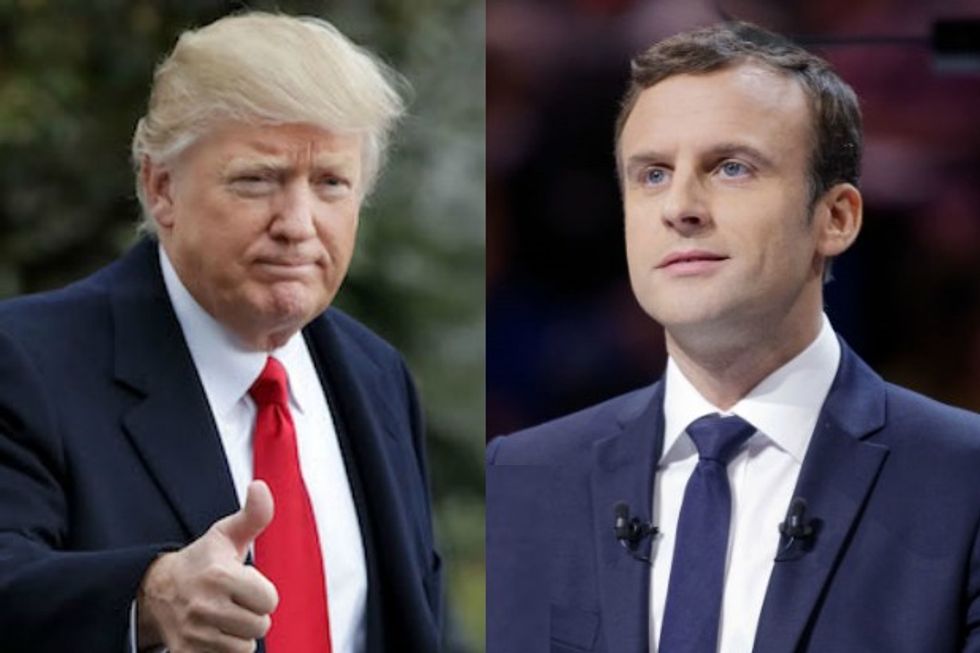 Credit: Source.
"You will be able to stay in France at least for the duration of the grant, and longer if you are granted a permanent position. There is no restriction on your husband or wife working in France. If you have children, note that French public schools are free, and the tuition fees of universities and grandes écoles are very low compared to the American system."
In Europe and the rest of the developed world, climate change is considered more a societal issue than a political one. The U.S. GOP is one of the world's only groups to dispute established science, even among other conservative-leaning governments and countries.
The terms "brain drain" or human capital flight are typically used in situations where highly educated people, including doctors, scientists, technology specialists, teachers and businesspeople, flee their country of origin in situations such as war, religious, or political persecution. Traditionally, the U.S. has been on the receiving end for such highly desirable
immigrants, and many countries actively court them. Now, the business community fears the U.S. may be sending away its own best and brightest, and the exodus could have a ripple effect throughout the economy as high achievers seek more welcoming environments and company headquarters follow the talent.
In addition to concerns that U.S.-born "brains" will head overseas, some are concerned that imported brains that have come from around the world to fill high-tech jobs in Silicon Valley and other entrepreneurial hotspots will leave due to the travel ban, the increasingly hostile climate towards immigrants in the U.S., and the Trump administration's plans to gut funding for science and technology.
Immigrants and foreign passport holders fill a disproportionate number of spots in computer science, physics, mathematics and other hard sciences. A 2012 study found that 24.3 percent of U.S. engineering and technology start-ups and 43.9 percent of Silicon Valley start-ups were founded by immigrants.
France isn't the only country courting U.S. talent. Canada has announced a strategy to lure foreign talent and companies with shortened wait times for visa approvals and short-term work permits. Canada anticipates a shortage of 200,000 high-tech workers by 2020.
The economic value of high-tech talent and the innovations they produce ripples across the entire U.S. economy. Pushing away that talent to seek opportunity elsewhere could have devastating effects, especially as especially as countries begin to compete for in-demand STEM workers.