When 10-year-old Zion Harvey of Baltimore, Maryland, used his new hands for the first time, he was making history. Harvey is the first child to ever successfully receivea double hand transplant, known as composite vascular allotransplantation. While the surgery has been used more frequently with success in adults, his case was the first time it had ever been attempted on a child. He was eight when he had the surgery, and now just two years later, at age ten, he can catch a football as well as the next child, dress himself, write, and perform other normal activities for a child his age.
The case study sharing the details of the transplant, performed by a huge surgical team at Children's Hospital of Philadelphia,was published in the Lancet Child & Adolescent Health.
---
"The child is more independent and able to complete day-to-day activities,"said one of his doctors, Sandra Amaral, a doctor at Children's Hospital of Philadelphia. "He continues to improve as he undergoes daily therapy to increase his hand function, and psychosocial support to help deal with the ongoing demands of his surgery."
Harvey had waited a long time for some kind of intervention; he lost his hands and feet at age two when he acquired a bacterial infection that ultimately led to sepsis. His kidneys shut down and he eventually needed a kidney transplant, which his mother was able to give to him. For six years he relied upon prosthetic limbs and specialized equipment to perform basic self care.
While the surgery itself was a feat of biomedicine, it took two years of preparation. The medical and surgical teams had to prepare and study up on the surgery, and Harvey had to undergo a regime of immunosuppressive drugs such as thymoglobulin, prednisone, and mycophenolate mofetil so that his body wouldn't reject the new hands after surgery. The donor limbs came from Gift of Life, an organ donation nonprofit organization.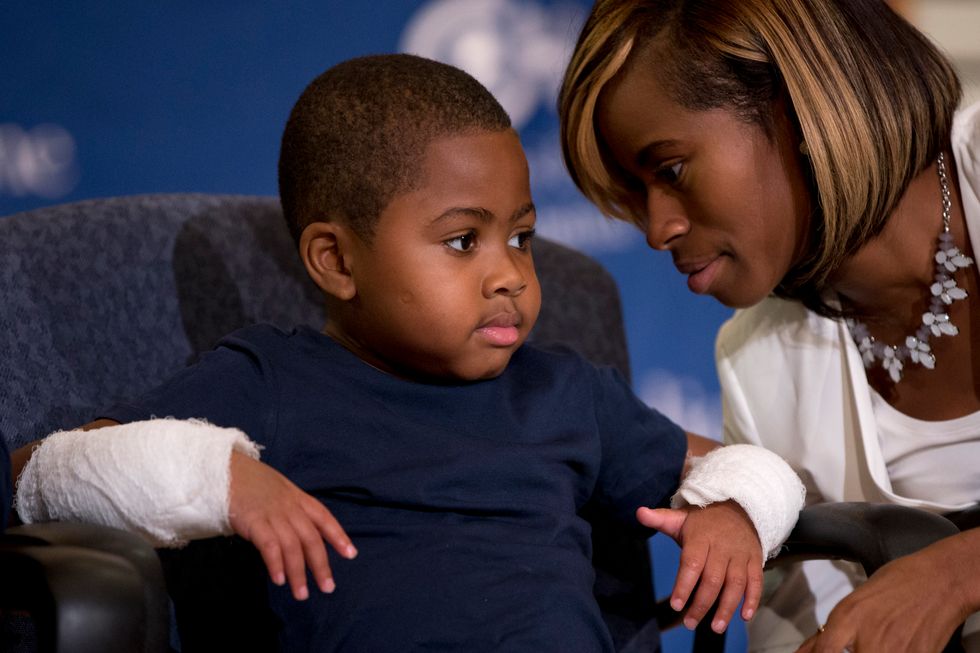 Credit: Source.
After numerous tests to evaluate whether his body was up to the task, in July 2015, the surgical team at the Children's Hospital of Philadelphia was ready to go. Harvey's surgery was so extensive, it took 40 people, 10 of whom were surgeons, and nearly 11 hours to complete. Four teams worked simultaneously on the donor and recipient limbs, with the aid of customized cutting guides that aimed to reduce ischemia time, the amount of time tissue goes without blood flow, which can be lethal to the tissue cells.
After three months in the hospital that included regular skin biopsies and careful monitoring of his kidney function and concentration levels of the medications he was on, his team tapered his tests down to monthly and then quarterly.
There were some scares along the way, however, as many as eight different times, when doctors feared he was experiencing tissue rejection of the donor hands. However they were able to ameliorate these with rehabilitation techniques. Harvey also experienced several minor infections and concerns related to his transplanted kidney.
And of course there are emotional factors that come with the loss of limbs and their reattachment. The child had spent years watching his peers achieve, play, and even eat with an ease he could only dream of.
"Hand transplantation is not lifesaving, but for many patients, the improvements in function and quality of life justify the commitment to lifelong immunosuppression and prolonged functional rehabilitation," the researchers write in the paper. "In children, concerns underlying the risk–benefit balance of hand transplantation are more nuanced than in adults."
On average, children who lose limbs typically end up with some form of prosthetic devices. While these have grown in sophistication over the years, and can sometimes recreate the functionality of an actual limb, patients often expressdissatisfaction with them for a number of reasons ranging from discomfort to embarrassment. In fact, the Lancet researchers themselves note that the rate of abandoning a prosthetic limb is quite high, as much as 45 percent in adults and likely higher in children.
Harvey's progress has been remarkable. His team had him performing occupational therapy less than a week after his transplant, engaging in activities including video games and finger puppets.
Signs that the hands were acclimating to his body included: sensation in his hands by two months after transplantation; reactivity to gentle touch after six months; and hand muscle innervation–the ability to move the hand willfully–which occurred by seven to ten months after transplantation. At 18 months after transplantation, Harvey wowed everyone by surpassing prior abilities. "As of 18 months after transplantation surgery he is able to write and feed, toilet, and dress himself more independently and efficiently than he could do before transplantation," the study authors write.
Credit: Source.
"Zion's progress has been spectacular, highlighting what can be accomplished by the committed and coordinated collaborative effort amongst multi-disciplinary teams at CHOP, Penn Medicine and Shriners Hospitals for Children," Scott Kozin, MD, chief of staff at Shriners Hospitals for Children in Philadelphia, said in a statement last year.
Harvey and his mother also appeared on theToday show a year ago at which time Harvey declared that the best thing about the new hands was "being able to wrap them around my mom." His mom, Pattie Ray, could not contain her own joy: "To see him throwing that baseball just took my heart, I couldn't even record it, I was so happy," she said. "I was jumping and screaming and he's like, 'Why are you screaming so loud?' Because this is, like, a moment that before I may not have had."
Further validating the success of the transplant, MRI tests have shown that his brain has reorganized itself, growing new motor and somatosensory pathways. However, he remains on four immunosuppressive medications for the foreseeable future.
"Cases like this demonstrate how new developments and innovation in science and transplantation have the potential to make enormous differences to the quality of life of patients,"saidLorna Marson, the president of the British Transplantation Society, which represents specialists working in the field across the NHS.
"Transplantation is a constantly evolving sector and it is heartening to hear the positive outcomes of groundbreaking transplants such as this one."
Since the first adult received a new hand via transplant in 1998, followed by the first double hand transplant in 2000, more than 100 people have had ahand or arm transplantaround the world. Surgeons were reluctant to perform them on children, particularly after a teenager who received a donor limbdied not long after the surgery, but Harvey's case study has given them renewed hope. In adults, these kinds of transplants are now happening in numerous countries on patients who meet the criteria.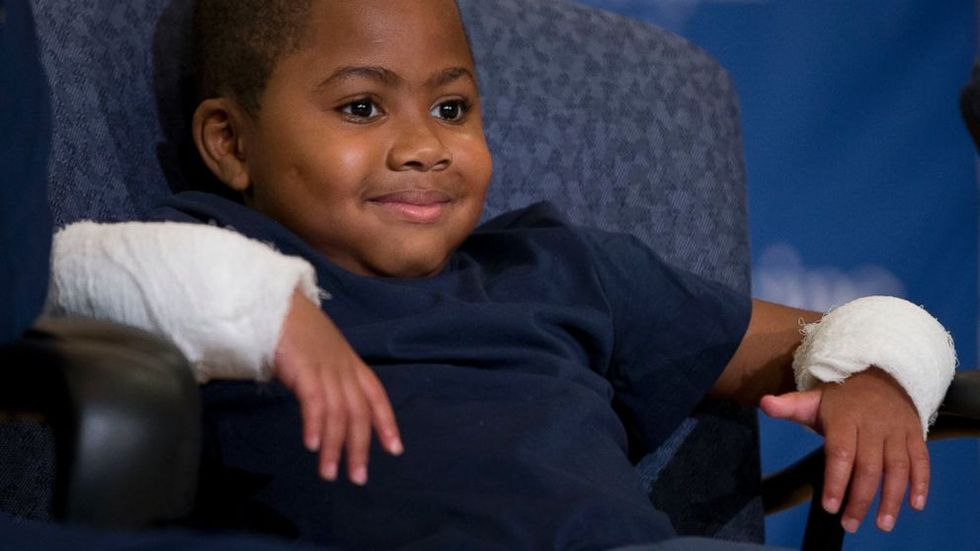 Credit: Source.
The surgeons are so positive about the results, they boldly made their case for further such pediatric transplants in their paper, stating, "Hand transplantation in a child can be surgically, medically, and functionally successful under carefully considered circumstances." They do acknowledge, however, that there is more to be learned about the long-term functionality of such transplants, and are committed to doing more research. The surgeons hope to repeat the surgery on other children, with careful consideration.
"While functional outcomes are positive and the boy is benefiting from his transplant, this surgery has been very demanding for this child and his family," Dr. Amaral said.
Meanwhile, life has improved dramatically for Harvey. He toldPeople magazine last year, "Now I can play soccer and I can play football and I can play all these other sports and they can't isolate me out anymore."
Despite many ups and downs, Harvey, who finally got to achieve his dream of swinging a baseball bat in the personal and professional realms last year—Harvey tossed out thefirst pitch at a Baltimore Orioles game in 2016—said,"Here's the piece of my life that was missing. Now it's here, my life is complete."