DIGEST: The Oregonian, NBC, Leafly, U.S. News, Law360, Register Guard, Forbes]
Oregon lawmakers have taken steps to protect customers of the state's legal cannabis industry from exposing their identities and personal information to the federal government. Anticipating interference by federal drug agents under the Trump administration's plan to crack down on cannabis, a bipartisan group of lawmakers approved a bill to abolish a common business practice in which cannabis customers' names, birth dates, addresses, and other personal information is kept in a database.
---
When a customer makes a purchase at a cannabis store in Oregon, they must show a driver's license, passport or other form of ID to prove they are over the age of 21. Many businesses collect customer information for marketing purposes or to assist returning customers. However, in the event of a government crackdown, this private information — which includes names, birth dates, identification numbers, and addresses — could be seized by drug agents. Senate Bill 863, which governor Kate Brown has signed into law, requires cannabis businesses to destroy existing customer information, and bans them from collecting it without permission.
"Given the immediate privacy issues ... this is a good bill protecting the privacy of Oregonians choosing to purchase marijuana," said state Rep. Carl Wilson, a Republican who helped sponsor the bill.
Recreational cannabis is now legal for recreational use in eight states plus Washington, D.C., and is legal for medical use in 29 states.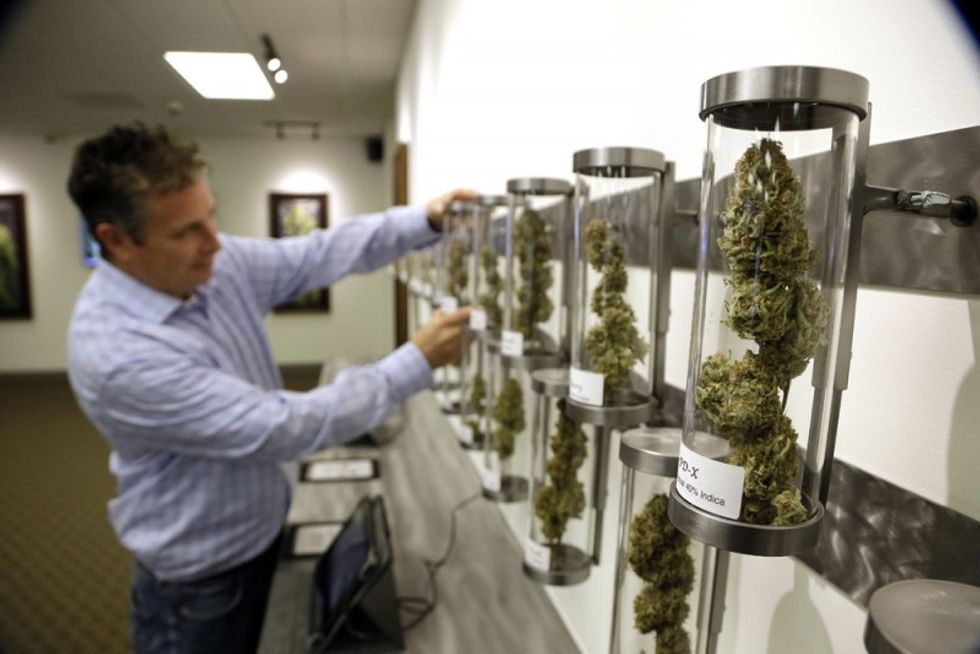 Credit: Source.
Renewed War on Drugs
The Trump administration has sent mixed signals about marijuana. On the campaign trail, Trump said he supports medical marijuana. However, in office, all signs point to a coming crackdown on legal marijuana — possibly including medical cannabis — as part of a renewed and more aggressive war on drugs.
Trump's attorney general Jeff Sessions, an outspoken marijuana opponent, said he may increase enforcement of federal drug laws, and may not exempt medical cannabis. Sessions created a task force to examine how the Justice Department enforces cannabis laws and
create "consistency" across the states. Trump's Homeland Security Secretary John Kelly called marijuana a "dangerous gateway drug," and vowed that his agency will enforce federal laws about possession. (The Obama administration declined to pursue marijuana users in legal states.) White House Press Secretary Sean Spicer said that the feds will increase enforcement of federal drug policy, which classifies marijuana as a dangerous drug in the same category as heroin. The Trump administration also considers legal cannabis use a deportable offense.
However, Trump the businessman is open to grabbing a piece of the estimated $60 billion marijuana market for himself. The Cannabis Commercial Real Estate Summit NYC was held on May 4 at Trump Soho. Hosting a pro-cannabis event at one of his properties while taking steps to limit or shut down the legal cannabis industry sends mixed signals to the industry.
Stocks associated with the legal cannabis industry have fallen in anticipation of coming changes. "Business decisions regarding the recreational part of the industry are going to be under a cloud for the foreseeable future," said Isaac Boltansky, Washington policy analyst for Compass Point Research & Trading.
Many industry observers say the marijuana industry is too big to fail, and legalizing it captures money and jobs that would otherwise be lost to cartels. North American cannabis sales grew by 30 percent, making it a $6.7 billion industry. Several 2016 election victories, including California, will accelerate continued growth, and without a federal crackdown, cannabis could become a $50 billion industry by 2026.
While Trump focuses on coal, the legal cannabis industry has the potential to create over a quarter of a million jobs in the next three years, according to New Frontier data. Meanwhile, more than 800,000 manufacturing jobs are expected to disappear in the next three years — perhaps making it impossible for Trump to hobble an industry that could help him make good on his promise to create jobs.