A mysterious classified ad for a "Research Associate/Personal Assistant" in New York City has been running for more than 10 years, and applicants have yet to receive an interview. The listing provides little information about the company in question beyond assisting "Wall Street's most successful entrepreneurs" and an eye-catching salary of $90,000 to $110,000 per year. Either this employer has not discovered the right candidate in over a decade, or the answer is something more eyebrow raising.
Here's the listing, but don't submit your cover letter and CV just yet.
---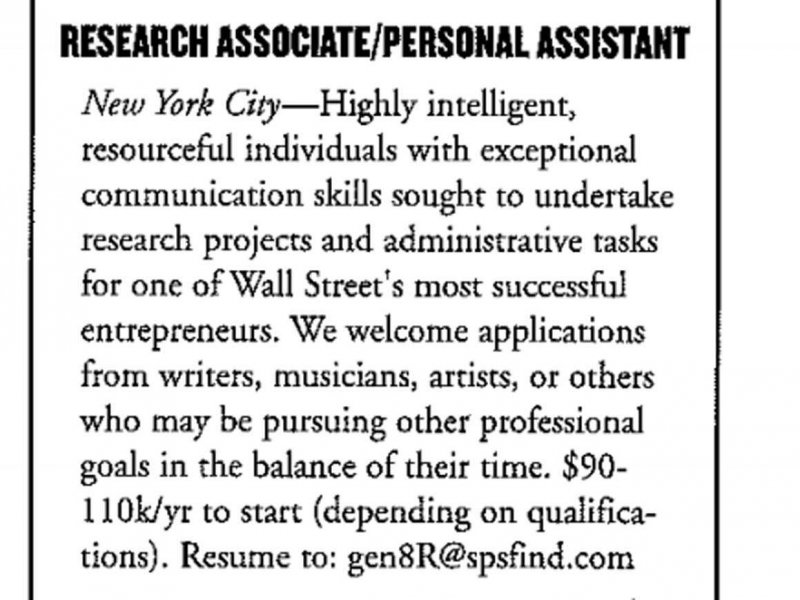 Who wouldn't want the ability to earn upwards of $100k/yr and work in your free time? But remember how long the ad has been running. The blog Working With Words has followed the ad since it first appeared in an issue of The New Republic in Summer 2004, and the listing has continued ever since. No changes have been made aside from the contact email and the removal "medical researcher" from the tasks.
In 2006, Carol Felsenthal from The Huffington Post urged her daughter to apply for the position after graduating from college. Unfortunately, her daughter was never called in for an interview. As many postgrads have come to find, this is not out of the ordinary. Felsenthal's daughter eventually landed a job, and the ad was all but forgotten until three years later when her mother spotted the same posting with a few minor changes. Perplexed, Felsenthal contacted the Advertising and Editorial departments of the magazine only to be told, "We can not provide you with any further information regarding this ad or our client."
Since its first appearance, the posting has made the rounds across the Internet, Craigslist and Monster.com. Though the origins of the post remain shrouded in mystery, John Ettorre from Working with Wordscommented in 2013, "We've just been tracking it here for nine years, but I believe the ad began running several years before that."
A thread on Hacker News links the ad to New York City-based investment management firm D.E. Shaw, which boasts "a taste for creativity and exceptionality in its recruits." One commenter "noticed in their own recruitment posts on [Craigslist] the respond-to e-mail address is Craig-Gen@career.deshaw.com, while that one is gencraig@spsfind.com. Coincidence?"
So, readers, is this just an urban legend, some kind of government conspiracy or the world's most particular boss?