The White House has asked Kathleen Troia "KT" McFarland, the deputy national security adviser, to resign from her role on the National Security Council.
The news of McFarland's departure, which will take effect in two weeks, follows last week's removal of Stephen Bannon, President Donald Trump's chief strategist. General H.R. McMaster, the president's newly appointed National Security Adviser, orchestrated both shakeups, as part of a bid to reorganize and consolidate his control over the principal committee.
---
McFarland will not be leaving the administration, according to an individual familiar with the White House's personnel changes. The individual, who spoke on condition of anonymity, said McFarland, a former Fox News commentator, is expected to be nominated as ambassador to Singapore. Should she be confirmed by the Senate, she would serve as a replacement for Kirk Wager, who was appointed during former President Barack Obama's administration and departed in January upon President Trump's inauguration.
McFarland was a favorite of Michael Flynn, the president's former National Security Adviser, and had been expected to resign since his ouster in February. In his resignation, Flynn insisted that the "fast pace of events" led him to "inadvertently" give Vice President Mike Pence and others "incomplete information" about his conversations with Sergey Kislyak, the Russian ambassador to the United States. Since the scandal, McMaster has moved to conduct a "Flynn erasure," purging the council of any ties to his predecessor.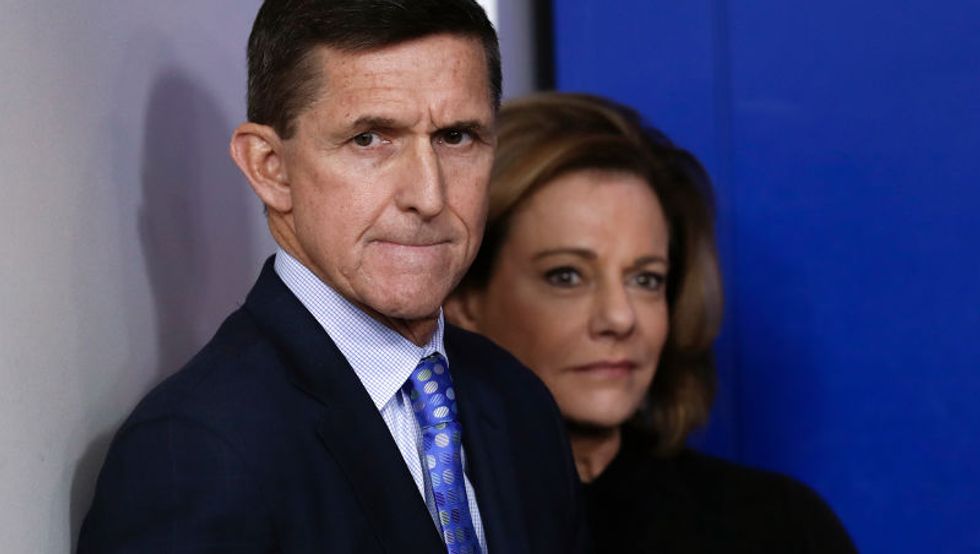 KT McFarland and Michael Flynn. (Credit: Source.)
A source within the administration told reporters that McMaster is "looking around widely" for a new deputy to replace McFarland. Dina Powell, a former Goldman Sachs executive who enjoys a close relationship with President's Trump's senior adviser and son-in-law, Jared Kushner, and daughter, Ivanka, will stay on as another deputy national security adviser and will work alongside McFarland's replacement. Powell, a "rising star" on the NSC, was the only woman present during last week's Syrian missile strike operation.
Reportedly, McFarland was not popular with other members of the NSC, which sees itself as apolitical. According to an official who was present, McFarland noted she was wearing a pair of shoes from Ivanka Trump's brand while addressing staff shortly after Michael Flynn's departure. At an earlier meeting which took place two weeks into the administration, told White House staff to "make America great again," invoking President Trump's campaign slogan.