Elon Musk's Space Exploration Technologies Corp. will make its first foray into space tourism: The company plans to send two private citizens on a trip around the moon late next year. The trip will coincide with SpaceX's continued work with NASA for a planned crewed mission to the International Space Station (ISS). SpaceX declined to identify the two future space travelers, who each paid a "significant deposit" and will undergo health and fitness tests and begin initial training later this year.
"The goal for SpaceX, from its founding in 2002, has been to accelerate … space exploration, ultimately with the idea of a self-sustaining civilization on Mars and making humanity multiplanetary," Musk told reporters during a phone conference. "So a critical step along the way is getting to know what it's like to have people in deep space."
---
The passengers, who SpaceX will identify once health results are cleared, will travel in a Dragon 2 capsule, powered by SpaceX's still-in-design Falcon Heavy rocket. A demonstration mission will go forward "without people on board," the company noted in a blog post. A subsequent mission––this time with crew––will fly in the second quarter of 2018. SpaceX is contractually obligated "to perform an average of four Dragon 2 missions to the ISS per year, three carrying cargo and one carrying crew," the company's statement continues. "By also flying privately crewed missions, which NASA has encouraged, long-term costs to the government decline and more flight reliability history is gained, benefiting both government and private missions."
In the past, Musk has warned that a trip around the moon would prove both dangerous and expensive. Last fall, during a presentation at the 67th International Astronautical Congress in Guadalajara, Mexico. he estimated that initial fares will start at about $200,000 apiece for 100 or more passengers to take a journey to Mars. When asked about the projected cost of this mission, Musk said, "I … can't say the exact cost, that's confidential. It would be comparable to maybe a little more than what the cost of a crewed mission to the space station would be."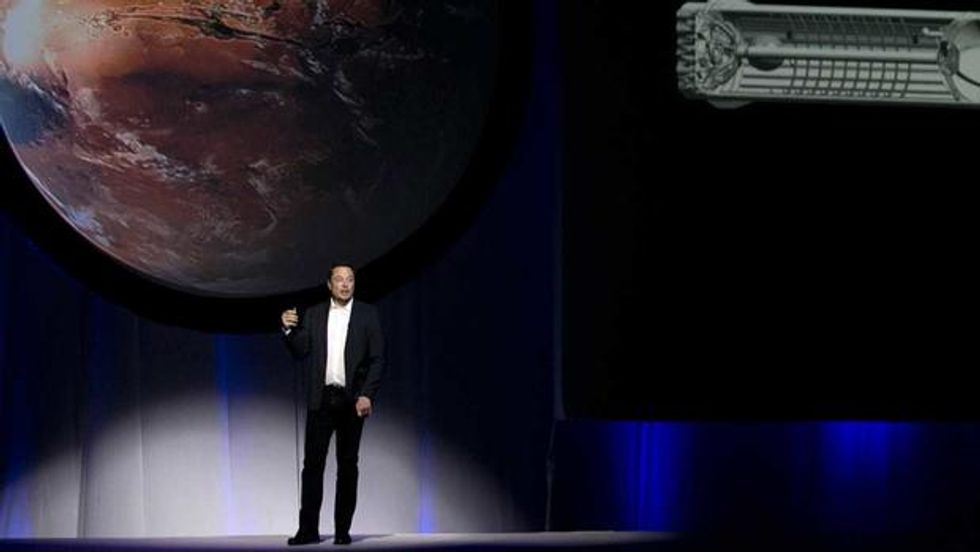 Credit: Source.
Marco Caceres, a senior space analyst with Teal Group, an aerospace and defense market researcher, says the company is well aware of the risks of the journey. "It's a pretty big mouthful to take two private citizens to orbit the moon," he told an interviewer. "It's pretty risky; these are private citizens, which is different from an astronaut."
Nevertheless, the news has sent ripples of excitement through the scientific community. Still, notes Luigi Peluso, an aerospace and defense consultant at AlixPartners, SpaceX "could really use the revenue." The challenge, he says, "is that Falcon Heavy hasn't even flown its first voyage yet."
The news of the SpaceX missions comes following requests from the White House for NASA to examine accelerating earlier plans to send a crew to the moon by 2021. President Donald Trump indicated in his inaugural address that the U.S. is "ready to unlock the mysteries of space." NASA has not sent astronauts beyond low-Earth orbit since the final moon missions more than 40 years ago. It did, however, continue unmanned flights with the Space Shuttle until 2011. Since then, American astronauts have relied on Russian spacecraft to get to and from the ISS.