[DIGEST: BBC, Teen Vogue, Interesting Engineering]
A teenager who watched his mother battle breast cancer has invented a high-tech bra that could become a powerful new tool in the fight against the disease. Julian Rios Cantu, 18, along with three friends, developed the Eva bra, which uses 200 biosensors to monitor the temperature, shape and weight of a woman's breasts. The bra, which is worn for 60 to 90 minutes a week, communicates data to a mobile and desktop app. If concerning changes arise, the wearer receives a message and can consult with her doctor.
---
"When there is a tumor in the breast, there is more blood, more heat, so there are changes in temperature and in texture," said Cantu. "We will tell you, 'in this quadrant there are drastic changes in temperature' and our software specializes in caring for that area. If we see a persistent change, we will recommend that you go to the doctor."
Cantu, an engineering student who lives in Mexico, became interested in the fight against breast cancer when his mother was diagnosed with the disease for the second time when he was 13 years old. "The tumor went from having the dimensions of a grain of rice to that of a golf ball in less than six months. The diagnosis came too late, and my mother lost both of her breasts and, almost, her life."
Julian Rios Cantu. (Credit: Source.)
The Eva bra is designed to aid in early detection of the disease. Cantu calls it an "autoexploration bra" that could deliver more accurate and earlier information than self-exams.
"It is a complicated project, it is not a simple task we take," he said. "It requires a lot of money and for the moment we are limited, but we have done what we can with our resources."
In the meantime, the device won Cantu a Global Student Entrepreneur Award in Frankfurt, Germany, in April, which comes with a $20,000 prize. In addition, he has also won the
Everis Mexico Award for Entrepreneurs, which gave him $53,000 to finish developing his project.
While tumors can cause temperature changes as a result of increased blood flow, increased blood flow does not necessarily mean the wearer will develop cancer, caution cancer researchers.
"At present, there is no evidence to show whether this bra is a reliable way to detect tumors, and it's certainly not a good idea for women to use technology that hasn't been tested in good-quality scientific trials," cautions Anna Perman, a senior science communications spokesperson from Cancer Research UK.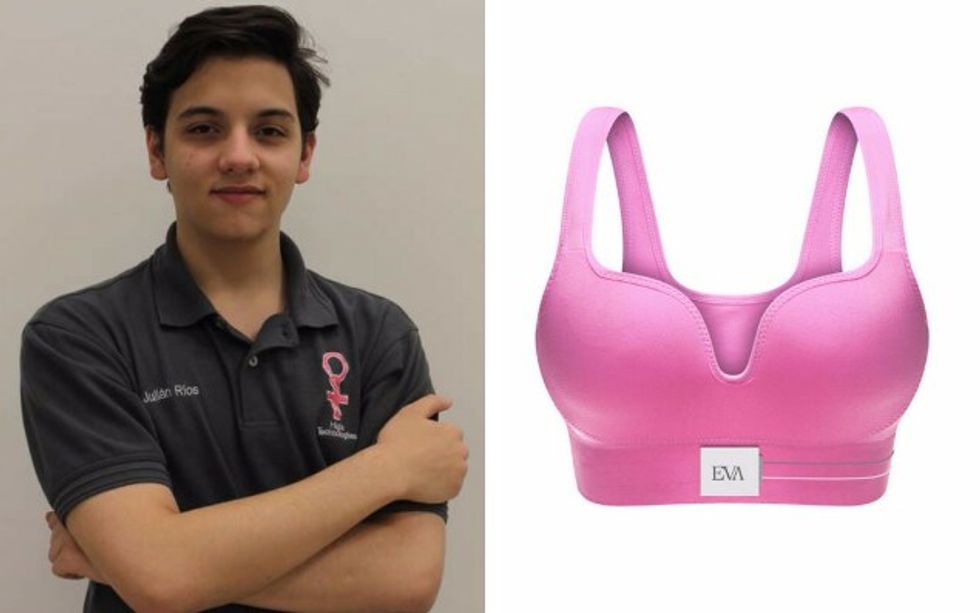 Credit: Source.
"It's great to see young people like Julian getting into science and having ideas that could help with cancer diagnosis. But an important part of science is rigorous testing, to make sure innovations like this actually benefit patients."
Cantu says his company, Higia Technologies, is in the development phase with the Eva bra, and still needs to conduct testing to determine how effective the bra is for detecting cancer. Canto hopes to make it available within the next two years.
Breast cancer affects many women around the world, as well as some men. In the United States, about one in eight women will develop invasive breast cancer. In Mexico, the national health department diagnoses a woman with breast cancer every 30 minutes.