A majority of Americans disapprove of President Donald Trump's handling of Monday's summit with Russian President Vladimir Putin in Helsinki, Finland, according to a new CBS News poll.
New Poll: Most Americans Disapprove of Trump on Putin Summit Majority of Republicans Approve… https://t.co/Egsgcqg7qy

— CBS News Poll (@CBS News Poll) 1531998820.0
---
Released on Thursday morning just hours after Trump claimed he stood up to Putin about Russia's attack on the 2016 presidential election, the poll showed that 55 percent of the country holds a negative view of how Trump dealt with the Russian autocrat earlier this week. That number was even higher among Democrats, with 85 percent saying they were unhappy with Trump's meeting with Putin.
Only 32 percent of those polled approved of the president's performance.
Republicans, on the other hand, overwhelmingly approved of the president's meeting with Putin. More than two-thirds - 68 percent - said they approved of the president's summit with his Russian counterpart, while 21 percent held a negative view of it.
Independent voters, who both parties must woo in order to maintain control of Congress, nearly matched the Democrats' level of disapproval at 53 percent. A mere 29 percent of independents were in the approval column.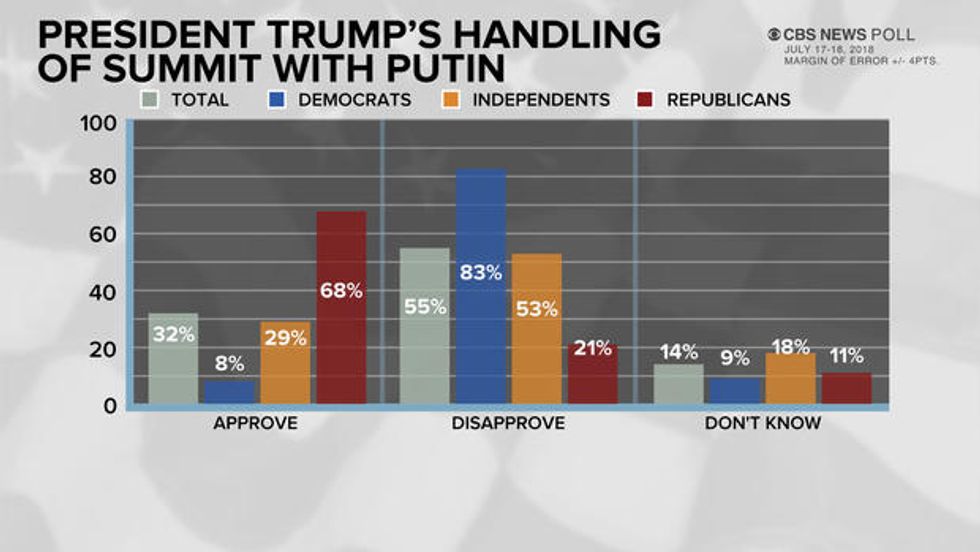 Source: CBS News Poll
CBS asked Americans if they agreed with the American intelligence community that Russia actively and deliberately interfered with the 2016 election.
70% of Americans believe U.S. intelligence assessments that Russia interfered in the elections, though Republicans… https://t.co/QDv4zNrvIW

— CBS News Poll (@CBS News Poll) 1531999048.0
Seventy percent of respondents said they agreed, with the highest level being among Democrats at 89 percent. A mere eight percent of Democrats responded in the negative.
Compare that to Republicans, who were almost evenly split between believing and not believing that Russia interfered with our election. Among the GOP, 51 percent said they agree, and 42 percent said they disagree with the unanimous conclusion of every American intelligence agency.
Independent voters were almost identically aligned with the general public, with 67 percent believing and 26 percent not believing Russia attacked our democracy in 2016.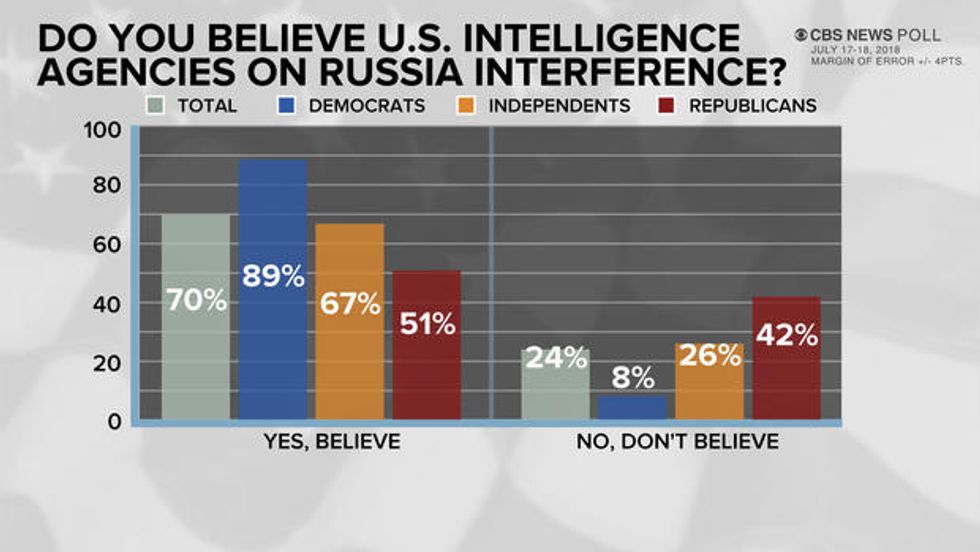 Source: CBS News Poll
When asked if they were concerned about Russia interfering in November's midterm election, Americans were once again split along party lines.
Eighty-seven percent of Democrats are "somewhat or very concerned" over future Russian election meddling, about which American intelligence agencies have been sounding alarms for months. Eleven percent were "not very or not at all concerned."
On Wednesday, Trump said "no" after being asked if Russia is still trying to disrupt the American electoral process. This sentiment appears to be shared by his Republican base, 38 percent of whom said they were concerned. Sixty-one percent of Republicans said they were not concerned.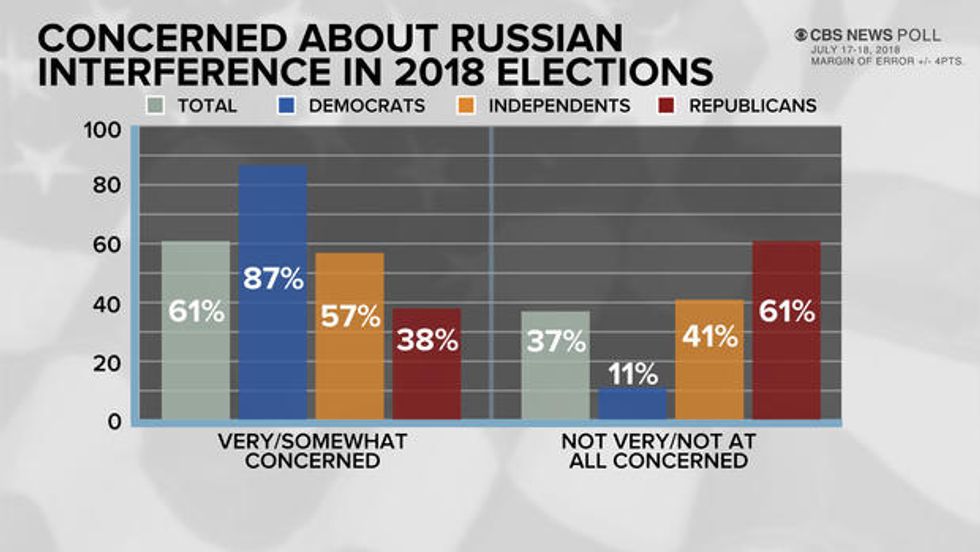 Source: CBS News Poll
The poll also asked Americans how they felt about Trump's overall approach to Russia. The tally, which was not differentiated by party, showed that 46 percent of Americans think Trump is being "too friendly" toward Russia, an eleven point jump from last year. S
Six percent said he is being "too hostile" and 41 percent said Trump's approach is "about right." A year ago, eight percent selected "too hostile" and 48 percent picked "about right."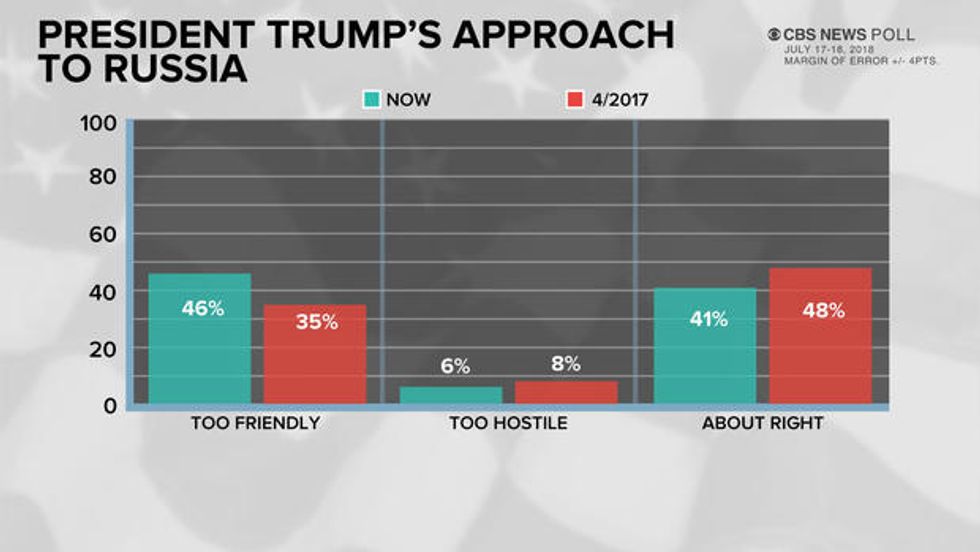 Source: CBS News Poll
The poll sampled 1,007 American adults at random from July 17-18 and has a margin of error of four percentage points.
Twitter weighed in with exasperation over how Trump is still able to garner so much support.
And now here's a CBS poll conducted Tuesday and Wed (Axios/Survey Monkey was a Monday and Tuesday). Overall 32/55%… https://t.co/eVo8r2GBcb

— Steve Kornacki (@Steve Kornacki) 1532000475.0
@SteveKornacki @MalcolmNance I get the #TrumpCult, but 8% of dems and 29% of independents? What world are they liv… https://t.co/1Y5o16i8vl

— Jordan Olsen (@Jordan Olsen) 1532009093.0
@SteveKornacki @MalcolmNance Republicans are a lost cause. He looked weak and he was very subservient to Putin. I t… https://t.co/gs0NHxjkDW

— Jeanine (@Jeanine) 1532009191.0
@SteveKornacki @MalcolmNance Just have to wonder how 32% of the country can see success in that. The depth of this delusion is staggering.

— Jim Johnson (@Jim Johnson) 1532009016.0
@SteveKornacki The two polls, taken a day or so apart, after Fox and some R's voiced disapproval show that disappro… https://t.co/NCuDWh7hhB

— Kathleen Martin (@Kathleen Martin) 1532007679.0
@SteveKornacki 68% Republicans approve Trump's Helsinki summit with Putin. Must be the same people who think Vlad… https://t.co/9szSZNyX9z

— Arctic_Char (@Arctic_Char) 1532001063.0
On Wednesday, Axios released its own poll with similar results to the CBS survey.
NEW POLL: Republicans overwhelmingly back Trump's handling of press conference with Putin — 85% see election interf… https://t.co/uTraqpQ0sY

— Axios (@Axios) 1531998862.0
Rasmussen's Daily Presidential Tracking Poll showed Trump with a 45 percent approval rating on Thursday, up one point from Wednesday. Trump's disapproval sits at 54 percent.
Check out today's Daily #Trump Approval Numbers... https://t.co/mazBCW77nY @POTUS @realDonaldTrump... #BreakingPoll https://t.co/hYdJC8p5CL

— Rasmussen Reports (@Rasmussen Reports) 1532011140.0