After new revelations about President Donald Trump's personal lawyer, Michael Cohen, broke, what did the president's favorite morning show, Fox & Friends, cover in their 3 hour broadcast?
Therapy goats at the University of Maine constitutes headline news at Fox, according to non-profit research and information group Media Matters for America. Also of national importance? Cheerleading and Melania Trump's popularity ratings.
---
Yesterday, The New York Times reported financial records show a Cohen shell company received "payments last year of about $500,000 from Columbus Nova, an investment firm in New York whose biggest client is a company controlled by Viktor Vekselberg, the Russian oligarch."
Fox News in general covered very little about the latest Cohen news, but Fox & Friends studiously avoided it. Instead they focused on very nonpolitical stories like the goats.
University of Maine brings goats to campus to calm stressed out students https://t.co/8VidaUr0ZY

— FOX & friends (@FOX & friends) 1525870080.0
This story about cheerleaders and a new policy in New Jersey also deserved attention. Parents are upset over a new inclusive policy set by one New Jersey high school for their cheering squad.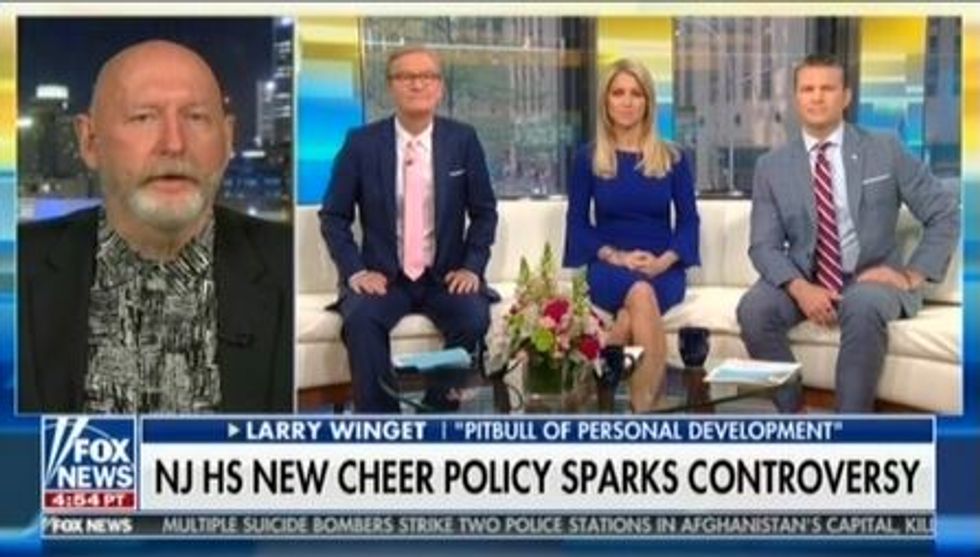 Fox & Friends (Fox News video screenshot)
And this report on Melania Trump's latest popularity uptick, based on analysis from a man who calls himself 1stLadiesManAO on Twitter, Andrew Och. He also maintains the website "firstladiesman" and includes author, public speaker and documentarian in his bio.
.@1stLadiesManAO analyzes the appeal of First Lady Melania Trump as her favorability soars https://t.co/RqXMCxQKVu

— FOX & friends (@FOX & friends) 1525865280.0
Och made sure to thank the program for the publicity they provided him with their morning show coverage.
Thank you @FoxNews @foxandfriends @FLOTUS @ainsleyearhardt https://t.co/9N2pszfrIv

— Andrew Och (@Andrew Och) 1525872632.0
Other networks covered the Russian oligarch's payments to Cohen extensively. Online it dominated social media as well.
But ignoring news that does not appeal to their core audience is a common criticism for Fox News. This differs from analyses of all news media which reveals trends in tone and spin.
Media watchdogs and critics will characterize a news outlet as right leaning or left leaning, meaning their take on news is conservative or liberal. But most are not criticized for completely ignoring breaking news.
If a story is trending heavily online, like the latest Cohen developments, it will generally appear on every news outlet in heavy rotation. But such is not the case with Fox News according to Media Matters for America's reviews of the network.
Back in April they found Fox & Friends ignored another breaking story on Michael Cohen. Spin is one thing, but ignoring inconvenient truths is highly unusual in mainstream media.
According to Media Matters for America's report:
The obsequious relationship between Fox & Friends and Trump has been well documented, with Trump's tweets frequently lining up with segments and talking points from the right-wing morning show."
"Media Matters has repeatedly highlighted the feedback loop between the show and Trump, including how Trump has made policy announcements responding to its segments. Fox & Friends has also repeatedly ignored damaging stories about Trump and the Russia investigation."
The media watchdog is not the only one to notice the regularity of talking points from Fox & Friends making it onto Trump's Twitter feed or into White House policy.
this was on fox & friends like an hour and a half before Trump tweeted that "91% of the network news about me is ne… https://t.co/XOSMz30Mx8

— Nicole Lafond (@Nicole Lafond) 1525868891.0
Ian Blackford accuses @BorisJohnson of pleading with @realDonaldTrump through @foxandfriends

— Nick Eardley (@Nick Eardley) 1525864442.0
@Fircrest11 @realDonaldTrump Not enough characters in a tweet to explain that but anyone who only gets their ideas… https://t.co/ofHxiy6f2F

— markdamotivator (@markdamotivator) 1525817267.0
Why does it matter that Fox News is barely covering the Stormy Daniels story and related scandals? It matters beca… https://t.co/AsxY14yzTp

— Vox (@Vox) 1525855560.0
Since January 26th the stock market has dropped 2,500 points, erasing nearly $2.5 trillion in 401k value. Could you… https://t.co/zU4PpJBH7z

— ♻️🇺🇸 Christopher Zullo (@♻️🇺🇸 Christopher Zullo) 1525862878.0
Gas prices are slowly exploding. Since January the price per barrel of oil has gone from $60 to $78 per barrel. Cou… https://t.co/ikDbuvfs6o

— ♻️🇺🇸 Christopher Zullo (@♻️🇺🇸 Christopher Zullo) 1525870308.0