[DIGEST: NPR, National Geographic]
Last week, Senate Republicans approved a bill by a nearly party-line vote of 52-to-47 repealing hunting restrictions in Alaska set by President Barack Obama during his second term.
---
To members of the U.S. Congress and officials from the state of Alaska, there are two very clear sides: allow specific hunting practices aimed at bears and wolves, or prohibit them.
During his final months in office, President Barack Obama established various restrictions on hunting practices, such as prohibiting the hunting of wolves and their pups in their dens and bears at bait stations, and using steel-jawed, leg-hold traps and wire snares to impair these animals on national wildlife refuges in Alaska.
The bill approved by the Senate repeals those restrictions, and follows a similar House vote last month to abolish the same target regulations.
The Fish and Wildlife Service (FWS) instituted these protections in 2016 to defend the ecosystem's natural predators from hunters. Congressional Republicans decried these protections as an example of federal overreach.
The Republican sponsor of the repeal bill, Representative Don Young of Alaska, explained his own view of these regulations: "Not only does this action undermine Alaska's ability to manage fish and wildlife upon refuge lands, it fundamentally destroys a cooperative relationship between Alaska and the federal government."
Another Republican, Senator Dan Sullivan, who is also on the side of Alaska's state autonomy, said that the hunting curtailments altered the relationship between Alaska and the FWS from "one of cooperation to subservience," according to The Associated Press.
Senator Dan Sullivan. (Credit: Source.)
"This rule is about Alaska," he added.
Democratic members of Congress believe Republicans are framing the issue incorrectly.
"This isn't about states' rights," Democratic Senator Maria Cantwell of Washington explained. "It's not about prohibiting hunting. ... It's about how we can manage these wildlife refuges to the degree that agencies believe are necessary for the preservation of these wildlife heritage areas."
Senator Tom Udall of New Mexico argued that game management directive is "not a state or parochial issue," as 85 percent of the U.S.' national wildlife refuges are located in Alaska.
The Obama administration, Democrats, and the federal government have long felt the end goal of federal refuges is preserving biodiversity. On the other hand, the Alaska Board of Game ultimately views maximum sustained populations for hunting as the most crucial interest of these refuges.
Though this dispute did not originate with the Obama administration, the last president did make certain to push some key limitations through before he left office.
"This isn't hunting — it's slaughter," Brett Hartl, the government affairs director at the Center for Biological Diversity, remarked in a statement. "Killing wolves and bears in this cruel, unsportsmanlike fashion is outrageous, especially in national wildlife refuges that belong to all Americans."
In addition, Hartl noted, "Repealing these protections also undermines the critical role predators play in healthy ecosystems."
To maintain the "maximum sustained populations" of frequently-hunted prey species — such as elk, moose and caribou, population control of their predators — like bears and wolves — is required, according to Republicans and the Alaskan Board of Game.
The Obama-era constraints operated under the belief that the state Game Board prioritized too highly the populations of prey species over predators, but those opposed to the restrictions feel they were introduced by those without contextual knowledge of Alaskan wildlife. Republican Senator Lisa Murkowski explained to the Alaska Dispatch News that in Alaska "state management of fish and wildlife is practically sacrosanct."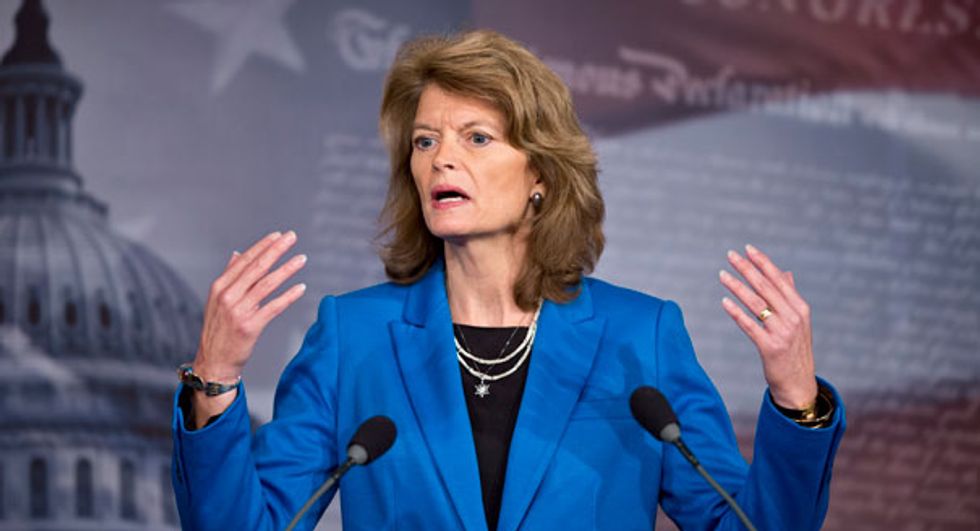 Senator Lisa Murkowski. (Credit: Source.)
She continued: "Opponents will allege that the repeal of this rule will legalize brutal predator control practices. The Senate should know that it is already illegal for hunters to use certain practices — gas against wolves, traps to bears. You can't do this in national wildlife refuges in Alaska."
To repeal the FWS restrictions, Republican policymakers used the Congressional Review Act, a forceful legislative tool that originated in 1996, which allows Congress in an expedited fashion to review and — via the passage of a joint resolution — overrule newer federal regulations issued by government agencies.
In this particular case, the Congressional Review Act allows the Senate to proceed with a simple majority, which prevents a filibuster by the minority (i.e. Democratic senators). This means that once President Trump signs off on the bill, there is very little chance of turning it around — at least until Congressional powers shift.
Ultimately, opponents of this rollback on bear and wolf hunting restrictions fear it will set a dangerous precedent for management of wildlife on federal lands dedicated to species preservation across the country.