[DIGEST: ArtNet News, Reuters, The Guardian]
Archaeologists discovered a cache of 800 year-old seeds on a dig near the Menominee reservation in Wisconsin, then successfully cultivated them to produce an oblong orange squash. The researchers named it "Gete-Okosomin"--or "really cool old squash" in Anishanaabe. The squash not only made the rounds on the Internet, it showed up at some local farmers markets. It's real and reportedly quite tasty. (The now-famous squash is actually a hybrid of two different squash stories, according to the Mennonite World Review.)
---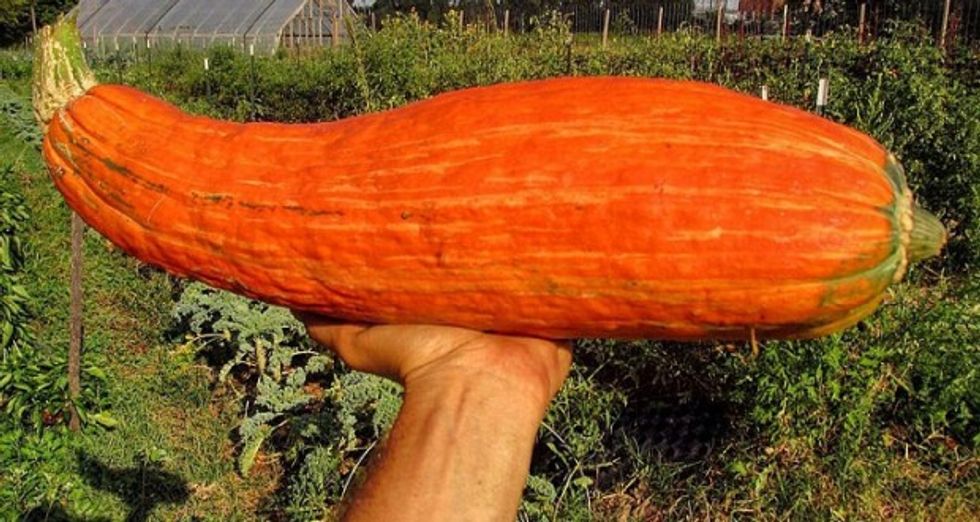 The once extinct Gete-okosomin squash. Credit: Source.  
Edible Treasure
Ancient seeds from archeological digs have proved viable. In fact, seeds saved thousands of years ago have been successfully germinated. In 2009, a 4,000-year-old seed found in the Aegean city of Kütahya yielded a lentil plant with morphological differences from today's lentils. Analyzing these differences could yield valuable scientific information, noted Professor Nejat Bilgen of Dumlupinar University.
An extinct tree also has been brought back to life, thanks to a jar of seeds found during excavations at King Herod's palace in Israel during the 1960s. Judean date palm trees were widely cultivated in ancient Judea and appear several times in the New Testament. However, by 500 AD, the tree was wiped out. In 2005, scientists were able to successfully grow one tree, a male aptly named Methuselah. Scientists hope to be able to cross-breed the plant with another type of date plant to produce fruit.
Researchers in Israel have embarked on an attempt to recreate the wines of the Biblical era by germinating grape seeds found in the ruins of Jewish temples. Dr. Elyashiv Drori, an oenologist from Ariel University, hopes to extract DNA from these seeds, which represent
To read more, continue to the next page.
120 unique grape varietals indigenous to Israel, 50 of them suitable to wine production. A winery has already agreed to produce wines using one of these, an almost extinct variety called the marawi.
"All our scriptures are full with wine and with grapes — before the French were even thinking about making wine, we were exporting wine," Drori told the New York Times. "We have a very ancient identity, and for me, reconstructing this identity is very important. For me, it's a matter of national pride."
Saving the Past to Save the Future
When we already have a wealth of edible plants to choose from, it might not seem important to bring back foods from history. But it's not just important, it could be urgent: Those odd, rare seeds from the past may be the key to food security in the future.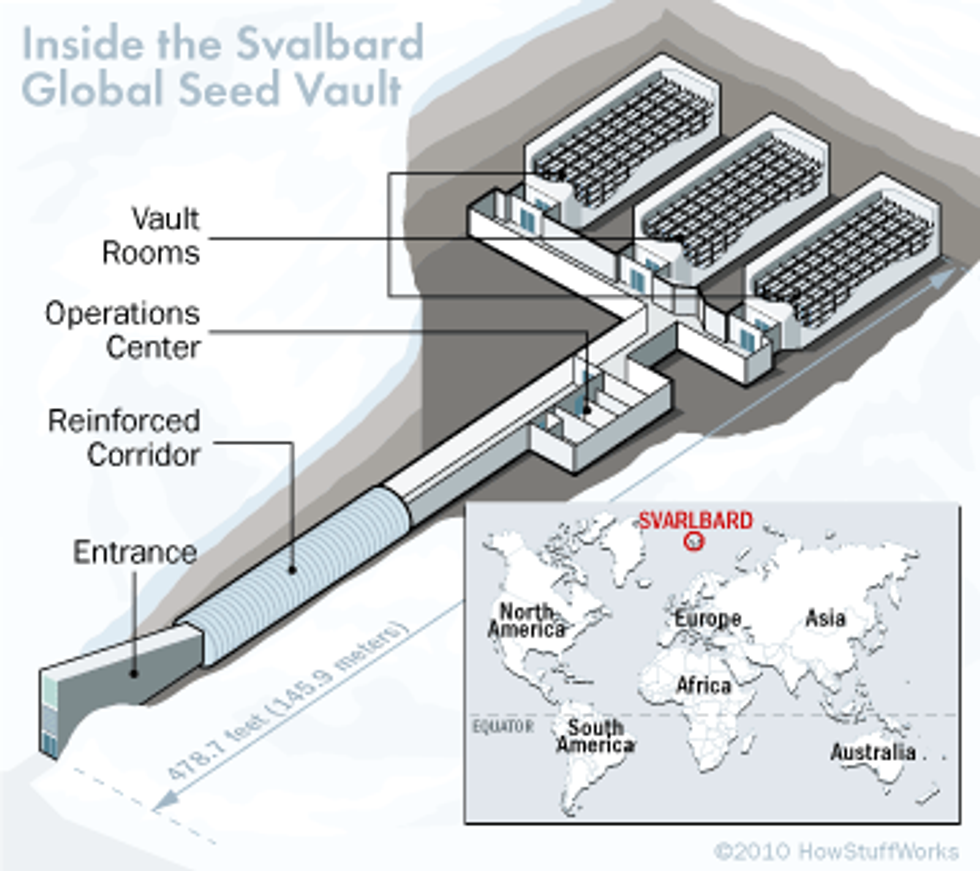 The Svalbard Global Seed Bank, also known as the Doomsday seed bank, aims to preserve as many seeds from around the world as possible. In the event of catastrophic crop failures due to climate change, conflicts or failed monocultures, these 860,000 samples, kept in a vault buried 400 feet into the side of a mountain on the Norwegian island of Spitsbergen, could save our supper.
In September 2015, the Doomsday seed bank vault was opened for the first time, when supplies in another seed bank, located in the Syrian city of Aleppo, were damaged in that country's devastating civil war. The Aleppo seed bank can no longer grow and supply seeds, so the International Center for Agricultural Research in Dry Areas (ICARDA) requested a withdrawal of 116,000 seed samples it had deposited for backup in Norway.
Seed banks around the world keep genetic samples of food and other plants in carefully climate-controlled storage, serving as backups for each other, and 
To read more, continue to the next page.
ultimately backups for a global food system. According to the UN Food and Agriculture Organization, 95 percent of the world's calories come from just 30 crops. As agriculture continues to consolidate crops down to a few varieties —most of which are owned by just one company, Monsanto — the risks increase that we could lose entire categories of food. Seed banks provide alternatives to the dominating crops.
Diversify at Home
Maintaining biodiversity starts at home. In fact, home gardeners can make a big difference by growing varieties of fruits and vegetables that can't be found at the grocery store. From heirloom apples to really cool old squash, these uncommon varieties may have natural resistance to pests, climate variations and diseases, and in the event of a failure in the dominant crops, these heirloom varieties could survive. In the meantime, they bring variety to our palates and sometimes a good story, too.
The Seed Savers Exchange began in Iowa in the 1970s as an organization devoted to preserving heirloom fruits and vegetables. Individual gardeners keep heirloom varieties alive by growing them and enabling them to adapt to different growing conditions. An online seed exchange between growers around the world keeps as many as 23,000 rare plants growing. A catalog of 600 rare plants is published each year, making home gardens the antidote to the monoculture that exists in the produce aisle. If it's rare squash that excites you, there are 39 varieties for sale at Seed Savers Exchange, ranging from crooknecks and turbans to kiguza and Australian butter squash.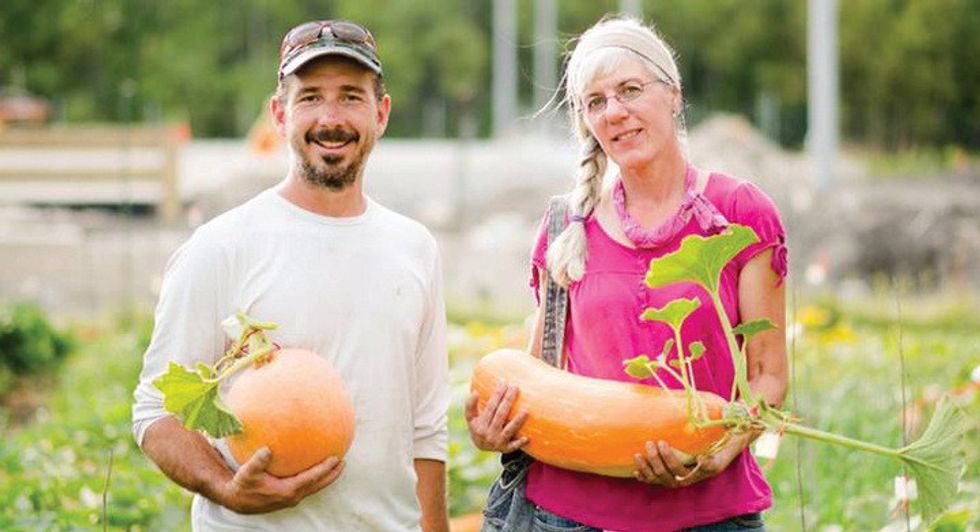 Canadian Mennonite University instructor Kenton Lobe with Seed Saver Caroline Chartrand holding the Gete-Okosomin squash. Credit: Source.
If it's that Gete-Okosomin you dream of tasting, the seeds are circulating. You just need to find someone willing to share some from the plants they grew last year.