Veteran Fox News foreign correspondent Conor Powell announced on Tuesday that he will be resigning from the network after nine years. Powell shared his decision in a Facebook post that has since been deleted.
---
He wrote:
"After nearly 9 years, I have decided to resign from Fox News. Those of you who have spoken to me in recent months, you will understand why I am leaving FNC. To my many friends at the channel I wish you the best of luck."
You can see a screenshot of the deleted post below: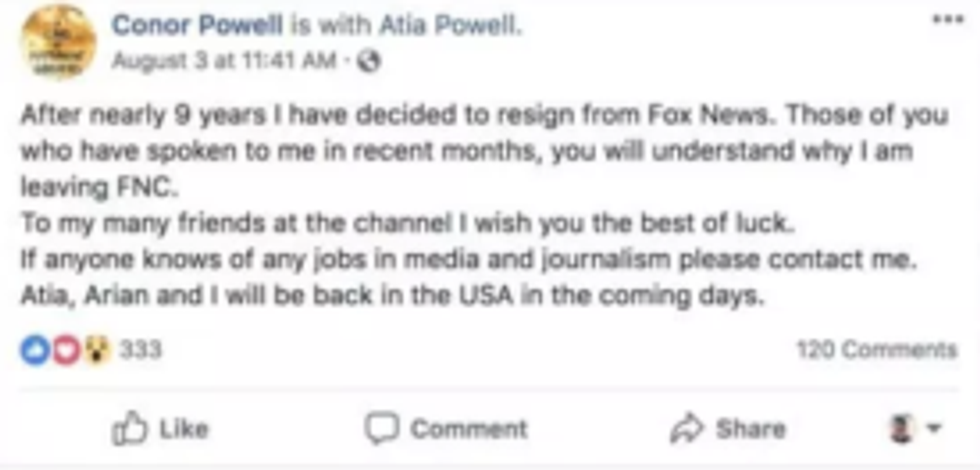 Powell then reached out to his network for career advice.
"If anyone knows of any jobs in media and journalism please contact me," Powell continued.
"Atia, Arian and I will be back in the USA in the coming days."
Powell has been based in Jerusalem and did not offer specifics as to what prompted his resignation, however, a source close to Powell told The Wrap that Powell was "uncomfortable with the direction of the news organization in recent months."
The source cited "fewer news shows, more opinion shows, less resources for reporters to report" as possible motivators for Powell's departure.
"Lots of reporters are very unhappy with directions of FNC right now," the source said.
People cheered Powell's decision on social media.
New York Times best-selling author Kurt Eichenwald said Powell is one of "many real news people there who cannot tolerate what Fox has become - the Hannity Lying State News channel."
Eichenwald referenced military analyst Ralph Peters, who resigned after calling Fox News a "propaganda" network for President Donald Trump. Peters said Fox "was assaulting our constitutional order and the rule of law, while fostering corrosive and unjustified paranoia among viewers."
Eichenwald urges viewers to reconsider their loyalty to Fox as seasoned journalists "walk away from jobs, abandon a paycheck, declaring this place traffics in lies, before you finally accept that Fox's use of traditional propaganda technique - telling you everyone else is lying and only they are telling the truth - cannot withstand reason?"
"I know, never," Eichenwald said pessimistically.
Some on social media want to know what other Fox journalists have to say about what really goes on at the network.
One can only wish.
Others noted that Fox has "always been that way." In this case, a media outlet for the right that has become "more egregious under Trump."
Others suggested that Powell, and others, should stay at the network as a source for truth.
There is a reason many of them stay...
Who will be next?
Powell isn't the only one to make headlines after leaving the network. In March, analyst Ralph Peters left the network, saying he could not work for a news outlet that has become "a propaganda machine" for President Donald Trump.