[DIGEST: The Arizona Republic, Politico]
Hillary Clinton picked up two unprecedented endorsements, continuing the streak of good news for the campaign after a strong performance at Monday night's presidential debate. The Arizona Republic, a stalwartly conservative paper, and former Virginia Senator John Warner, a revered figure within the GOP, threw their support behind the former Secretary of State.
---
The Arizona Republic's endorsement marks the first time the paper has backed a Democratic candidate for the presidency in its 126-year history. "Since The Arizona Republic began publication in 1890, we have never endorsed a Democrat over a Republican for president. Never. This reflects a deep philosophical appreciation for conservative ideals and Republican principles," the paper's editorial board wrote. "This year is different. The 2016 Republican candidate is not conservative and he is not qualified. That's why, for the first time in our history, The Arizona Republic will support a Democrat for president."
The Republic praised Clinton for her temperament and her experience. "Clinton knows how to compromise and to lead with intelligence, decorum and perspective," they wrote. "She has a record of public service as First Lady, senator and secretary of state. She has withstood decades of scrutiny so intense it would wither most politicians. The vehemence of some of the anti-Clinton attacks strains credulity."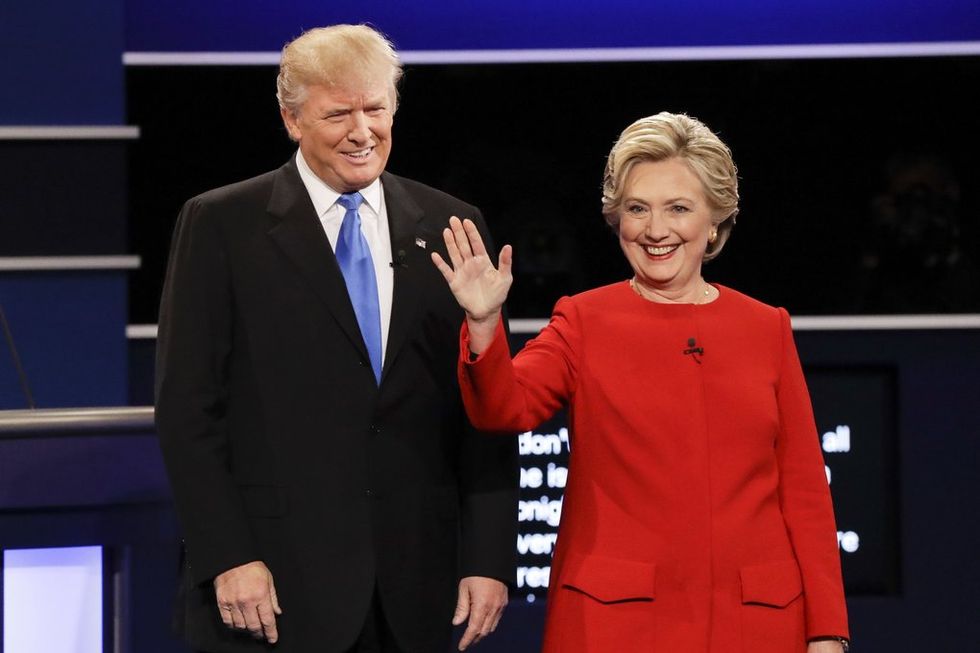 Hillary Clinton and Donald Trump at Monday night's presidential debate. (Credit: Source.)
By contrast, Trump "hasn't even let the American people scrutinize his tax returns, which could help the nation judge his claims of business acumen." Whereas Clinton, the paper noted, "retains her composure under pressure," Trump "responds to criticism with the petulance of verbal spit wads." The Republic's criticisms regarding Trump lie in stark contrast to Trump's claim toward the end of Monday's debate that he has "much better judgment" than Clinton while attacking her record while she was the country's Secretary of State. "I think my strongest asset, maybe by far, is my temperament. I have a winning temperament," he said at the time.
The Republic also applauded Clinton's "calls for comprehensive immigration reform" and pointed to a recent poll which shows "Arizonans oppose both more walls and the mass deportations Trump endorses." The paper's editorial board noted that Arizona has received criticism for "hardline" immigration proposals before. In 2010, the Arizona legislature approved SB 1070, a "show me your papers" law which allows law enforcement to inspect––and possibly detain––individuals for their immigration status. The law "earned Arizona international condemnation
and did nothing to resolve real problems with undocumented immigration." The paper's condemnations are a slap to Trump, who has made immigration one of the cornerstones of his incendiary campaign. A recent CNN/ORC analysis revealed that most Americans oppose his signature positions on immigration.
Former Virginia Sen. John Warner's endorsement also marks the first time he has backed a Democrat for president, though he did endorse Democratic Sen. Mark Warner (no relation) over Republican challenger Ed Gillespie in 2014. Virginia is considered an important swing state that both candidates view as essential to winning the general election; Warner's decision complicates that victory for the Trump campaign, as it is a strong signal to mainstream Republicans that they should vote for Clinton.
Clinton's aides confirmed Warner's endorsement. A Clinton aide who spoke to reporters on condition of anonymity said Warner plans to make his endorsement official at an event in Alexandria with Virginia Sen. Tim Kaine, Clinton's running mate. "The event will highlight how Hillary Clinton is by far the strongest and most experienced candidate on a full range of national security issues, and that she has the knowledge, steadiness and temperament to be commander in chief," the aide said.
Former Virginia Sen. John Warner. (Credit: Source.)
Clinton released a statement through her aides thanking Warner for his endorsement. "For 30 years, Virginians trusted John Warner in the Senate, and for good reason: He has dedicated his life to defending our country, from serving in the Navy in World War II to chairing the Senate Armed Services Committee, where I had the honor of working with him to support our men and women in uniform and their families," Clinton wrote. "I am proud to have John's support, and to know that someone with his decades of experience would trust me with the weighty responsibility of being Commander in Chief."
Warner retired in 2009 and left office with high approval ratings. A Washington Post poll conducted a year before his retirement found that 72 percent of likely voters approved of his performance in the Senate.