After a racist act of domestic terrorism in Buffalo, New York—where a White nationalism spewing gunman traveled several hundred miles to target Black people, killed 10 and injured 3 others—right-wing pundits and politicians who peddled the Great Replacement conspiracy theory are facing criticism.
One of those politicians who used the racist, White nationalist replacement theory—that claims people of color and Jews are actively working to replace White, European Christians in the United States through birthrates and immigration policies—is New York Republican Representative Elise Stefanik.
In response to the New York Republican's exploitation of fear and racism in her Facebook ads utilizing the replacement theory, former comedy writer on both South Park and MADtv Toby Morton created a parody website for Stefanik at elisestefanik2022.com.
Morton—whose Twitter profile says he is a "Creator & Writer of GOP Sycophant Websites", a "funny unexpected third thing"—announced the launch of the parody site in a tweet that tagged the New York Republican.
Morton wrote:
"Hey [Elise Stefanik] - You failed to secure https://EliseStefanik2022.com so I got it and created your new website. Enjoy!"
Morton designed the website to look like an actual campaign site—only satirizing Stefanik's own campaign rhetoric.
The "About" section states:
"I come from Whites. White people, Mmk?
"Let's be clear where I come from because sure, Stefanik doesn't exactly sound White, but I'm totally White."
"White White White."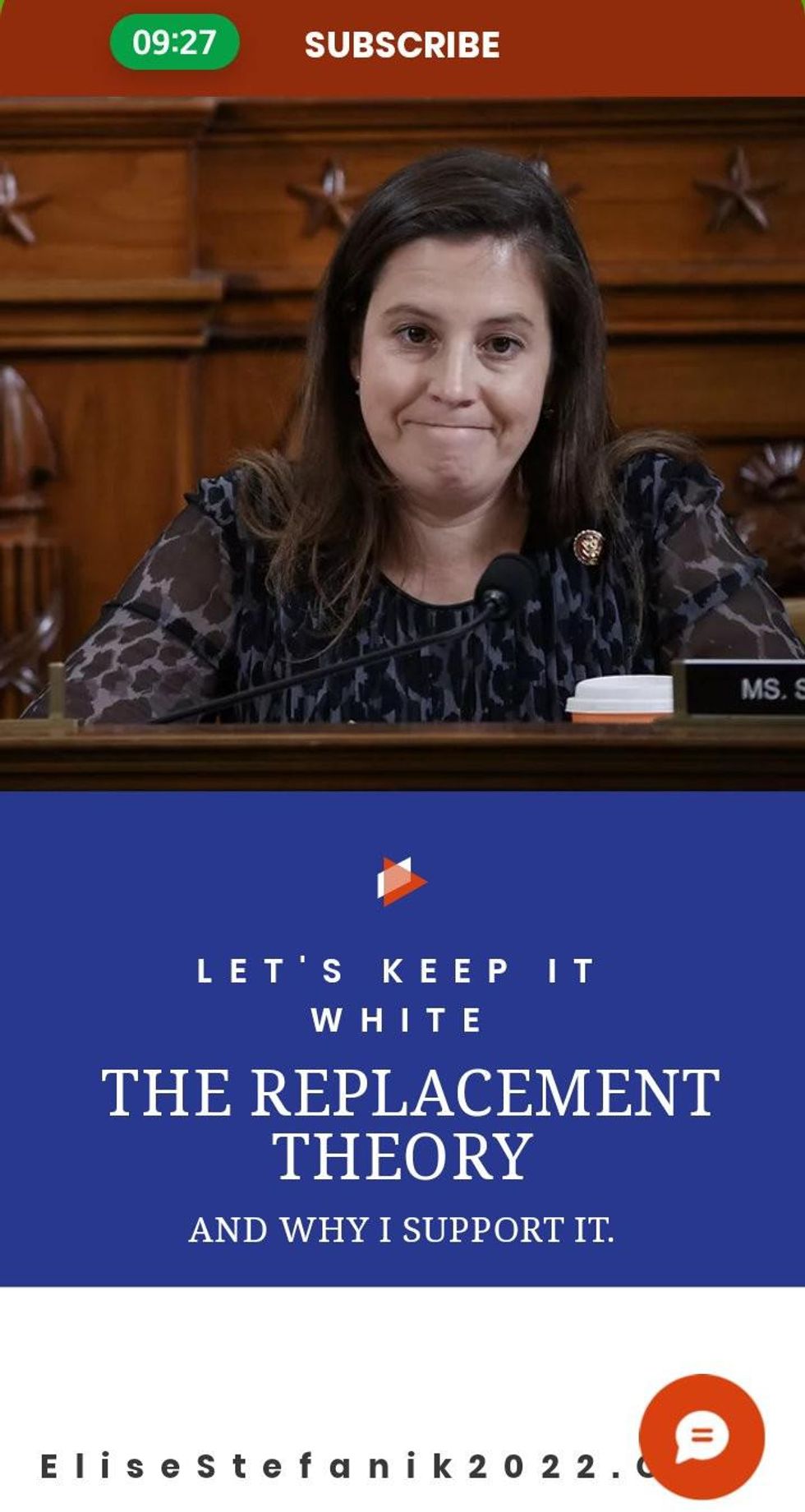 Elisestefanik2022.com
As with most candidate websites, Morton included recent news headlines—all satirical—about Stefanik.
One headline reads:
"Stefanik Shares Blame For Shooting Spree."
An article excerpt reads:
"Our little racist is all grown up now."
"Because of hateful rhetoric spewed from Elise Stefanik, a White supremacist went on a killing spree in Buffalo."
Another reads:
"Elise Stefanik: 'Democrats Are Pedophiles'"
Links on the Stefanik site indicate Morton also has sites for Texas GOP Governor Greg Abbott, Florida Republican Governor Ron DeSantis, Colorado Republican Representative Lauren Boebert, Ohio GOP Representative Jim Jordan and former California GOP Representative Devin Nunes.
While Stefanik had not yet commented on her new website, many others did on Twitter.

Morton also tweeted a direct message he sent to Stefanik about her new website.
He wrote:
"You think the numbers from this tweet are impressive, just wait until I release the website traffic information from the first 24 hours."
"More content on the way..."
The irony that White Europeans are not Indigenous to the Americas and many of the immigrants White nationalists object to are, is lost on the people who push and believe the Great Replacement theory.

White Europeans in North America are a real world example of replacement through genocide and government actions such as forced relocations, bounties offered for "redskin" scalps, the Dawes Acts and Indian Boarding schools.
A 2019 act of domestic terrorism—in El Paso, Texas at a Walmart that targeted Latinos—was also incited by White nationalism, but Republican leaders including former President Donald Trump didn't stop using the racist rhetoric or White nationalist talking points.
In the 2020 general and presidential elections, the White nationalist rhetoric was amplified by Republicans, carrying several to victories.
Stefanik is currently the 3rd ranking Republican in the House of Representatives behind Minority Leader Kevin McCarthy and Minority Whip Steve Scalise. Stefanik—Republican Conference Chair—took over from Wyoming Representative Liz Cheney.
Cheney was ousted for criticizing former President Trump and those complicit in the January 6 insurrection. Cheney—a conservative Republican—was also critical of the White nationalist and White supremacist extremism being supported by her GOP colleagues.