On March 11, 2004, Capcom introduced gamers to Monster Hunter, a role-playing adventure that pits their avatar against a gallery of fantastical beasts. The popular PS2 title then spawned five main games and eight different spin-offs, all culminating in the Jan. 26, 2018 release of Monster Hunter: World. As part of the main series, World is the first Monster Hunter game to release in North America, Japan, and Europe on the same day, which was done to allow for cross-region play via the game's online component.
As with prior entries, Monster Hunter: World is a third-person action-adventure with a heavy emphasis on role-playing. Character customization, world exploration and the inevitable epic battles with the game's impressive roster of monsters promise to round out a game with plenty of longevity.
---
One aspect of the Monster Hunter series that continues to enthrall its fanbase is the arsenal of weaponry available to hunters. World is no different, providing more than one dozen different weapon types for them to choose from on their journey.
The 14 different weapons that can be used to take down larger prey include:
Great Sword: A powerful and long-reaching tool, the Great Sword sacrifices mobility for a powerful strike.
Sword & Shield: Protection and fast attacks come together in this practical combination that's great for beginners. This pairing allows hunts to use items with their weapon drawn.
Dual Blades: Players are given access to a flurry of attacks to devastate their target with, complete with a "Demon Mode" that enhances effectivity.
Long Sword: Trained hunters can utilize the long sword's extended attacks while making use of the Spirit Blade's attack power buff.
Hammer: This powerful weapon relies on heavy blows and bludgeoning stun attack to subdue monsters.
Hunting Horn: Though it appears to be less-than-useful in the midst of battle, the hunting horn's long reach and status buffs make it a vital tool.
Lance: Get the best of offensive and defensive tactics with this quick and easy-to-handle weapon.
Gunlance: Make use of long-range offensive attacks that can easily subdue any beast, big or small.
Switch Axe: Switch between a powerful axe and swift sword and enjoy the added benefit of elemental damage.
Charge Blade: Seamlessly switch between a quick-attack sword and a devastating axe, storing up power with each strike for a powerful blow.
Insect Glaive: Combine impressive mobility and aerial attacks with stat boosts to become an unstoppable force.
Bow: Keep your distance from your prey while inflicting heavy damage and status ailments to turn the tide of battle.
Light Bowgun: Enjoy the range of a bow with the quick firepower of a mechanical gun, complete with explosive ammunition.
Heavy Bowgun: Amplify the firepower of the Light Bowgun with high-damage dealing ammo.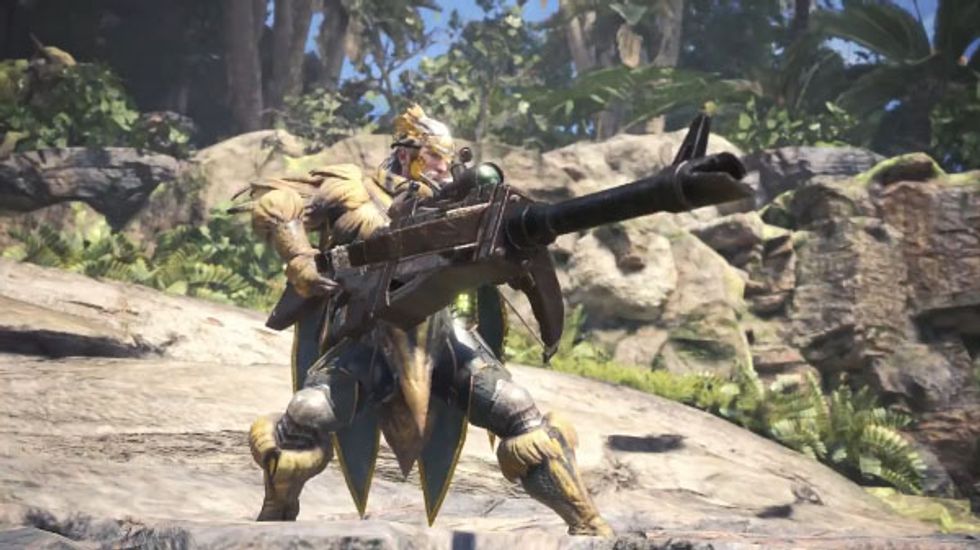 Each of the 14 weapons come with a unique playstyle and many advantages and disadvantages on the battlefield. Master just one or get a grasp of multiple types to become an expert hunter.
Monster Hunter: World is available on the PS4 and Xbox One with a PC release date in Q3 or Q4 of 2018. The game retails as a standard edition or a Digital Deluxe Edition complete with:
Samurai Set
Additional Gesture 1: Zen
Additional Gesture 2: Ninja Star
Additional Gesture 3: Sumo Slap
Additional Sticker Set 1: MH All-Stars Set
Additional Sticker Set 2: Sir Loin Set
Additional Face Paint: Wyvern
Additional Hairstyle: Topknot
14 Special Avatars
GameStop also offered an exclusive collector's edition that may be available. The limited release includes:
Monster Hunter: World Standard Game
Nergigante Statue
32-page Hardcover Art book
Digital Soundtrack
Digital Deluxe DLC Card, featuring:
Samurai Set
Additional Gesture 1: Zen
Additional Gesture 2: Ninja Star
Additional Gesture 3: Sumo Slap
2 additional sticker sets
"Wyvern" face paint
"Topknot" hairstyle