[DIGEST: CTV, New York Times, The Guardian]
When considering hazardous or dangerous careers, bookselling hardly springs to mind. Unless you live in Hong Kong.
---
The story reads like a Cold War spy novel. Hong Kong editor and bookstore owner Lee Bo vanishes without a trace, and his wife, Choi Ka-ping, files a missing persons report with local authorities. A week later, Bo faxes a letter to colleagues suggesting that he has crossed the border into China to assist police with a delicate and sensitive personal investigation, and his wife withdraws the missing persons report because the calligraphy is clearly Bo's own.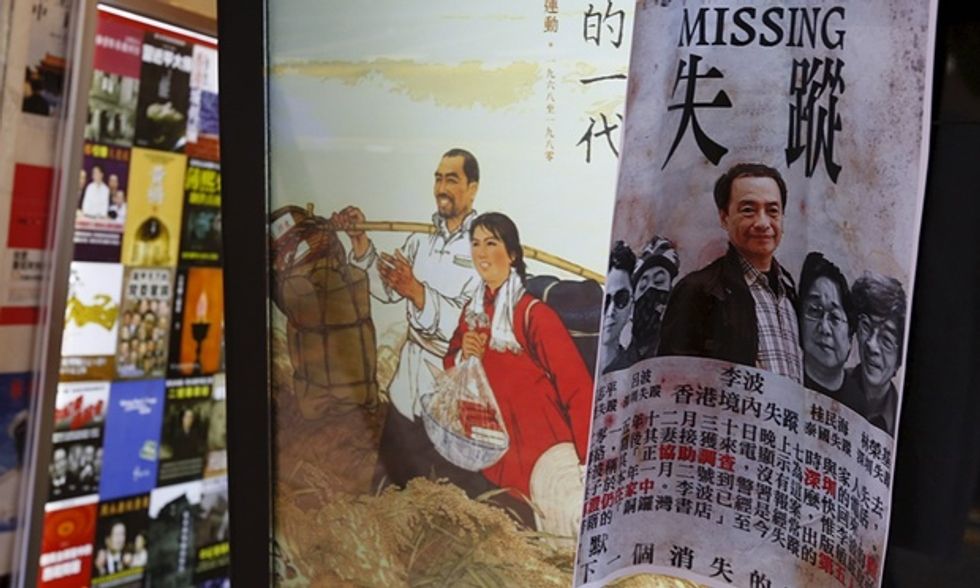 A poster depicting Lee Bo and four colleagues in Hong Kong, who've gone missing, outside a bookstore. Credit: Source.
Ka-ping might be fooled, or she might be staying quiet to protect her husband, but others are far less reserved, certain that Bo has been spirited away by agents working on behalf of China's repressive regime. On Sunday, thousands of Hong Kongers protested against the strong-arm tactics of Beijing's ruling Communist Party. It's virtually impossible for Bo to have traveled to the mainland without the Hong Kong authorities' knowledge, which suggests one frightening conclusion.
Although technically a separate and autonomous territory — the famed one country, two governments — Hong Kongers have good reason to be nervous. When the area returned to China in 1997, after 156 years of British rule, the city's 7.4 million citizens were uneasy. The Chinese authorities promised to maintain Hong Kongers' Western-style rights for 50 years, but Bo's disappearance is just the latest transgression that suggests China is not honoring its commitments.
Bo runs Causeway Bay Books, a vendor that is highly popular with mainlanders because it sells gossipy — and often titillating — books about public figures in 
China, including Chinese leader Xi Jinping. Unsurprisingly, these books are banned in the country sometimes referred to as The Red Dragon, but Chinese visitors often make the store their first stop after arriving in Hong Kong. Many of these titles are published by Mighty Current, which is co-owned by Bo's wife.
Since October, five employees of the interlinked companies have disappeared. Author Gui Minhai, who holds a Swedish passport and also co-owns Mighty Current, was spirited away from his hotel in Thailand. Three others vanished during travels through China, and haven't been heard from since.
Chinese government officials have yet to issue a statement, but one report filed by a pro-government newspaper suggested that Bo was arrested on the mainland for procuring sex from prostitutes, a story that is often floated when circumstances are dubious.
Bo holds a British passport but, as he is ethnically Chinese, the Communist Party considers his actions to be an internal Chinese matter, and will brook no interference nor answer any questions about what Bo might be doing.
Foreign governments have expressed deep misgivings. The United States government called the disappearances "disturbing." British foreign secretary Philip Hammond went further, suggesting that if Beijing is behind the disappearances, it is an "egregious" breach of Hong Kong's guaranteed autonomy. The European Union has requested information on all five missing persons, adding that "respect for freedom of expression underpins all free societies."
Hong Kong government authorities believe the abductions mark the death knell for the "one country, two systems" agreement.