Experts worry a recent outbreak of the plague on the island of Madagascar is being spread by a sacred, ancient funerary ritual practiced by a native ethnic group.
Famadihana (pronounced fa-ma-dee-an), also known as "turning of the bones," is a tradition practiced by many Malagasy people that dates back to the 17th century. In short, it requires exhuming the deceased bodies of loved ones, wrapping them in a fresh shroud, and dancing with the corpses through the streets to singing and music before reburying them.
---
Outbreaks of the plague are not uncommon on Madagascar, but this most recent round is one of the deadliest in years — it's sickened more than 1,110 people and killed 124 since August. Plague epidemics typically peak between September and April, which experts point out coincides with the timing of famadihana ceremonies.
Famadihana: Plague spreading as Black Death corpses are dug up and danced with as part of ancient Madagascan ritual… https://t.co/xuQGa7VTmw

— NABC/K-State (@NABC/K-State) 1509471905.0
Sixty-seven percent of plague cases in this epidemic turned out to be pneumonic plague, a lung infection caused by Yersinia pestis bacteria. It's the same bacteria that causes the less-deadly bubonic plague — also known as the Black Death, which killed 50 million people in medieval Europe.
Without treatment, people infected with pneumonic plague die within 12 to 24 hours. There is no available vaccine.
"If a person dies of pneumonic plague and is then interred in a tomb that is subsequently opened for [the ritual], the bacteria can still be transmitted and contaminate whoever handles the body," said Willy Randriamarotia of Madagascar's health ministry.
Famadihana tradition dictates that loved ones be dug up every five, seven or nine years. In addition to participating in the festivities, the corpses are spoken with and even asked for guidance. Many Malagasy people believe their ancestors' spirits can freely move between the worlds of the living and the dead.
"It's one of Madagascar's most widespread rituals," Mahery Andrianahag, a historian, told the AFP wire service. "It's necessary to assure cosmic harmony...it satisfies our desire to respect and honor the ancestors so that they can be blessed and one day return."
Now, however, officials are asking that locals hold off on performing the ceremony, and even requiring that victims of the plague be buried in mausoleums that cannot be opened — suggestions that have been met with resistance by many Malagasy.
"I don't want to imagine the dead like forgotten objects. They gave us life," said Helene Raveloharisoa, to the AFP wire service. "I will always practice the turning of the bones of my ancestors—plague or no plague. The plague is a lie."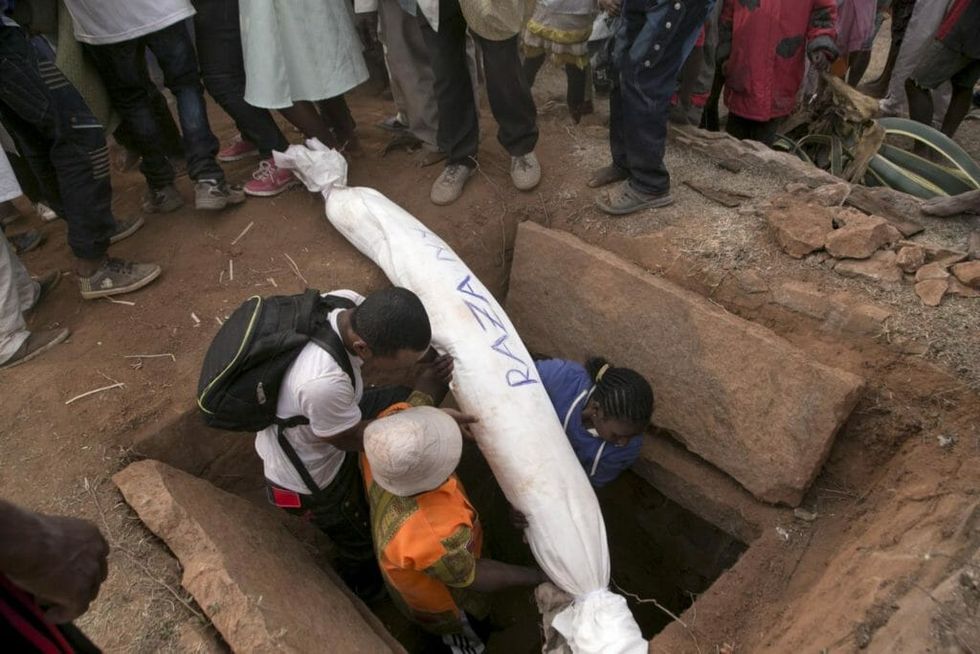 RIJASOLO/AFP/Getty Images
The U.S. sees a few plague cases per year, but they're usually the bubonic plague. Bubonic plague is typically transmitted by fleas that have been feeding on infected rodents, and most cases are limited to the Southwest. The World Health Organization says there's little chance of Madagascar's pneumonic plague outbreak reaching the U.S.
"The risk of international spread is low, because generally, people with plague are too sick to travel," Dr. Charlotte Ndiaye, a WHO representative, told CNN.