[DIGEST: NZHerald, Independent]
A 39-year-old Canadian man who went missing five years ago was recently found in the Amazon jungle — 10,460 kilometers, or 6,500 miles, from his home.
---
After disappearing from his Vancouver home in 2012, Anton Pilipa walked across two continents. He managed to trek over ten countries, including the United States, Mexico, Guatemala, Costa Rica, Panama, Colombia, Venezuela, Argentina and Brazil, without a passport and for the most part without shoes.
Apparently, Pilipa, who may suffer from schizophrenia, had inexplicably set out to visit the National Library of Buenos Aires in Argentina. Once he arrived, however, he was denied entry because he lacked identification.
At that point, Pilipa changed direction and headed toward Brazil, where he was eventually discovered by Canadian-born Brazilian police officer, Helenice Campos. She initially thought Pilipa was a beggar, due to his scruffy appearance — bare feet, dirty Bermuda shorts and a vest — but soon realized he was a lost man. Campos, along with many international agencies and embassies, helped the man to find his family and return home to Canada after five long years.
Pilipa was not without belongings for the entirety of his trip, however. He did begin his journey with a small bag of necessary items, which were gradually robbed from him over the course of his expedition.
One might think this trip would leave Pilipa sour; he feels differently, having "received more generosity, especially in recent times."
"I've never felt alone. It's been a lot of thinking for years, sleeping in the open. It's very simple to live, we do not need many things," Pilipa explained.
Surviving primarily on fruits and berries he picked along his path, as well as food and clothing from the trash and help from strangers, Pilipa makes his story of survival sound
almost easy. That is, until he mentions the 800 kilometers, or 497 miles, that he traveled alone through the Amazon, facing the threat of wild animals like snakes and venomous spiders.
His family was in disbelief when they learned he had been found alive. After five years, death seemed more likely.
"I told myself that he was dead. Because that was the only thing I could come up with that explained his absence," his brother, Stefan, told the Daily Mail, "But in my heart of hearts I didn't think he could be. I was really shocked."
After Officer Campos discovered Pilipa with no visible form of identification, Pilipa was taken to a Brazilian hospital and held in a psychiatric ward. His health was beginning to deteriorate as he remained in the facility awaiting his family.
"He looked pretty rough," Stefan Pilipa also told the Daily Mail, "The rigors of his journey took a toll on his body and face. And he had a lot more hair than last time I saw him."
Stefan has established a GoFundMe page in Pilipa's name, which has raised over $15,000 to cover Anton's transportation costs back to Canada.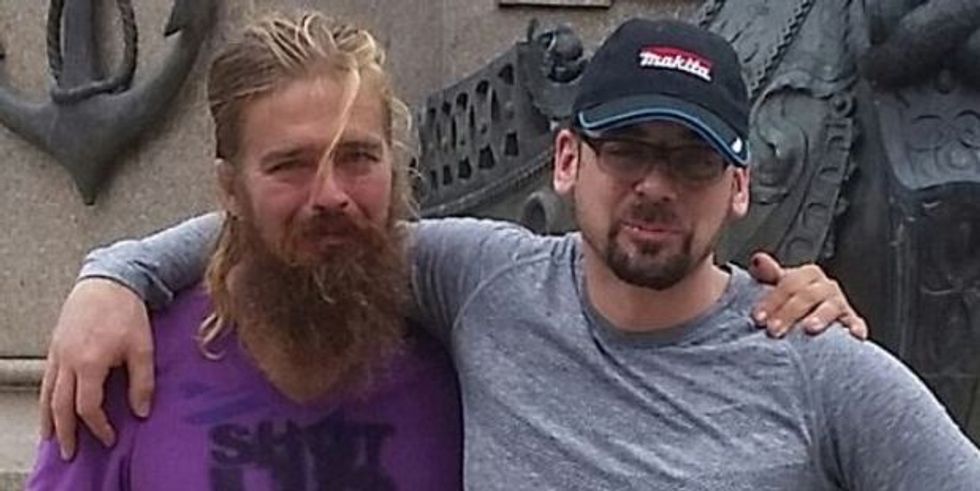 Brothers united for the first time in five years. Credit: Source.
Anton Pilipa is since back on his medication regimen, which he had only taken but briefly before his long adventure began.
Unfortunately, in the two years before his disappearance, his family had difficulty finding him help for his illness due to uncertainty surrounding what exactly was ailing him.
Prior to his diagnosis, Pilipa had worked on humanitarian efforts around Canada.
When he finally began treatment in 2011, he was involved in an incident that resulted in assault and weapons offense charges. He fled Canada in 2012 before he was due to appear in court, though his brother does not believe this was the sole reason for Pilipa's disappearance.
"The timing is suspect," Stefan told the Daily Mail, "But was he trying to avoid (the charges)? I don't think so. He was restless. That is the major form of his mental illness."
Pilipa was arrested upon his return to Canada for the now six-year-old charges, though he has currently been released on bail.
In the meantime, Pilipa is living with his brother, sister-in-law, and their children in downtown Toronto. Stefan describes his brother as traumatized, but doing "remarkably well."
"I know that I am very lucky to be alive," Pilipa told BBC, "I am very happy to be able to return to my family."