On Thursday, Nov. 23, 2017, as many families shovel platefuls of turkey into their mouths, in the back of their minds they'll be thinking of one thing: those must-have Black Friday deals. Still in their turkey comas, they rush to stores later that night or the day after to score the deals they've been drooling over.
Amidst the many items scheduled to go on sale for the busiest shopping day of the year are the essentials that every video gamer needs. From consoles to accessories, shoppers can see discounts as high as 50%, so long as they're looking in the right location.
---
For the best deals in video gaming, there four stores tend to offer the largest discounts and carry the biggest stock.
Target
Starting at 6 p.m. on Nov. 23, 2017, Target will be offering "doorbuster" deals on software and hardware including $100 off the PlayStation 4 1TB console, $14.99 off the newly released Call of Duty: WWII, and $100 off the PlayStation VR headset.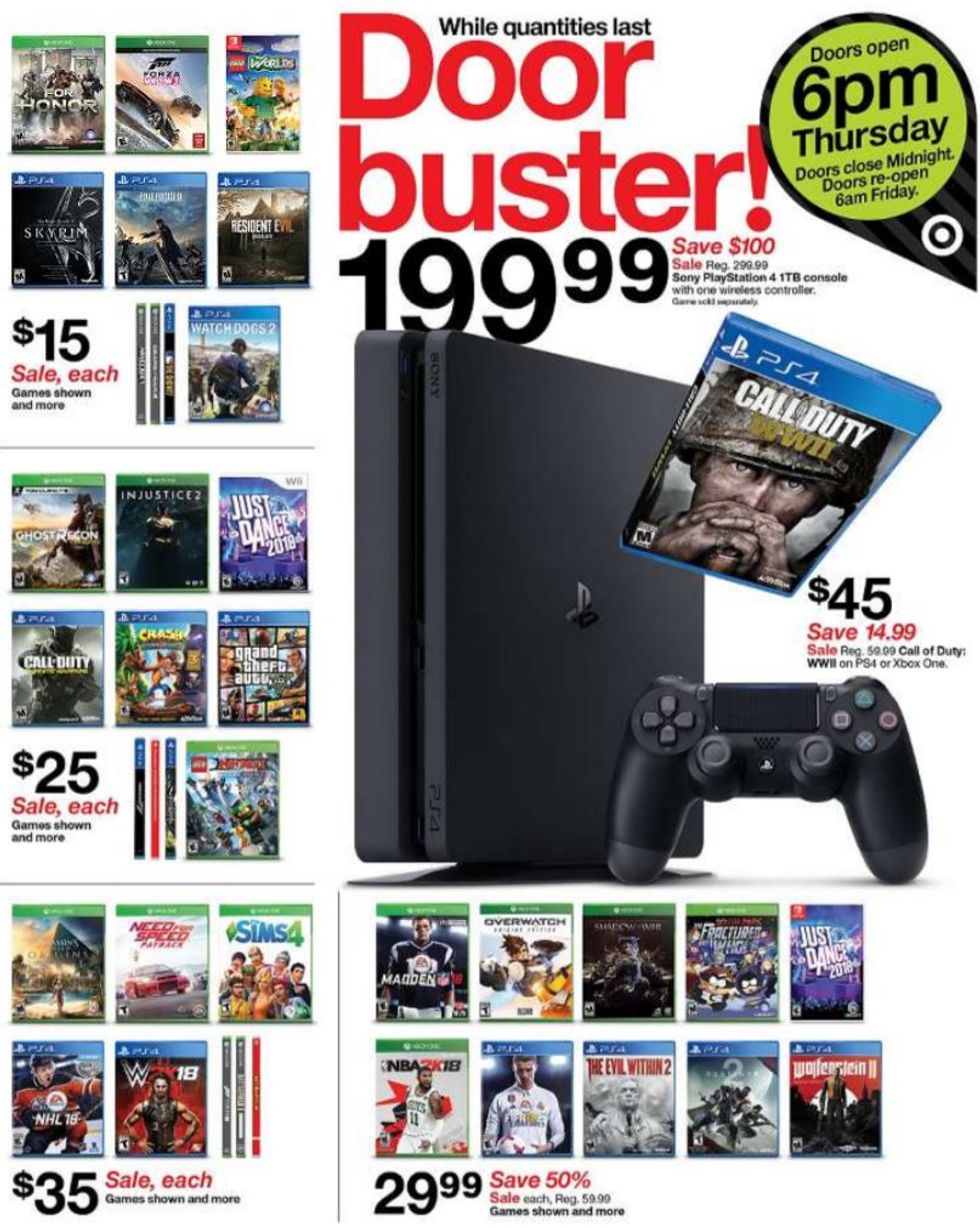 Source: Target
Additional exclusive offers include savings on PS4 and Xbox One wireless controllers, PlayStation Network and Microsoft store subscription cards, the limited-edition Legend of Zelda Nintendo 2DS, and games like Resident Evil 7, Watch Dogs 2, Assassin's Creed Origins, and Wolfenstein II.
Walmart
As with Target, Walmart will also be offering $100 off the PlayStation 4 1TB console but will also be discounting the Microsoft Xbox One S 500GB console to $189.99. Rather than offer the PlayStation VR headset by itself, Walmart's deal is $100 off the bundle include the PlayStation camera and GT Sport.
Call of Duty: WWII will be $1.89 cheaper than at Target and games like Mortal Kombat XL, Grand Theft Auto V, The Evil Within 2, and 1-2-Switch will also receive hefty sales, some costing as little as $12 each.
Walmart locations will open at 6 p.m. on Nov. 23.
Best Buy
Best Buy locations will be getting the jump on Target and Walmart by opening at 5 p.m. on Thanksgiving Day. The store will also be selling copies of Call of Duty: WWII for $39.99, just over $3 cheaper than Walmart's offer.
Best Buy stores will also be selling the Xbox One S 500GB console for $189.99 by itself or in a bundle with Madden NFL 18 for $229.99. Astro gaming headsets will be on sale for up to 25% while Turtle Beach headsets are marked up to $50 off.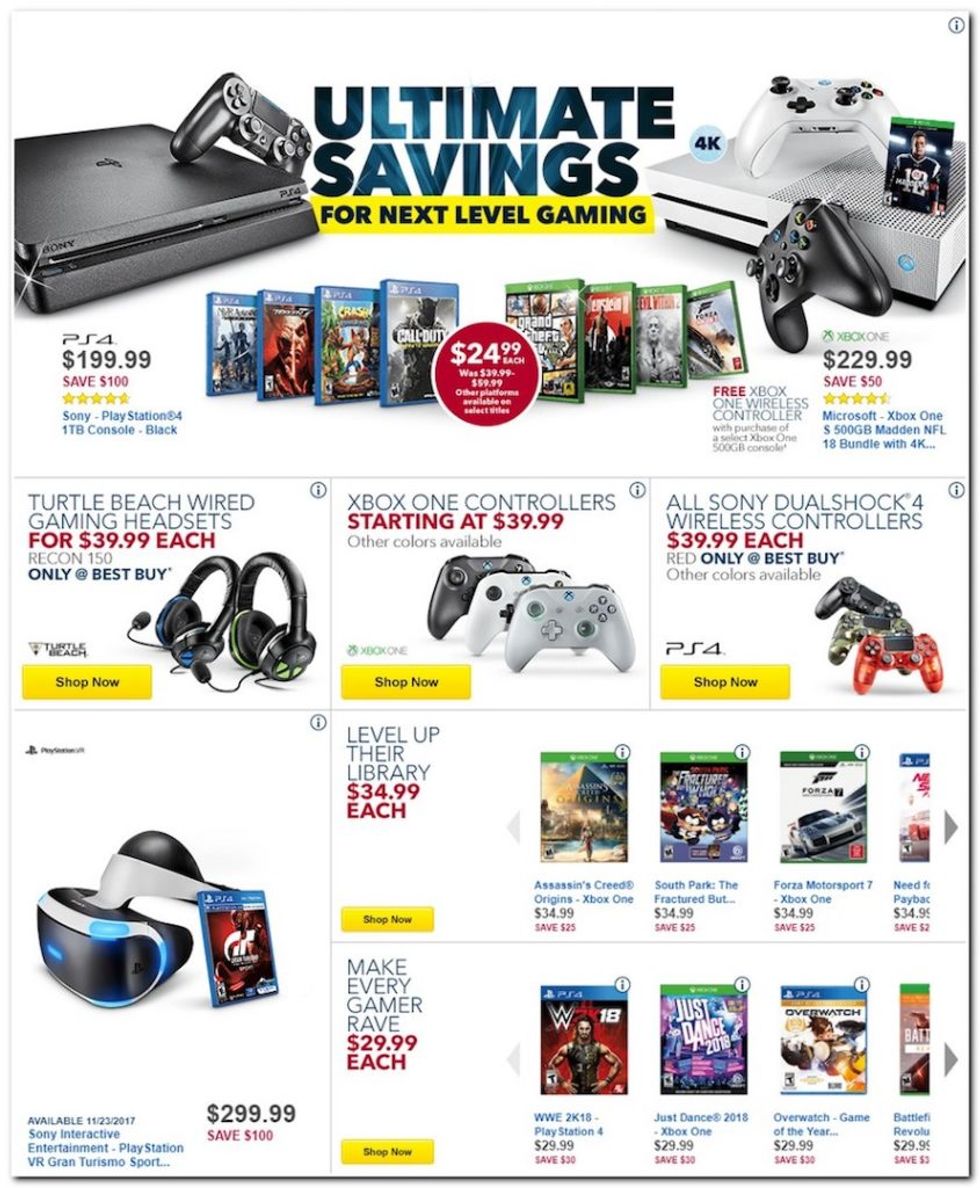 Source: Best Buy
With the purchase of Star Wars Battlefront II, Best Buy stores are giving away a free Darth Maul POP Funko figure while supplies last. Though the Nintendo Switch isn't on sale at any store, Best Buy's Black Friday sale will mark essential accessories down to $19.99.
GameStop
Though GameStop has yet to officially released its Black Friday ad, as with prior years, the ad leaked online on Nov. 16. The go-to retailer for gamers, GameStop stores will open on Thursday at 4 p.m. Included in the store's offers the PlayStation 4 Pro 1TB at $50 off, an Xbox One S 1TB console with Middle-Earth Shadow of War for $299.99, and a $50 Gamester gift card with the purchase of HTC Vive VR.
Games like Wolfenstein II, The Evil Within 2, and Nier Automata are on sale for $24.99 while Fallout 4, Overwatch, Yakuza 0, and Persona 5 are marked at $29.99.
Other Stores to Shop
Beyond those four core stores, the following locations also have limited video game offers running on Black Friday.
Online Shopping
When leaving the house isn't an option – or a desire – Amazon is a reliable go-to source for Black Friday deals. With discounted keyboards and mice, headsets, and gaming accessories, Amazon is the ideal alternative for items not typically carried in an abundant variety in stores.