Everybody's favorite puff of pink is back, this time bringing his staple brand of adorable mischief to the Nintendo Switch. Kirby Star Allies is the third of Nintendo's iconic characters to bring their hijinx to the Switch, following the successes of Mario and Link. Kirby's first HD adventure is a brand new title that aims to bring back the good 'ole days of side-by-side co-op gaming.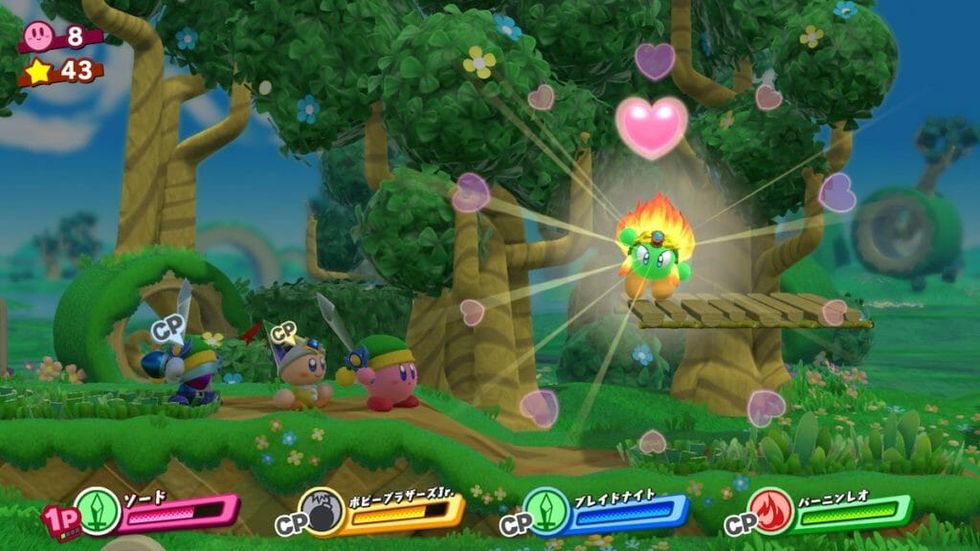 ---
Kirby Star Allies is playable solo, but the whole point of being able to recruit enemies is to promote a multiplayer experience. The pink puff returns with his signature copy ability, but this time can also use hearts to entice enemies onto his side. Up to three enemies can become a part of his time and controllable by a fellow player. Kirby Star Allies supports four-player play that requires either eight Joy-Con with four Joy-Con Grips or four horizontal Joy-Con controllers. As of now, there is no online multiplayer, and it's unlikely that updates and DLC will change that in the future.
Copy abilities return from previous Kirby games and include Sword, Water, Broom, Water, and Fire. More skills are available, and each option can be enhanced with an elemental power. This is where teamwork comes in as Kirby can combine attacks of his helpers for a more powerful strike or advance through puzzles.
As with most Nintendo titles on the Switch, Kirby Star Allies is compatible with amiibo figures. Different amiibos will unlock Illustration Pieces, which are pieces of art that are viewable outside of the main game. Amiibos from the Kirby series will unlock two Illustration Pieces while any other figure will only unlock one. All amiibos will spawn helpful in-game items upon use, such as health.
Kirby Star Allies spans multiple worlds as Kirby and friends attempt to thwart an evil force that threatens the sanctity of Dream Land. Nintendo released a free demo that's available on the Switch for players that may be new to the Kirby series.