Early Tuesday morning North Korea fired three missiles essentially as warning shots across the bow of Japan, and President Trump's White House statement made clear that a military response is not out of the question:
"Threatening and destabilizing actions only increase the North Korean regime's isolation in the region and among all nations of the world. All options are on the table."
In the same statement, Trump cited North Korea's contempt for the United Nations, despite criticizing them extensively himself.
---
"The world has received North Korea's latest message loud and clear: this regime has signaled its contempt for its neighbors, for all members of the United Nations, and for minimum standards of acceptable international behavior."
Trump's statement this morning comes after previously threatening North Korea with "fire and fury" if they took action against the United States. He soon followed that up by saying that maybe his own threat wasn't "tough enough" as he told reporters that North Korea "better get their act together or they're going to be in trouble like few nations ever have been in trouble in this world."
In response to Trump's most recent threat of retaliation, Twitter users resumed their request for Twitter to cancel the president's account.
The missiles were fired from the North Korean capital Pyongyang, and they flew over the Japanese island of Hokkaido before crashing into the Pacific Ocean. Japan issued a warning to its citizens.
In a 40-minute phone call between Donald Trump and prime minister Shinzo Abe, the two leaders agreed now is not the time for continued dialogue with North Korea, and furthermore, that they might have to show force, alongside Russia and China, in the area. Abe said the missile was "an unprecedented, grave threat" before he and Trump called an emergency UN Security Council meeting.
This is not the first time launched North Korean missiles have passed over Japanese airspace. There have been at least two other launches in 1998 and 2009.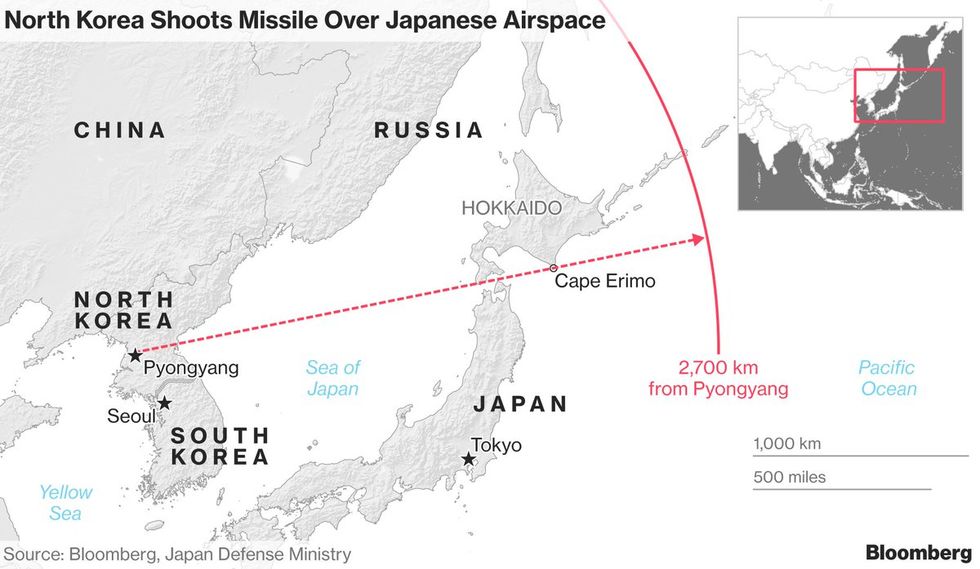 CREDIT: SOURCE