Donald Trump just denied he said anything about the "termination" of the Constitution in reference to the 2020 election, but he absolutely did say exactly that on his social media platform Truth Social.
On December 3, Trump posted:
"So, with the revelation of MASSIVE & WIDESPREAD FRAUD & DECEPTION in working closely with Big Tech Companies, the DNC, & the Democrat Party, do you throw the Presidential Election Results of 2020 OUT and declare the RIGHTFUL WINNER, or do you have a NEW ELECTION?"
"A Massive Fraud of this type and magnitude allows for the termination of all rules, regulations, and articles, even those found in the Constitution."
"Our great 'Founders' did not even want, and would not condone, False & Fraudulent Elections!"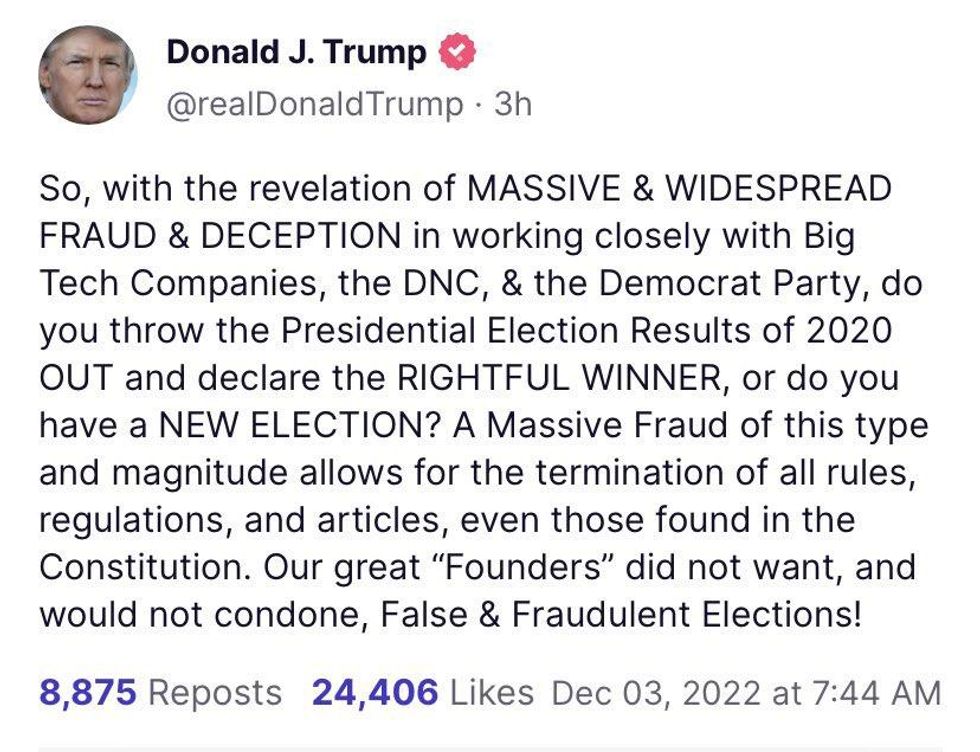 @realDonaldTrump/Truth Social
Republican Representative Adam Kinzinger called on GOP leadership to condemn Trump's anti-democracy rhetoric.
Representative Kinzinger tweeted:
"With the former President calling to throw aside the constitution, not a single conservative can legitimately support him, and not a single supporter can be called a conservative."
"This is insane."
"Trump hates the constitution."
"Right [GOP minority leader Kevin McCarthy], [GOP Caucus Chair Elise Stefanik] and [GOP Judiciary Committee Chair Jim Jordan]?"
While others called for harsher action against Trump.
But by Monday, Trump was denying his prior post and singing a slightly different tune.
He decided to deny ever having said anything about "terminating" the constitution
"The Fake News is actually trying to convince the American People that I said I wanted to 'terminate' the Constitution. This is simply more DISINFORMATION & LIES, just like RUSSIA, RUSSIA, RUSSIA and all of their other Hoaxes & Scams."
"What I said was that when there is 'MASSIVE & WIDESPREAD FRAUD & DECEPTION' as has been irrefutably proven in the 2020 Presidential Election, steps must be taken immediately to RIGHT THE WRONG."
"Only FOOLS would disagree with that and accept STOLEN ELECTIONS. MAGA!"
Twitter had a lot to say about Trump's failed attempts to spin what he said.
Some suspected he was starting to get a bit nervous about potential criminal charges.
Others pointed out under his idea, we would have to redo the 2016 election too.
Trump didn't even delete the first post, where he clearly says "termination of all rules, regulations, and articles, even those found in the Constitution" before claiming he never said anything about terminating the constitution.
If deliberate disinformation is the goal, there are definitely better ways to go about it.