[DIGEST: CNN, New York Times, The Washington Post, The Huffington Post]
Republican Representative Kevin McCarthy's comments to Fox News's Sean Hannity on Tuesday have created a firestorm, not just among Democrats, but among Republicans as well, who are scrambling to distance themselves from the latest political controversy. The question: whether the $4.5 million taxpayer-funded Benghazi Select Committee was motivated to undermine presidential hopeful Hillary Clinton's campaign. After McCarthy's comments, it appears the answer is yes.
---
McCarthy, the front-runner for the position of Speaker of the House after Rep. John Boehner steps down at the end of the month, said to Fox News "Everybody thought Hillary Clinton was unbeatable, right? But we put together a Benghazi special committee, a select committee. What are her numbers today? Her numbers are dropping. Why? Because she's untrustable. But no one would have known any of that had happened had we not fought." Responded Hannity, "I'll give you credit for that. I'll give you credit where credit is due."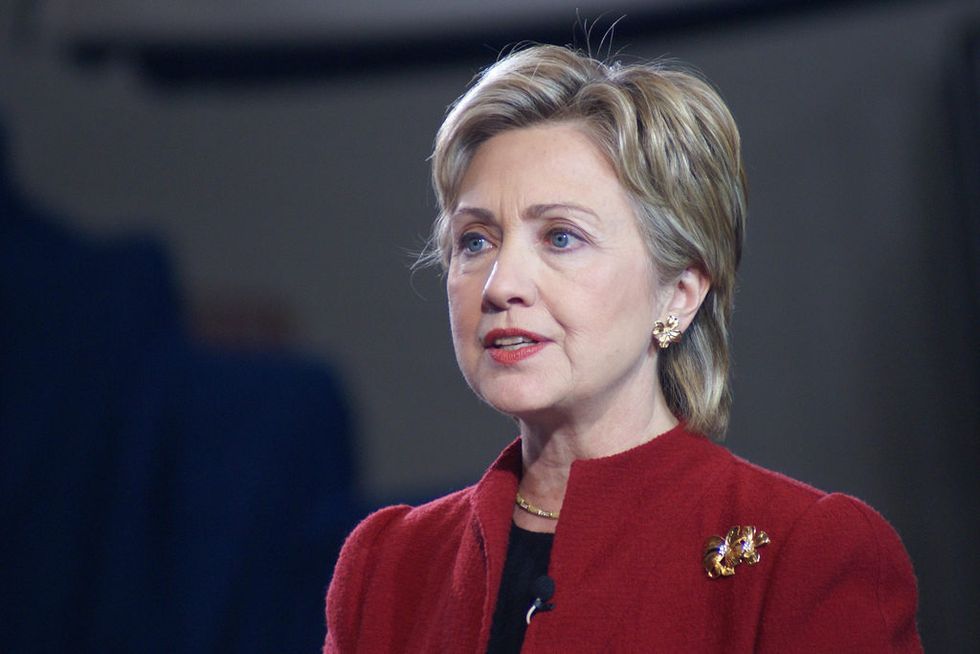 via Flickr user Marc Nozell
The Benghazi Committee was reputedly formed to investigate the death of four Americans in the American Consulate in Benghazi, Libya, in 2012, during Clinton's tenure as Secretary of State. During the investigation, it was revealed that Clinton used a personal email account to conduct government business, and may have violated federal requirements that her correspondence be retained as part of the State Department records. "Emailgate," as the scandal has come to be known, has damaged Clinton's standing in the polls, with one showing that 61 percent of registered voters believe that she isn't honest and trustworthy.
After McCarthy's statements, it appears this was the goal all along, as Clinton's campaign has long allegedi. In the immediate aftermath of McCarthy's comments, Brad Woodhouse, president of the pro-Clinton group Correct the Record stated "We have been saying for years that Republicans were exploiting the deaths of four Americans for political gain. Kevin McCarthy just admitted it. Disgraceful."
Clinton echoed Woodhouse's sentiments in an interview with MSNBC, calling the remarks "deeply distressing." "When I hear a statement like that, which demonstrates unequivocally
that this was always meant to be a partisan political exercise, I feel like it does a grave disservice and dishonors not just the memory of the four that we lost but of everybody who has served our country."
Republican politicians joined their Democratic counterparts in expressing outrage. Rep. Jason Chaffetz of Utah called the statement "absolutely inappropriate." Rep. Adam Kinzinger of Utah similarly called the comments "unfortunate."
On Thursday morning, Senate Democratic leaders called on House Speaker Boehner to disband the Benghazi Committee, but Boehner refused, insisting the goal of the committee—one of the longest-running investigative committees in House history—is to "know the full truth about what happened," and is not about undermining Clinton's campaign.
While Republicans stand behind Boehner's assertion, most Democrats are unconvinced. "This stunning concession from Rep. McCarthy reveals the truth that Republicans never dared admit in public: the core Republican goal in establishing the Benghazi Committee was always to damage Hillary Clinton's presidential campaign and never to conduct an even-handed search for the facts," said Rep. Elijah Cummings, the committee's top Democrat. Representative Adam Schiff, another Democratic member of the committee, agreed, stating that McCarthy's comments "laid bare the abusive purpose of this taxpayer funded committee."
McCarthy issued an apology on Thursday night, stating "It was never my intention to imply that this committee was political, because we all know it is not."
McCarthy's boast makes that assertion anything but clear.  
Featured image via Flickr user Medill DC