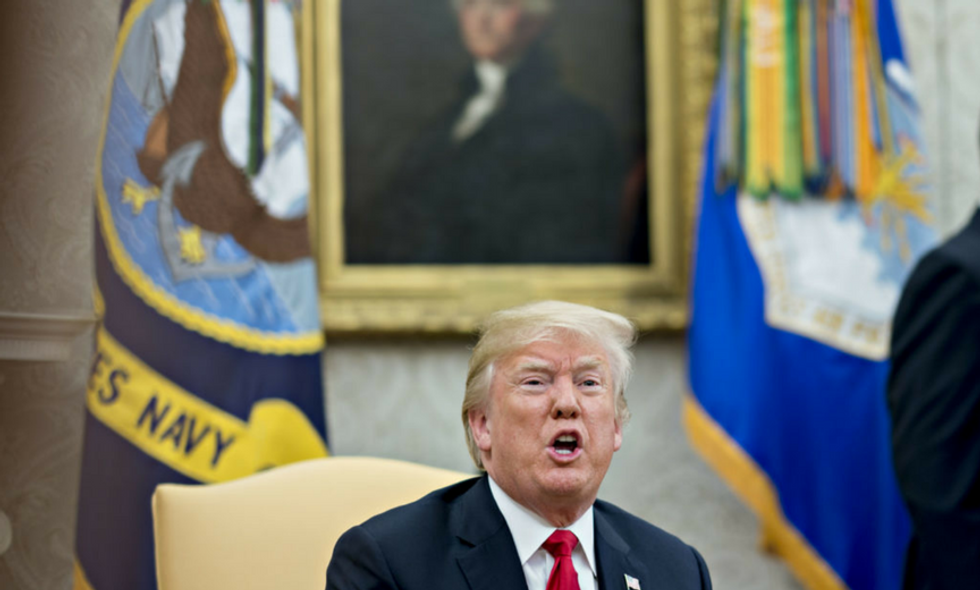 WASHINGTON, DC - MAY 17: (AFP OUT) U.S. President Donald Trump speaks while meeting with Jens Stoltenberg, secretary general of the North Atlantic Treaty Organization (NATO), not pictured, in the Oval Office of the White House May 17, 2018 in Washington, DC. The White House said the two leaders will be discussing the upcoming NATO Summit in July. (Photo by Andrew Harrer-Pool/Getty Images)
Just hours after Meghan Markle tied the knot with Prince Harry, her nephew Tyler Cooley ran into some trouble trying to get into a London nightclub because he was carrying a knife. Cooley blamed President Donald Trump's recent descriptions of London as being dangerous.
EXCLUSIVE: Meghan's nephew tried to carry knife into London nightclub hours after Royal Wedding https://t.co/ygPWhLd5pc

— The Sun (@The Sun) 1526850505.0
Cooley, a legal pot farmer from Oregon, arrived at Bacchus in Kingston, South West London with his girlfriend, brother, and mother Saturday evening.
Cooley told club security that he was in possession of the 4-inch blade, confessing, "I just brought it because Donald Trump said London was like a war zone. I had it for protection."
So Meghan Markle's nephew allegedly tried to take a knife into a London nightclub after Saturday's wedding. He shou… https://t.co/Qlm7DIbFF9

— Kevin Maguire (@Kevin Maguire) 1526879521.0
Speaking to The Sun, one source close to the Dooley recalled that Dooley volunteered the knife to the club's bouncer, to whom he explained that Trump had made him afraid to be in London.
They were all obviously a bit tipsy from celebrating the wedding, but not in bad spirits. As Tyler came up to the bouncer, he said, 'I have a knife on me.' He pulled it out and handed it to the staff.

All he was going on about was how he'd brought it from America because Donald Trump had said London wasn't safe.

They acted very calmly and dialed 999 and that's when some local guys told him he'd get arrested. At that point he ran off.
@BriEaves1168 He didn't "get caught." He immediately told the staff he had it and gave it to them. He then left and… https://t.co/fgieXwREd3

— raehuman (@raehuman) 1526895300.0
the take-away piece about the Bacchus story is that he didn't take a knife into the club. there's strict searches a… https://t.co/e4RW5CnpFB

— Jon Tolley (@Jon Tolley) 1526895568.0
London's Metropolitan Police Service said in a statement: "The suspect had left the scene prior to police being called. Officers attended the club at around 01:55hrs and recovered the knife. There has been no arrest."
Following a rash of stabbings in London, Trump told an audience at the National Rifle Association's annual conference that London is as "bad as a military war zone" earlier this month.
A reminder of the Trump guide to where there's a hospital that's been like a war zone: LIKE A WAR ZONE London NEV… https://t.co/TgtXodNisu

— David Schneider (@David Schneider) 1526757765.0
"I recently read a story that in London — which has unbelievably tough gun laws — a once very prestigious hospital, right in the middle, is like a war zone for horrible stabbing wounds," the president said. He also lamented England's strong gun laws, saying that knife violence is causing "blood all over the floors of this hospital."
Yes, that's right. They don't have guns. They have knives. And, instead, there's blood all over the floors of this hospital. They say it's as bad as a military war zone hospital. Knives, knives, knives. London hasn't been used to that. They're getting used to it. It's pretty tough.
So far in 2018, a scourge of knife violence in London has increased its murder rate to higher than New York City, and officials are scrambling to enact measures that would ban the sale of dangerous weapons, as well as limit the types of knives people can carry.
"This government is taking action to restrict access to offensive weapons as well as working to break the deadly cycle of violence and protect our children, families, and communities," a Home Office spokesperson said in April.
As if Trump has the audacity to make a comment about knife crime in London saying, "it's like a war zone" when Amer… https://t.co/emGWzItUIW

— Steph Collins (@Steph Collins) 1526895090.0
Overall, however, the United States sees more than 160 times as much gun violence as the U.K., due to England's strict gun laws, which are some of the toughest in the world. Britain enacted these laws after two mass shootings claimed 16 lives in both 1987 and 1996.
"Those laws were put together piecemeal following the end of the Second World War," writes The Independent, "but were largely spurred by two national tragedies in 1987 when 16 people were killed in Hungerford, and then in 1996 in Dunblane when a shooter killed 16 schoolchildren."
https://t.co/m2JLNfFtm5 As far as I'm aware nobody has walked into a school in London today and massacred 10 innocent students. Just saying.

— Confused a Glen! (blue tick pending) (@Confused a Glen! (blue tick pending)) 1526665127.0
On Friday, at Santa Fe High School in Santa Fe, Texas, a 17-year-old gunman murdered 10 and injured 13, marking the 22nd school shooting so far this year.
Keep reading...Show less