Donald Trump took to Truth Social to claim he is being 'unconstitutionally silenced' in the E. Jean Carroll rape trial after judge's gag order even though he was invited to speak in his own defense.
09 May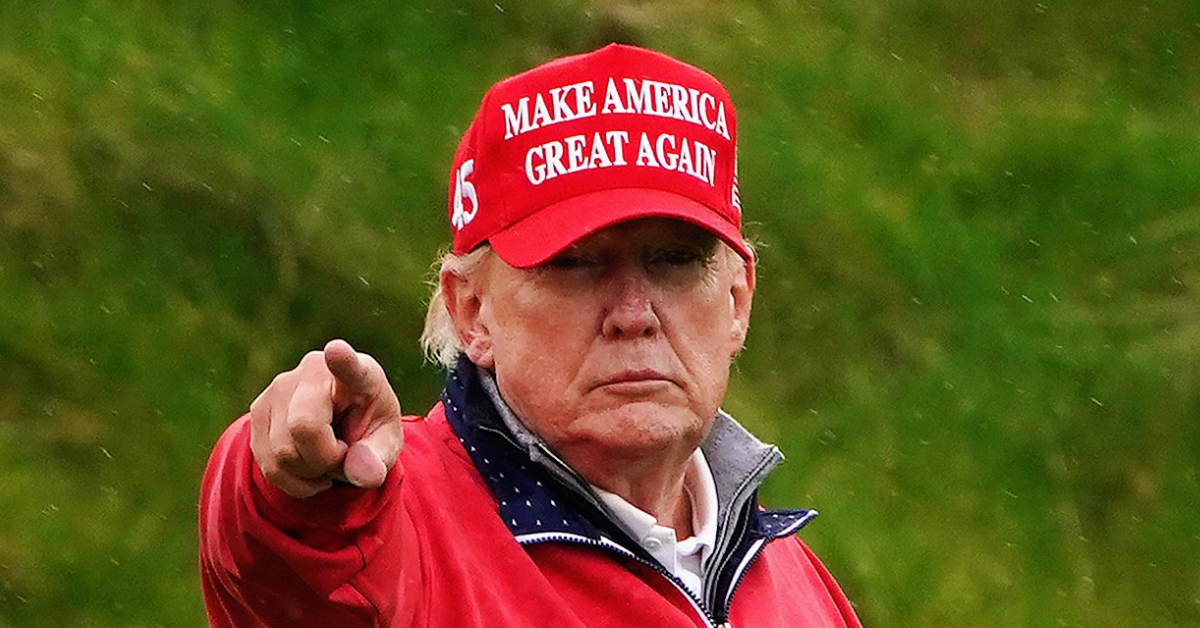 Brian Lawless/PA Images via Getty Images
On Tuesday, May 9, the jury in E. Jean Carroll's rape case against Donald Trump unanimously found Trump liable for sexually abusing her and defaming her by repeatedly calling her a liar.
The jury awarded Carroll $5 million in damages.
In the lead-up to the verdict, Donald Trump had taken to his own social media platform Truth Social, as he is wont to do, to declare falsely that he was being "unconstitutionally silenced" by the judge presiding over the trial.
Judge Lewis Kaplan had previously warned Trump's attorneys that Trump's tendency to post everything that comes to his mind on social media could hurt him in the trial—and be a "potential liability"—after Trump posted information about the trial to Truth Social.
Trump's attorney Joe Tacopina said he would ask Trump to "refrain from any further posts regarding this case."
In response, Trump posted a new rant on Truth Social.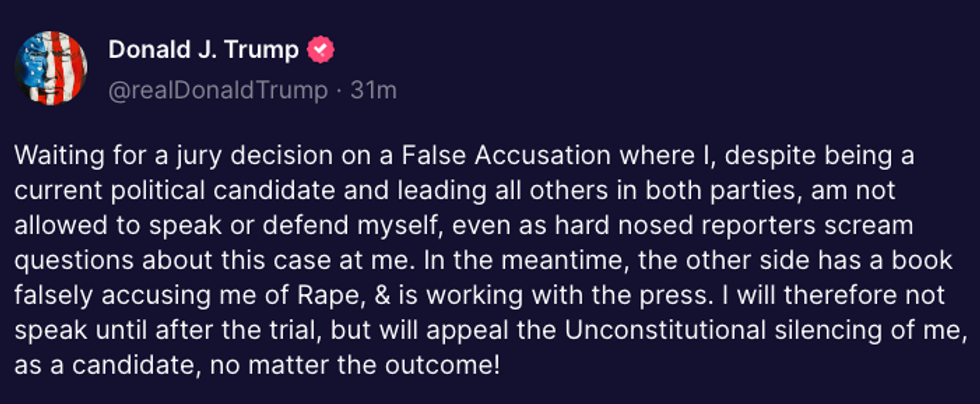 @realDonaldTrump/Truth Social
Trump claimed he was "not allowed to speak or defend" himself in the trial, bemoaning his "unconstitutional silencing" in his post.
"Waiting for a jury decision on a False Accusation where I, despite being a current political candidate and leading all others in both parties, am not allowed to speak or defend myself, even as hard nosed reporters scream questions about this case at me."
"In the meantime, the other side has a book falsely accusing me of Rape, & is working with the press. I will therefore not speak until after the trial, but will appeal the Unconstitutional silencing of me, as a candidate, no matter the outcome!"
In reality, Trump refused to testify under oath in his own defense.
The former Republican President went to Scotland and Ireland to play golf at Trump courses instead.
Commenters on Twitter were entirely unsurprised by Trump's latest self-serving lies.
According to Rolling Stone, Trump told journalists in Ireland he was cutting his trip short to return to the USA so he could testify in the trial after complaining he—a "famous rich and political person that's leading the polls by 40 points"—had to deal with something as inconvenient as a defamation suit over his alleged rape of Carroll.
Trump said:
"It's a disgrace that it's allowed to happen. False accusations against a rich guy, or in my case against a famous, rich and political person that's leading the polls by 40 points, and I have to go back for a woman who made a false accusation about me."
He claimed he just had to leave.
"I have to leave Scotland, I have to leave Ireland, where I have great property. I don't have to but I chose to [leave early]."
And, of course, he couldn't resist the opportunity to bash E. Jean Carroll as well which is how he ended up on trial for defamation.
"I'm going to go back, and I'm going to confront her because look, this woman is a disgrace and it shouldn't be allowed to happen in our country."
"It's totally false, it was fake, she's a fake. She wrote in her book she's a Democrat."
Tacopina had to clarify Trump would, in fact, not be testifying in the trial.
Judge Kaplan gave a deadline of Sunday for Trump to change his mind but, despite all of his bluster, he did not choose to take advantage of the extended opportunity to defend himself in court.
If there is any "unconstitutional silencing" going on, Trump was apparently doing it to himself.
In the wake of the verdict, Trump has been melting down on Truth Social even more than usual. The question is will the unanimous finding of his liability in this case matter to voters or is his sexual predation already baked into people's views of him as a candidate?