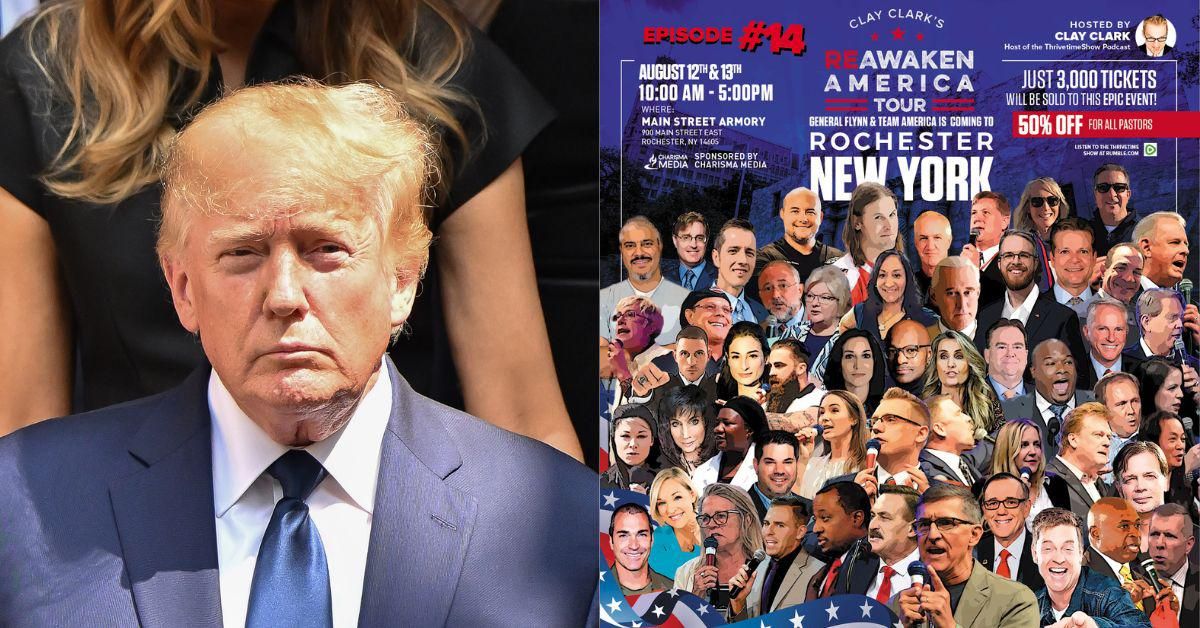 James Devaney/GC Images; ThrivetimeShow
CORRECTION, 7/26, 11:58AM EDT: An earlier version of this article stated the ReAwaken event moved to a Rochester church. The church is located in Batavia, New York.
A venue in Rochester, New York that was scheduled to host the pro-Trump "ReAwaken America" tour has canceled the event following a petition from local citizens and outcry from musical acts with concerts scheduled at the venue.
The tour, hosted by far-right Trump insiders and convicted felons General Michael Flynn and Roger Stone, was scheduled to take place August 12 and 13 at the city's Main Street Armory, owned by local business man Scott Donaldson.
But after locals circulated a petition warning that the event was likely to attract white nationalists and other bad actors, Donaldson decided to cancel.
The event roster, seen below, is a veritable who's who of supporters of the January 6 insurrection, Christofascism and far-right conspiracy theories like QAnon.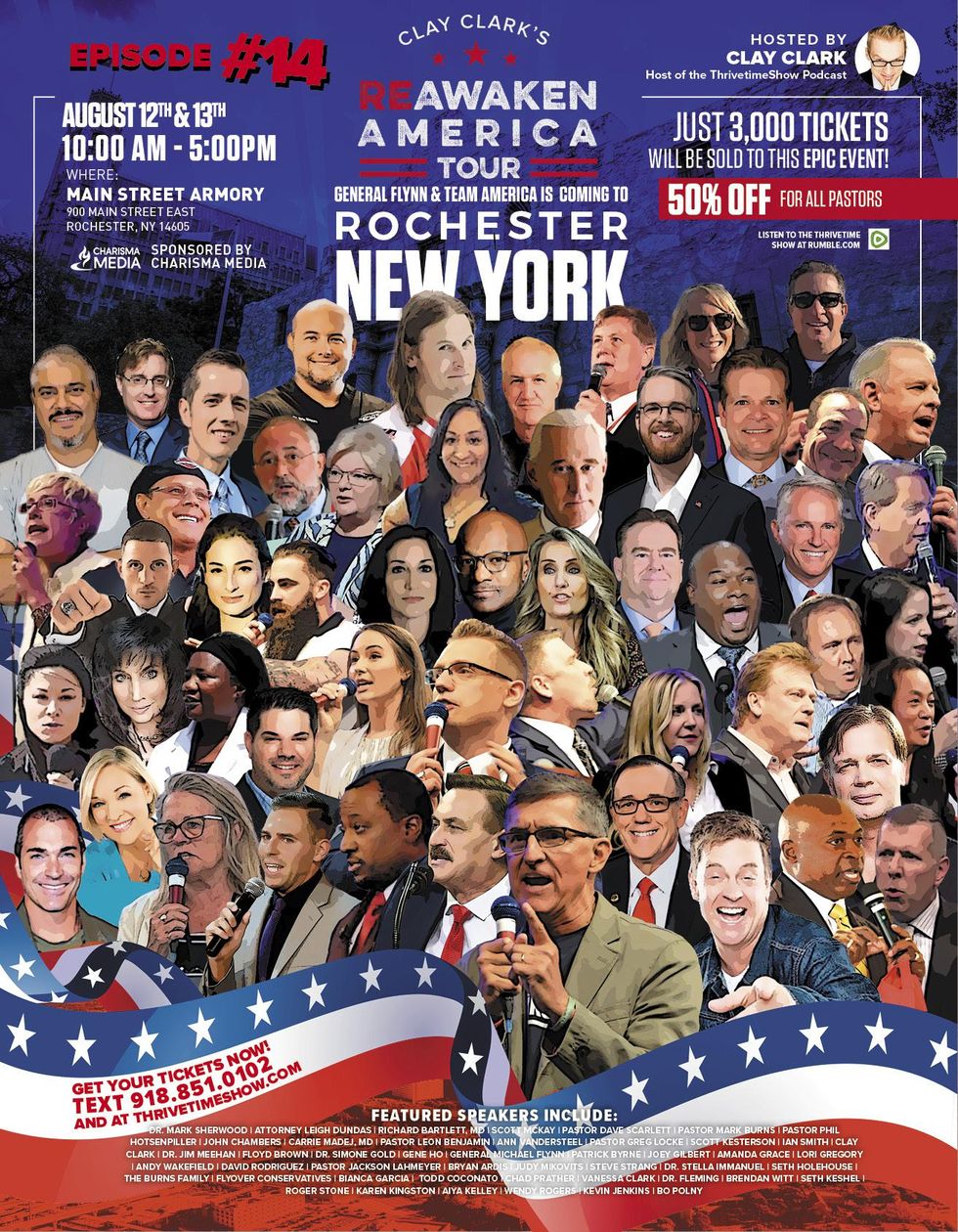 The event's name itself is a reference to one of QAnon's central precepts, "The Great Awakening," the supposed spiritual and political revolution culminating with former Republican President Donald Trump's defeat of Democratic President Joe Biden and an ensuing mass prosecution of supposedly Satan-worshipping, child-molesting liberal elites.
"The Great Awakening" is a response to another far-right White nationalist conspiracy theory, "The Great Replacement," which posits White people are being replaced by racial minorities and Jews and must be defended by any means, including violence.

Savvy Rochesterians launched a campaign to educate locals about these thinly veiled alignments of the ReAwaken America tour via a petition warning about who it may attract.
The petition reads in part:
"The 'Reawaken America' tour is likely to draw white supremacists and other members of hate groups from around the northeast to our community."
The petition goes on to point out that the murderer who committed the May mass shooting in nearby Buffalo, New York referenced "The Great Replacement" in his manifesto and that Flynn and others involved with the event have propagated such theories.
In response, Donaldson released a statement announcing the cancellation of the event, which read in part:
"(In response) to the outpour(ing) of concern from our community, both good and bad, I have decided after careful thought to cancel The Reawaken America Tour that was scheduled in August 2022."

"I have always appreciated the support from our city and I believe it is my turn to show my support back."
Donaldson was careful to add he supports everyone's right to their opinions and beliefs and all are welcome in his venue, with one key exception:
"Apart from the ones who have threatened myself and staff, you are not welcome"
On social media, many applauded Donaldson's move.
\u201cCANCELED: "ReAwaken America" tour stop in Rochester, NY featuring Roger Stone and Michael Flynn canceled by 'Main Street Armory' after concerns from residents, including a petition, about attracting white supremacists. Good for Main Street Armory.\u201d

— Don Lewis (@Don Lewis) 1658331333
\u201cYes!!!!!! \n\u201cThe scheduled "ReAwaken America" tour stop in Rochester, New York, was canceled. \n\nThe owner of Main Street Armory said he'd heard a deluge of concern from local residents.\n\n"ReAwaken America" has been described as promoting Christian nationalism and white supremacy.\u201d\u201d

— Just Another Blonde (@Just Another Blonde) 1658262063
\u201cRoger Stone thinks we are stupid. Regardless of whether he is a white supremacist, he & his ilk have shown that they are happy to work with them to gain political power. See Jan 6 & Nick Fuentes. The venue\u2019s concern here is 1000% valid. 1/\u201d

— Jennifer Cohn \u270d\ud83c\udffb \ud83d\udce2 (@Jennifer Cohn \u270d\ud83c\udffb \ud83d\udce2) 1658293008
\u201cThank you for doing the right thing, Scott and Main Street Armory \ud83d\ude4f\u201d

— Joywave (@Joywave) 1658158737
But others criticized Donaldson for what they saw as a purely money-driven move inspired by several bands canceling their concerts at the venue in protest over the ReAwaken tour.

\u201c@DonLew87 I know the article says it was community backlash but bands pulling out of scheduled performances probably made the bigger impact. Business don\u2019t give a damn unless there\u2019s pain in the pocket. We need more of this.\u201d

— Don Lewis (@Don Lewis) 1658331333
\u201c@whec_eputnam @news10nbc Without saying it, tell me you are only doing this because your were called out, not because you oppose the message. \n\nArmory would lose more money than ReawaKKKen would bring in. The publicity would bring a sh!tshow\u2026but very fine people on both sides, no doubt.\u201d

— Emily Putnam (@Emily Putnam) 1658157174
\u201c@ucarchitect @mdcatalano Thank you people of Rochester. But not to the venue owner who saw no problem scheduling the event.\u201d

— ucarchitect (@ucarchitect) 1658213091
\u201c@whec_eputnam @WillCleveland13 @news10nbc too late, i won't go there anymore\u201d

— Emily Putnam (@Emily Putnam) 1658157174
\u201c@DonLew87 They didn\u2019t \u201cdo the right thing\u201d bc they don\u2019t know what that is. They saw their local dollars threatened and pulled out.\u201d

— Don Lewis (@Don Lewis) 1658331333
\u201cThis is great news, and we're proud of the work so many people have done to let the Main Street Armory know in no uncertain terms that hateful fascism has no place in our city.\n\nBut we will remain vigilant. He's lied about it being canceled before.\u201d

— Rochester DSA #BlackLivesMatter\ud83c\udf39 (@Rochester DSA #BlackLivesMatter\ud83c\udf39) 1658161710
The event has since moved to a Batavia, New York church, and its new promo image makes its QAnon ties even more explicit, directly referencing both The Great Awakening and another extremist-right conspiracy theory, "The Great Reset."

\u201cBREAKING!!! Klaus Schwab & Yuval Noah Harari invited to answer questions from the audience.\n**ReAwaken America Tour Batavia / Rochester New York Gains Momentum!!!\n**Join Eric Trump, General Flynn, Mel K & Team America!!! \nText: 918-851-0102 or visit:\nhttps://t.co/vAK6oKZPgv\u201d

— Clay Clark (@Clay Clark) 1658424371
The Great Reset is a reference to the World Economic Forum's proposed response to the COVID-19 pandemic of the same name.
The far-right has co-opted it and transformed it into a conspiracy theory claiming the pandemic was a hoax perpetrated by world governments in order to usher in totalitarian socialism.
The ReAwaken America tour's stops have featured several bold-faced names from the extremist right, including MyPillow CEO Mike Lindell, InfoWars conspiracy theorist Alex Jones, and Christofascist pastor Greg Locke.