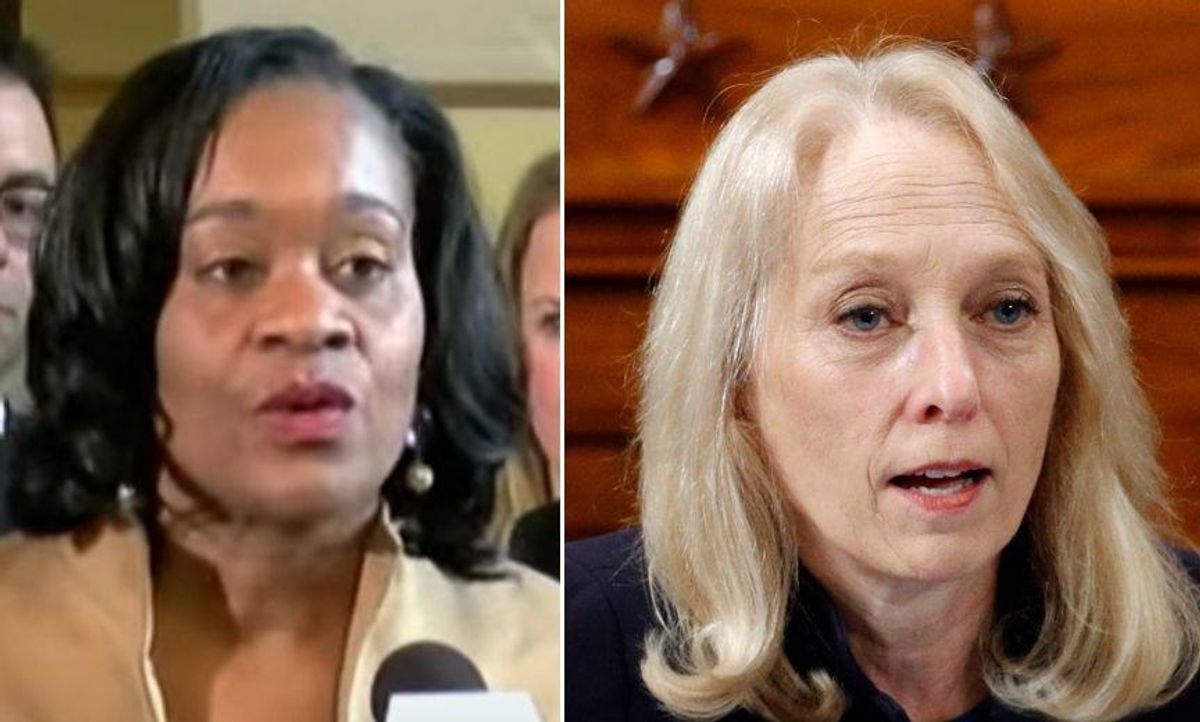 ABC 7 Chicago // Patrick Semansky-Pool/Getty Images
This past week, two elected officials—U.S. Congresswoman Mary Gay Scanlon of Pennsylvania and Illinois State Senator Kimberly Lightford—were carjacked within hours of each other.
Lightford's black Mercedes was hijacked in Chicago by three masked suspects and gunfire ensued, though she and her husband were left physically unharmed. The next afternoon, in Philadelphia, Scanlon's vehicle was hijacked at gunpoint in Philadelphia. The suspects were later apprehended.
While both of the officials are currently navigating the trauma, the conservative New York Post highlighted their support for police reform, which they especially expressed during the nationwide protests against racist police brutality last summer.
The conservative talking point that Democrats universally want to defund or abolish police continues to be parroted by Republican media personalities, despite the broad array of proposed solutions to counteract police violence.
One of those proposals is to dispatch mental health specialists instead of armed police officers to nonviolent episodes—a measure both Scanlon and Lightford supported in their respective chambers. One report from 2016 found that a quarter of people killed by police displayed signs of mental illness. The dispatch of mental health specialists instead of police in nonviolent, non-criminal acts has proven to work in cities where it's been executed.
The Post's emphasis on Scanlon's and Lightford's support for police reform suggested the crimes were proof of the need for policing with minimal oversight.
But some pointed out why this assessment was flawed: the crime was not prevented and both elected officials were endangered.
Others were happy to see the two lawmakers become victims of a crime.
Neither bill that Scanlon or Lightford proposed would have dispatched mental health experts to an armed carjacking.