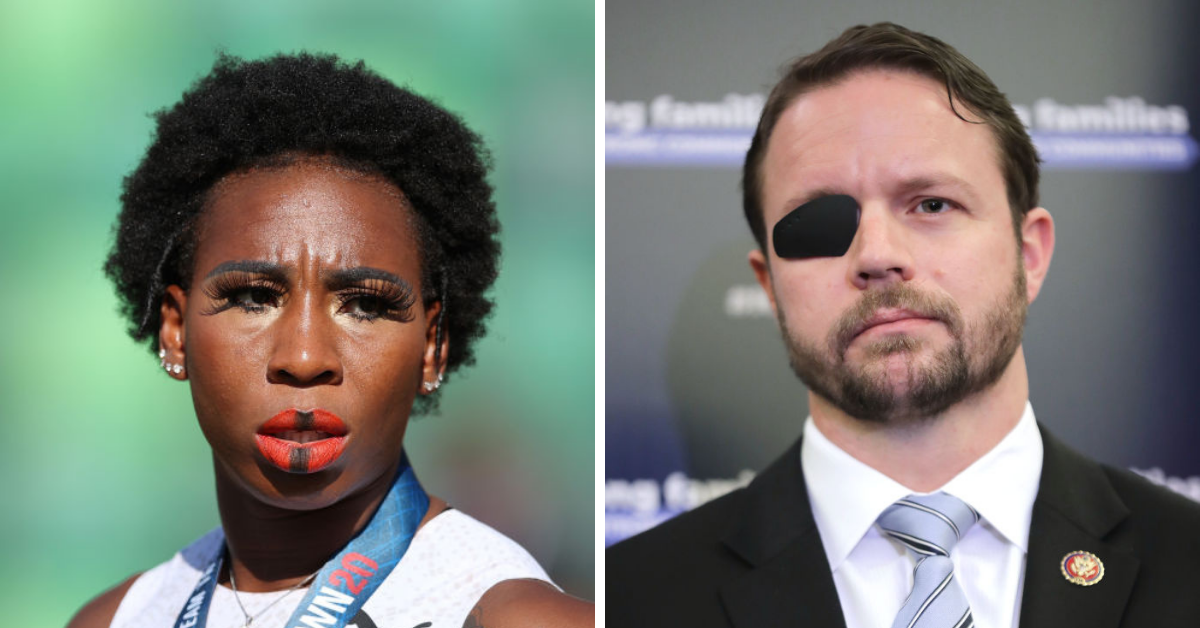 Patrick Smith/Getty Images; Chip Somodevilla/Getty Images
Olympic hammer thrower and activist Gwen Berry responded to criticism from Representative Dan Crenshaw (R-Texas), who earlier denounced her as an "activist athlete."
Crenshaw had called for Berry to be removed from Team USA after she made headlines for turning away from the American flag and placing a T-shirt that read "Activist Athlete" over her head as "The Star-Spangled Banner" played following her third-place finish in the hammer throw at U.S. Olympic track and field trials on Saturday.
"We don't need any more activist athletes," Crenshaw told the hosts of "Fox and Friends," adding:
"She should be removed from the team. The entire point of the Olympic team is to represent the United States of America. It's the entire point... It's one thing when the NBA does it. OK, we'll just stop watching. But now the Olympic team? And it's multiple cases of this. They should be removed. That should be the bare minimum requirement, is that you believe in the country you're representing."

Crenshaw's comments soon prompted a response from Berry: "At this point, ya'll are obsessed with me," she said in a single tweet that came after she had already clarified to news outlets that she had chosen to turn away from the American flag to bring attention to systemic racism and police brutality.
Social media users quickly denounced Crenshaw and jumped to Berry's defense. Several brought attention to Crenshaw's past behavior in Congress. In January, Crenshaw voted against impeaching former President Donald Trump for inciting a riot against Congress. On January 6, the day a mob of the former president's supporters stormed the United States Capitol in a bid to overturn the 2020 election results, video footage circulated of a rioter beating a police officer with a flagpole flying the American flag.
Meanwhile, others pointed out that Crenshaw, who has regularly appeared on Fox News to criticize "cancel culture," is the author of a book––Fortitude: American Resilience in the Era of Outrage––in which he offers significant criticism of cancel culture, as well as a society he claims is "exploding with outrage, drowning in microaggressions, and devolving into divisive mob politics."
For their part, the U.S. Olympic and Paralympic Committee (USOPC) has already stated that Berry's actions did not violate any official USOPC rules. Guidance issued in December states that the committee will not punish athletes who peacefully protest or demonstrate at this year's Tokyo Olympics. At the time, USOPC chief executive officer Sarah Hirshland wrote in a letter to athletes that USOPC's decision "recognizes that Team USA athletes serve as a beacon of inspiration and unity globally, and their voices have and will be a force for good and progress in our society."
Berry, whose protest against racial injustice and police brutality recalls the one led by former quarterback Colin Kaepernick, who famously kneeled during the playing of the national anthem prior to the start of his games, is no stranger to protest. In 2019, she and fencer Race Imboden received 12-months probation for demonstrating on the medal stand during the 2019 Pan American Games in Lima, Peru. The decision was later overturned.
Asked about Berry's demonstration during her daily press briefing this afternoon, Jen Psaki, the White House press secretary, said President Joe Biden supports Berry's right to peacefully protest.
"Part of that pride in our country means recognizing there are moments where we, as a country, haven't lived up to our highest ideals," Psaki said. "And it means respecting the right of people granted to them in the Constitution."