Hawaii becomes the first state in the U.S. to ban chemical-based sunscreens containing oxybenzone and octinoxate, which are thought to contribute to coral bleaching.
21 May 2018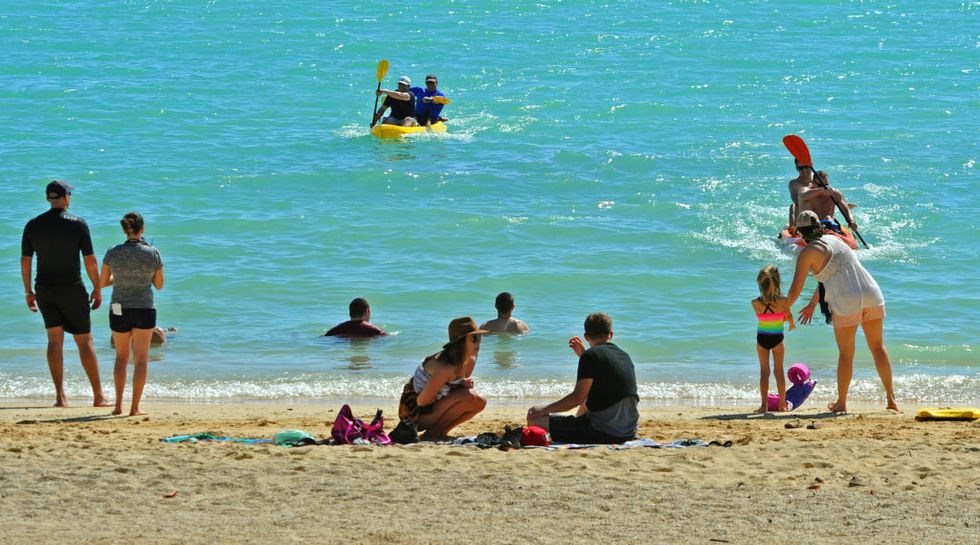 Airmen from the 96th Air Refueling Squadron participate in a kayak race as their coworkers and family members cheer them on during the 96th ARS Wingman Day at Hickam Beach on Joint Base Pearl Harbor-Hickam, Hawaii, Feb. 20, 2014. The squadron spent their day participating in activities that fostered togetherness and teamwork. (U.S. Air Force photo/Master Sgt. Jerome S. Tayborn)
In a world first, Hawaiian lawmakers last month passed a bill banning the sale of sunscreens that contain chemicals harmful to ocean wildlife.
If Gov. David Ige signs the bill into law (it is not yet known when or even if this will happen), it means that, as of January 21, 2021, tourists on any of the Hawaiian islands will no longer be able to duck into a bodega or hotel market to grab a cheap bottle of Coppertone, Hawaiian Tropic or Banana Boat — all of which contain oxybenzone and octinoxate.
According to a Second Nexus article detailing a 2015 study implicating sunscreen in coral decline, "just a tiny amount of Oxybenzone — 62 parts per trillion, or a drop of water in six Olympic-sized swimming pools — can be toxic to fragile young coral. In higher concentrations, it can also prove fatal to adult coral."
Sunscreen-slathered tourists have been snorkeling, swimming and diving off the islands' coasts for generations, but only recently have scientists discovered that swimmers' and snorkelers' sunscreen may actually contribute to coral bleaching.
@nytimes I always see people slathering themselves all over, then walking straight into the water, leaving an oily sheen behind them....

— emmymade (@emmymade) 1525374524.0
"Oxybenzone and octinoxate cause mortality in developing coral; increase coral bleaching that indicates extreme stress, even at temperatures below 87.8 degrees Fahrenheit; and cause genetic damage to coral and other marine organisms" reads Hawaii Senate Bill 2571. "The legislature further finds that environmental contamination of oxybenzone and octinoxate persists in Hawaii's coastal waters, as the contamination is constantly refreshed and renewed every day by swimmers and beachgoers."
The makers of oxybenzone- and octinoxate-containing sunscreens, of course, disagree with both the bill and the scientific evidence.
"Eliminating the use of sunscreen ingredients considered to be safe and effective by the FDA with a long history of use not only restricts consumer choice, but is at odds with skin cancer prevention efforts," said Bayer, which manufactures Coppertone-brand sunscreens, in a statement.
Says Johnson & Johnson, the makers of Neutrogena-brand sunscreen: "The health, safety and welfare of millions of Hawaii residents and tourists has been severely compromised [by SB 2571]," which affects "at least 70 percent of the sunscreens on the market today, based on weak science blaming sunscreens for damage to coral reefs."
Not only have oxybenzone and octinoxate been found to harm ocean life, they haven't exactly been proven safe for human life, either.
According to research and advocacy organization The Environmental Working Group, oxybenzone can be found in 96 percent of Americans' bloodstreams, based on a representative sampling. It has also been found to have estrogenic effects, meaning it could act as an endocrine disruptor in adolescent boys.
"We've been raising the concerns about the use of oxybenzone in sunscreens for probably at least 10 years," David Andrews, senior EWG scientist, told HuffPost.
Scientists recommend consumers choose "reef-friendly," mineral-based sunscreens containing zinc oxide or titanium oxide, which block the sun's rays with a physical barrier instead of a chemical reaction.
Proponents of SB 2571 hope their effort is just the beginning of a global effort to ban oxybenzone and octinoxate.
"Hawaii is definitely on the cutting edge by banning these dangerous chemicals in sunscreens," state senator Mike Gabbard (D, Kapolei-Makakilo), who introduced the bill, told the Honolulu Star-Advertiser. "When you think about it, our island paradise, surrounded by coral reefs, is the perfect place to set the gold standard for the world to follow."
Keep reading...Show less