Howard Stern condemns Ye's 'antisemitic rant': 'F*ck this mental illness self defense.'
21 October 2022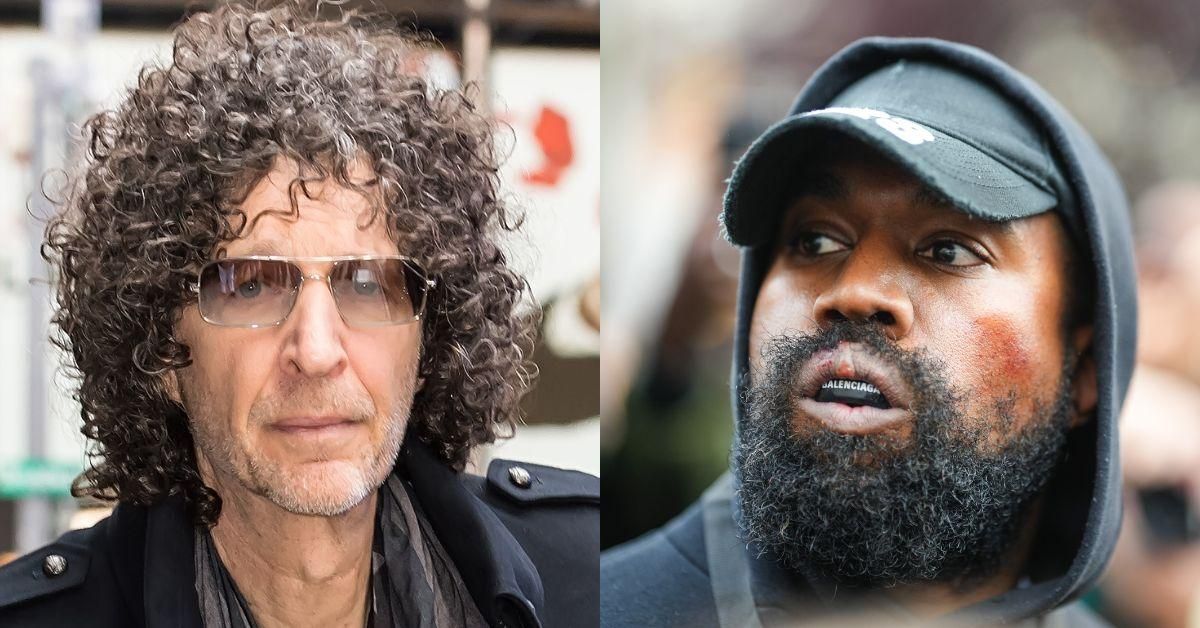 Gilbert Carrasquillo/GC Images; Edward Berthelot/GC Images/Getty Images
You can always count on radio host Howard Stern to tell speak his mind on a subject and rapper and designer Ye's spate of open antisemitism is no exception.
In a recent episode of The Howard Stern Show, the host laid into Ye over several appalling tweets and public statements which included nods to conspiracy theories and threats of violence. They preceded an escalation of openly antisemitic rhetoric from the right-wing this week.
In his comments, Stern, who is Jewish, compared Ye's statement to the rhetoric of Adolph Hitler and lambasted the notion Ye's mental illness is an excuse for his behavior.

Hear some of Stern's comments below.
WARNING: NSFW language
Stern's comments were in reference to social media posts from Ye two weeks ago in which he threatened to "[go] death con 3 on JEWISH PEOPLE" and propagated a long-standing conspiracy theory claiming Black people are the actual Jews spoken of in the Bible.

Days later, deleted clips from a sit-down with far-right Fox News commentator Tucker Carlson were leaked to Vice News and showed Ye elaborating even further on these antisemitic conspiracy theories.
Many fans of Ye and some media voices repeatedly defended or attributed his behavior on his diagnosis with bipolar disorder. Mental health and disability advocates and activists called out the ableism of blaming and stereotyping mental illness as the cause of bigotry.
But this defense holds no water for Stern, who ranted:
"Good lord, you gotta hear the sh*t this guy's into."
"And f*ck this mental illness, self-defense thing … 'Oh yeah, he's just mentally ill, don't worry about it.'"
Stern went on to reference Ye's appearance this week on journalist Chris Cuomo's show on NewsNation, in which he ranted about a "Jewish underground media mafia" trying to silence him after his recent "White Lives Matter" t-shirt scandal.
He also complained this supposed cabal will only refer to him as "rapper" rather than "visionary" or "billionaire."
Stern responded:
"Guess what, douchebag..."
"If a newspaper article doesn't point out the fact that you're some sort of designer or genius, maybe that's not because he's Jewish, but maybe because he just doesn't put that much thought into who the f*ck you are and what your business is."
Stern went on to call Ye's antics "depressing," saying:
"[Ye] used to be fun crazy, now he's like Hitler."
On Twitter, many applauded Stern's take on the matter, especially his rejection of Ye's mental health issues as a defense.
Despite the tidal wave of backlash, Ye has not backed down on his antisemitic of anti-Black rhetoric.
During an appearance on Piers Morgan's show Uncensored this week, Ye said he was sorry for the people he hurt, but when asked if he regrets the comments he told Morgan, "Absolutely not," saying he was aware the comments were racist and antisemitic and he was simply "fighting fire with fire."