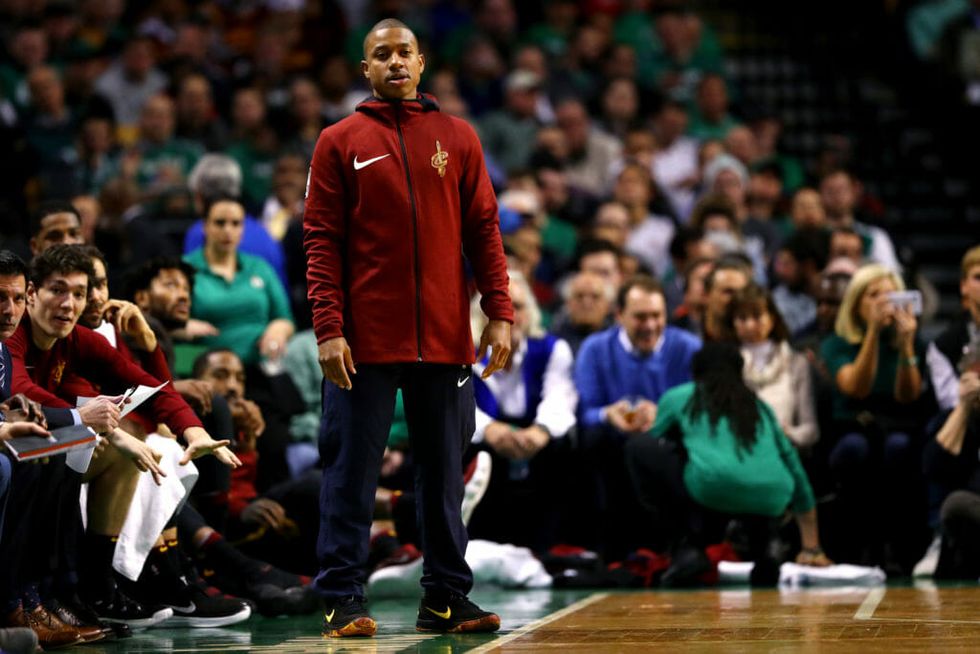 BOSTON, MA - JANUARY 3: Isaiah Thomas looks on from the bench during the second half against the Boston Celtics (Maddie Meyer/Getty Images)
Cavaliers point guard Isaiah Thomas has sat out a significant chunk of the 2017-2018 season already. The reason? Something called a right femoral-acetebular impingement with labrum tear. For the most part, it's been simply referred to as a "hip issue" by most of the sports media.
A few other NBA players have had similar hip issues in the past. However, there exists a wide scope of recovery stories among those players. With Thomas set to make his first start of the season on Friday, I've decided to take a quick look at some of the other players who have suffered labrum tears, and what their recovery processes have looked like.
NBA Players Post-Labrum Tear (Hip)
LaMarcus Aldridge: Aldridge made a full recovery from a similar injury. After suffering a labrum tear in 2012, the big man made four consecutive All-Star games with the Portland Trailblazers and San Antonio Spurs. He remains a key contributor for the Spurs this season.
Gerald Henderson: Henderson suffered the injury at the end of his sophomore season in 2011. After undergoing surgery, he was able to make a return to the court eight months later; Henderson averaged nearly 15 points per game across his next three seasons with the Charlotte Hornets. However, the shooting guard needed a second surgery in July of 2015. The recovery took over four months and bled into the 2015-2016 season. He came off the bench for the Hornets in 72 games, and played another 72 in 2016-2017. After requiring a third surgery in August of 2017, Henderson is expected to miss almost all of the 2017-2018 season.
Wilson Chandler: During his time with the Denver Nuggets, Chandler has missed significant time with multiple labrum tears and subsequent surgeries. He has been healthy and productive since the beginning of the 2016-2017 season.
Martell Webster: At the beginning of the 2015-2016 season, Webster had surgery for a hip labrum tear. He never played in the NBA again.
What Does It All Mean For Isaiah Thomas?
Notably, all of the above players ultimately ended up going under the knife. While the above players have enjoyed healthy and productive seasons following their respective surgeries, only Aldridge has managed to put his hip issues fully behind him for any significant length of time. Though Thomas opted not to have surgery, history suggests that we haven't heard the last of his hip.
Keep reading...Show less