Missouri Democrat Richard Brown spoke passionately on the floor of Missouri legislature against Republican bill to allow concealed carry on public transit and in houses of worship.
22 April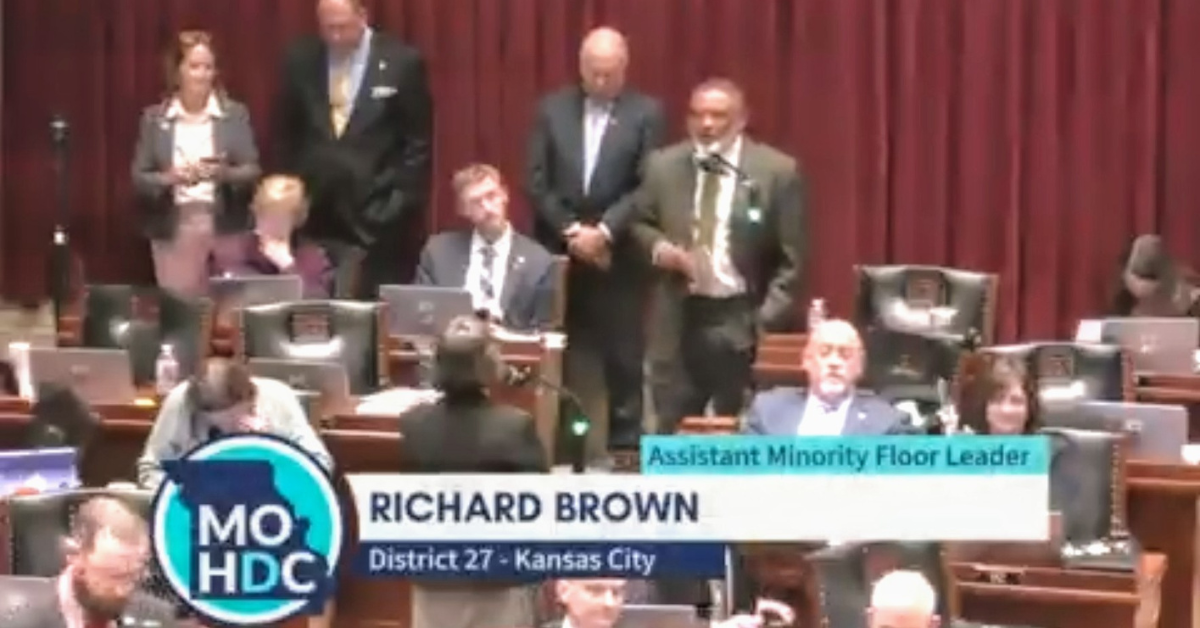 Missouri House of Representatives
The Missouri House of Representatives passed a bill on Monday that would decrease the number of places concealed carry of firearms is prohibited even with a permit.
The bill would allow concealed carry of guns on public transportation and in houses of worship.
The vote came just days after 16-year-old Ralph Yarl was shot twice when he knocked on the wrong door when trying to pick up his younger siblings from a friend's house in Kansas City.
Representative Ashley Aune, a Democrat from Kansas City, was appalled by both the bill itself and the timing.
During a floor speech on Monday, she told her colleagues:
"We haven't even spent time today acknowledging the gun violence that happened about 10 miles from my own house, which is that a child was gunned down for ringing a doorbell."
She continued:
"We fight so hard in this room for more guns in more places and we forget about the actual lives lost and I really encourage you all to consider that while you're protecting the Second Amendment."
Representative Richard Brown of Kansas City—who actually rides the bus—also spoke passionately against the bill.
"I'm probably the only person in this body who rides the bus on a somewhat regular basis. Having a gun on public transit does not make people feel safe."
You can view Representative Brown's full speech below:
Rabbi Doug Alpert of Congregation Kol Ami also spoke out against the bill, citing the threats of <⅞ gun violence the Jewish community already faces. Antisemitism has risen significantly in recent years.
Synagogues are under significant risk of gun violence from anyone antisemitic who wishes to hurt Jewish people, without making it legal to carry firearms there.
"We've all had to raise our security profile and it's something that I would rather not do for my synagogue, but I have to do it. And this would only make it worse."
Representative Barbara Phifer, a Democrat representing St. Louis, chastised the bill last week, calling it "insanity."

"What kind of world are we creating with these kinds of laws? It's absolute insanity, and it's morally corrupt."
Mennonite Pastor Jennifer Harris Dault told the Kansas City Star last week that she was disappointed with Republican lawmakers who are trying to get guns into churches while completely ignoring calls from their communities for gun reform.
"The idea that someone could legally bring a gun into our worship space, I don't even want to think about it. That's so foreign to who we are. It would be basically an attack on our religious liberty."
Faith leaders and state Representatives weren't the only ones saying the bill was a bad idea, representatives and lobbyists from multiple transit agencies and other organizations from across the state—including major cities like Jefferson City, Kansas City, St. Louis and Springfield—also testified against the bill.
Some cited the hypocrisy of the NRA and GOP in trying to force churches to allow concealed weapons when their own conventions are no gun zones—concealed or open carry.
According to Kimberly Cella, executive director of the Missouri Public Transit Association, this bill could have a severely detrimental effect on smaller nonprofit transit providers.

Smaller providers could be in danger of losing their federal funding from grants, which require that they prohibit weapons on their busses, if the bill becomes law.
The bill passed the Missouri House of Representatives on Monday with a vote of 102-45, and will now pass to the state Senate. Missouri Republicans also control the Senate, with 23 seats to Democrats' 9.