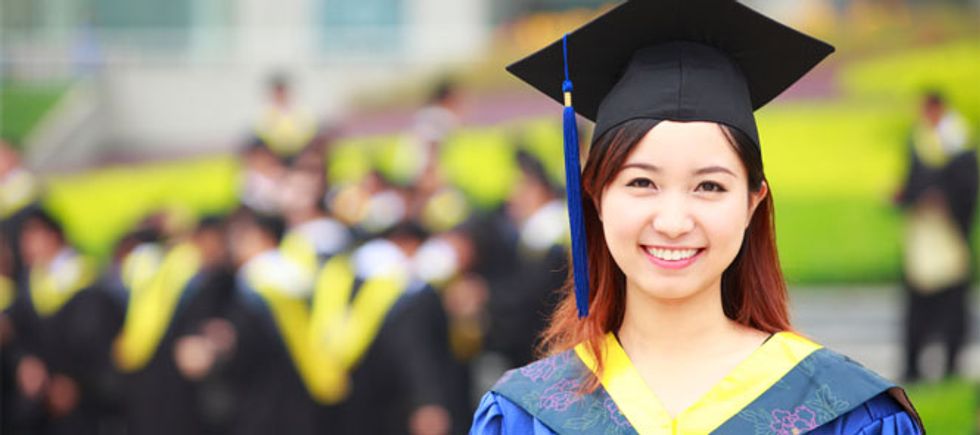 [DIGEST, June 1, 2015, Boston Globe, NY Times, LA Times] Admission to an Ivy League college is a dream for many young Americans. As gaining entrance into these schools grows more difficult with each year, students increasingly have turned to independent advisors and counselors for help. The majority of students who consult these college counselors are Asian American. And the advice they are receiving can be jarring: Be less Asian.
As reported in the Boston Globe, college applications strategist Brian Taylor advises Asian families on how to get their kids into Ivy League schools such as Harvard and Yale. His advice for them: "We will make them appear less Asian when they apply," he says. "While it is controversial, this is what we do."
While it may seem distasteful that academically successful Asian American students should need to appear "less Asian" on their college applications, the stark reality is that there are too many Asian Americans applying, and that they are pitted against each other for the same slots. Asian Americans already comprise a disproportionate percentage of the student body at Ivy League schools compared to other races. And these schools seek--whether officially or not--what they believe would be a "balanced" student body. That translates into harsher odds for Asian American applicants, in most cases much harsher.
It's called "the bamboo ceiling" of racial quotas: Prestigious schools turn down scores of Asian American seniors with 1600s on their SATs and perfect GPAs in order to limit the number of Asian looking faces in their student bodies.  A 2009 Princeton University study of seven top colleges concluded an Asian applicant needed an average SAT score (out of 1600) of 1460 to be admitted, while whites with similar academic qualifications needed 1320, Hispanics 1190, and blacks 1010.
According to a New York Times article, in 2008, over half of all applicants to Harvard with exceptionally high SAT scores were Asian, yet they made up only 17 percent of the entering class. Further, while Asians are the fastest-growing racial group in the U.S., the proportion of Asian students among Harvard undergraduates has remained stagnant for nearly twenty years.
Top colleges justify these discrepancies by citing outmoded stereotypes, principally that Asian Americans fare well on tests but are less compelling on other aspects of their applications, such as extracurriculars. But this myth has been debunked as well. According to the New York Times, a study conducted at the University of California, Los Angeles found no significant correlation between race and extracurricular achievements in over 10,000 applicants. If anything, Asian American students now understand that they are now expected to work that much harder in their extracurriculars to be noticed by Ivy League schools.
Joey Kim, an Asian college student from Chicago, discusses how he was accepted into
To read more, continue to the next page.
Harvard and Yale not simply for his top SAT scores, his high GPA, and his seat as first violinist in his high school orchestra. He made it a point in his applications to focus on other creative outlets that set him apart from other Asian American students. "I fell in love with theater in high school, and did a lot of drama productions, and speech," Kim says.
Although few argue it is unfair to consider extracurriculars as an important factor in admissions, the current system is so opaque, it has become easier to conceal discrimination behind vague criteria, or to cite the desire for a "balanced" student body. Many wonder, however, whether this is simply code for discrimination, as it was for Jewish students with similarly exceptional scores in the prior century.
Some Asian groups are now fighting back. A lawsuit filed last year on behalf of Asian American college applicants claims that Harvard engages in racial "balancing" of their student body. The complaint reads, "Harvard's undergraduate admissions policies and procedures have injured and continue to injure Plaintiff's members by intentionally and improperly discriminating against them on the basis of their race and ethnicity in violation of Title VI."
Despite these lawsuits, elite colleges such as Harvard and Yale show no signs of changing the admissions process for their student bodies. Some academics assume and argue that higher admission rates for Asian American students would come at the price of lower rates for African-American students. This has rather cleverly pitted minorities against each other for decades. But arguments for ethnic diversity often are not well-received by Asian American immigrant parents, who were raised in Asia's all-or-nothing test cultures. As the LA Times notes, to those parents, education is not just a measure of success, it is a question of survival. Traditionally, academic achievement is a pillar of family organization and a top priority. Home locations are determined based on the best school districts, and extra income is used to for tutoring. In this world, acceptance to a top tier university is simply a return on a very long term investment.
Some point out that if the colleges were being intellectually honest, underrepresented minorities such as blacks and latinos would maintain their numbers in the name of diversity, while white student enrollment would drop below Asian. Indeed, in California's UC system, where race-based admissions policies were banned by state initiative, Asian students now comprise a plurality of the student body, while whites are in the minority at just 26.8 percent of entering freshman for Fall 2014. Many argue that this what the Ivy League schools (and many of their alumni) really do not want to see: white students displaced by Asians.
While the private Ivy League schools hold the line on Asian American admissions, students continue to bear the brunt of the impact. The L.A. Times reports that some college advisors and counselors are working with Asian students to identify what's "unique" about them, leading many to openly deny their identities, whether in the form of career ambitious as doctors and scientists, or their Asian ethnicity altogether.
James Chen, who founded the Asian Advantage College Consulting firm 20 years ago, advises students on topics to steer clear of on their college essay: "Don't talk about your family coming from Vietnam with $2 in a rickety boat and swimming away from sharks." Other counselors argue that it ultimately comes down to making yourself stand out, and not relying on just top grades and your racial background. Rod Skinner, director of college counseling at Milton Academy, believes that "it all comes down to, how do you make yourself distinctive? What else do you have, basically?"
Keep reading...Show less