[DIGEST: PBS, The Hill, The Guardian, New York Times]
Emails released in February show that new Environmental Protection Agency chief Scott Pruitt worked closely with fossil fuel companies, electric utilities, and conservative political groups to undermine federal efforts to curb carbon emissions while he served as Oklahoma's attorney general.
---
Even prior to to the disclosure, environmental groups and democrats had already strongly opposed Pruitt's appointment. He has described himself as a "leading advocate against the EPA's activist agenda" and sued the organization 14 times over pollution regulations while attorney general.
The emails were released pursuant to the order of an Oklahoma judge, who ruled that more than 7500 pages of emails could be released. The court found that Pruitt had been illegally withholding them for the last two years, since the correspondence is public record under state law.
Pruitt Was Confirmed Days before the Emails Were Released, Despite Democratic Opposition
While Senate Democrats had hoped to delay the vote on Pruitt's confirmation until after the emails were released, Republicans managed to push the vote through days before the disclosure. He was confirmed largely along party lines. (One lone Republican Senator, Susan Collins of Maine, voted against.)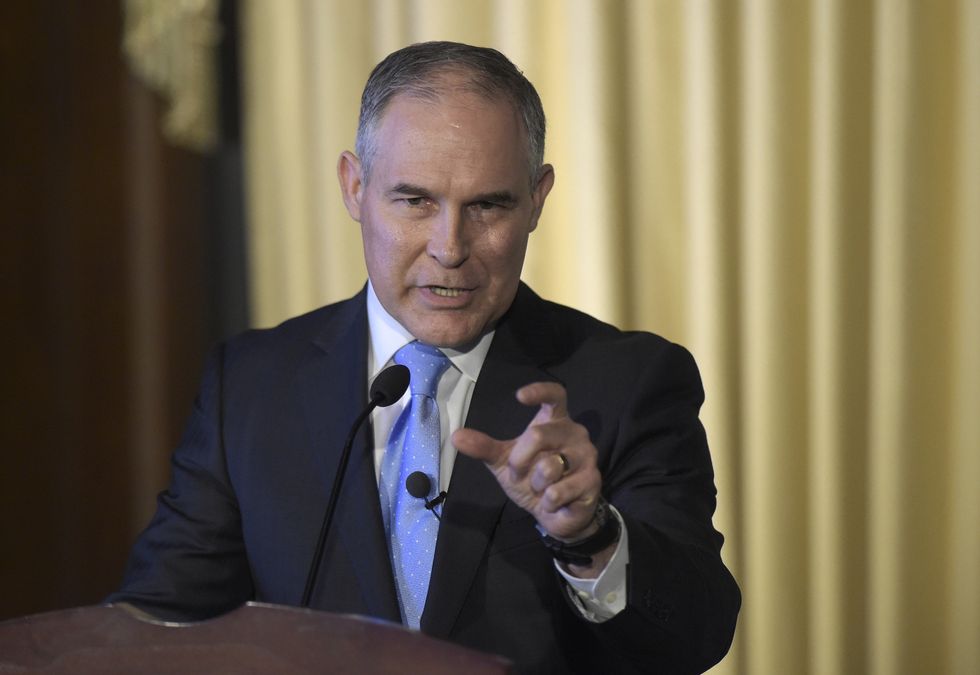 Scott Pruitt. (Credit: Source.)
Although Pruitt's ties with the fossil fuel industry were known generally prior to the confirmation thanks to a 2014 New York Times story, the extent and nature of his relationships were not fully known until the emails were disclosed. "[S]eeing industry representatives fawning over Pruitt's efforts to attack the EPA, it's clear that this information should have been closely examined by the Senate as we considered his nomination to run that agency," said Senator Sheldon Whitehouse (D) of Rhode Island.
"There was no new information in these emails to support the left's anti-Pruitt fever dreams," said Jeremy Adler, a spokesman for America Rising Squared, a conservative research group.
What the Emails Reveal
The emails revealed close communication and collaboration between Pruitt's office and groups working to roll back federal climate protections.
Various companies provided Pruitt's office with template letters to send to federal regulators in an attempt to block pro-environment regulations. One email reveals that American Fuel and Petrochemical Manufacturers, an oil and gas lobby group, supplied template language to oppose federal ozone limits and the renewable fuel standard program. The organization asked that Pruitt's office challenge the rules, stating: "This argument is more credible coming from a state." Pruitt did file an opposition to the regulations later that year.
The most frequent correspondence was with Devon Energy, a company that has been aggressive in its opposition to environmental proposed rules and regulations. Pruitt delivered a letter from the company on his own letterhead to Obama administration officials, and used arguments taken from the company when meeting with officials.
The cozy relationship with the industry in general is underscored in multiple laudatory emails from different groups, including the American Legislative Exchange Council, a lobbying network sponsored by billionaire energy investors the Koch Brothers, and conservative nonprofit Americans for Prosperity, also funded by the Koch Brothers.
"Thank you to your respective bosses and all they are doing to push back against President Obama's E.P.A. and its axis with liberal environmental groups to increase energy costs for Oklahomans and American families across the state," read one email to Pruitt's offices from Matt Ball, an executive at Americans for Prosperity. "You . . . work for true champions of freedom and liberty!"
Conflict of Interest?
The emails "show a very cozy relationship between Pruitt's office and particularly Devon Energy, as well as other coal, oil and gas companies," said Nick Surgey, research director at the Center for Media and Democracy, one of the organizations behind the records request.
#ScottPruitt doesn't think CO2 causes climate change. If only the EPA had some scientists he could ask about that. #pollutingpruitt

— Nick Surgey (@Nick Surgey) 1489085969.0
Surgey continued, "Pruitt is the world's top environmental regulator now and these emails raise serious conflict of interest concerns. He has very close ties to fossil fuel firms and has shown himself to be generally opposed to the rules the EPA has to protect the environment."
Further emails yet to be released may reveal even thornier ties. The Oklahoma attorney general's office has withheld certain documents, which are being reviewed by the court.
Those were expected to be released last week, but the state supreme court stayed their disclosure. In so doing, the court accepted the state attorney general's argument that the office did not have time to review the remaining records and compile them for release. "All those documents have to be manually reviewed… twice," said the state assistant attorney general Dan Weitman in a court hearing on the subject. He further stated that it took 90 hours to put together the initial release of documents. The indefinite stay of the trial court's order makes it unclear if--or when--the remaining documents will be revealed, and what further ties they would reveal.
The Center for Media and Democracy said they would keep fighting for disclosure. Lisa Graves, center director of the organization, said: "A small dose of sunlight has already shown a more deliberate hand-in-glove relationship between Scott Pruitt and the oil and gas industry than previously understood and proved that he used personal email on the job, contrary to what he told U.S. Senators."