To the disappointment of "Back to the Future" fans everywhere, 2015 came and went with nary a flying car zooming across the sky. But perhaps Doc Brown and Marty McFly will only need to travel a handful of years later, into the future that is, if they want to see the first real flying cars.
Partnering with NASA, Uber unveiled last year a new venture called Uber Elevate, which will introduce a pay-as-you-go flying ride-sharing service to metropolitan skylines. The program initially planned to launch in Dubai and Dallas Fort Worth, but then last month Uber's head of product Jeff Holden announced that the company is adding Los Angeles as one of its pilot cities. He hopes for the aerial taxi service to take off as early as 2020 - which is less than three years away.
---
WATCH: The Uber Elevate promotional video 
Speaking at the Web Summit in Lisbon, Holden said that Uber signed a Space Act Agreement with NASA to create a brand-new air traffic control system to manage these low-flying autonomous aircraft. The Uncrewed Traffic Management system (UTM) was initially intended to regulate drone traffic, but will now also be utilized for Uber Elevate. Beginning with a fleet of low-flying helicopters, and in cooperation with air traffic controllers, they will first test the UTM system around the Dallas-Fort Worth Airport area.
"NASA is very focused on getting UTM adoption and pressure-testing the framework and make sure it works correctly," Holden said. "Uber is actually trying to put this new air traffic system into production."
While there is no financial exchange between Uber and NASA as part of the agreement, it will allow both to trade technology and expertise.
https://www.facebook.com/verge/videos/1612266682143002/
How Requesting an "Air" Lift With Uber Works
Ordering a lift with UberAIR operates on the same principles as your current Uber experience, in that you use an app on your phone to request a flying taxi. But then it becomes a whole new experience.
First, you walk to a nearby participant building, and then take the elevator up to a "skyport" on the roof. There you will pass through a turnstile with a scan of your phone. You will also be weighed to confirm the approaching taxi can handle the cumulative passenger load. Then you're up in the air and on your way to another "skyport" closest to your destination.
And the experience is not intended to be expensive; Holden says that is not Uber's MO.
"If we're doing this, you have to believe that we're going to get the price very low."
More significant than the low airfare, Holden projects that the cost of flying with Uber will be cheaper than owning a car -- and that is exactly what the company wants. Uber's mission is to bring an end to personal car ownership, and the aerial taxi service is another means to that end.
To read more, please continue to page 2...
The Race to Change the Future of Air Transportation
Uber and NASA will need to overcome a number of hurdles to make their vision for 2020 Los Angeles a reality. Specifically, the kind of aircraft that Uber envisions just do not exist yet, nor does the infrastructure to support them. Imagine for a moment not only having a destination with no car to get you there, but also no highways to drive on, and no speed-limit signs and intersection stop lights to regulate traffic and keep you safe.
Tackling the first issue, Uber wants to shuttle passengers from rooftop to rooftop in electric, autonomous aircraft capable of vertical take-off and landing (VTOL). These vehicles would look more like helicopters than flying cars, and they still pose an engineering challenge. Even so, the idea of flying cars is gaining momentum with at least 19 companies developing plans, many of which directly compete with Uber's own agenda for transit domination.
https://www.facebook.com/verge/videos/1417286841640988/?hc_ref=ARSbIqLzIWvHuf5Mf1skBc1qLFthDBSGVXVOkkvNnvsOvnB0ddOELE06V295E8RiBwc
Last month, aircraft manufacturer Boeing acquired Aurora Flight Sciences, an aviation and aeronautics research company and manufacturer. Aurora specializes in the design and construction of unmanned aerial vehicles, and the autonomous systems that support them.
European aerospace giant Airbus has their own secret flying-car project, codename Vahana. Very much in line with what Uber and Boeing are trying to achieve, Airbus intends for their single-manned, autonomously piloted VTOL aircraft to be deployed as part of an aerial taxi service as well.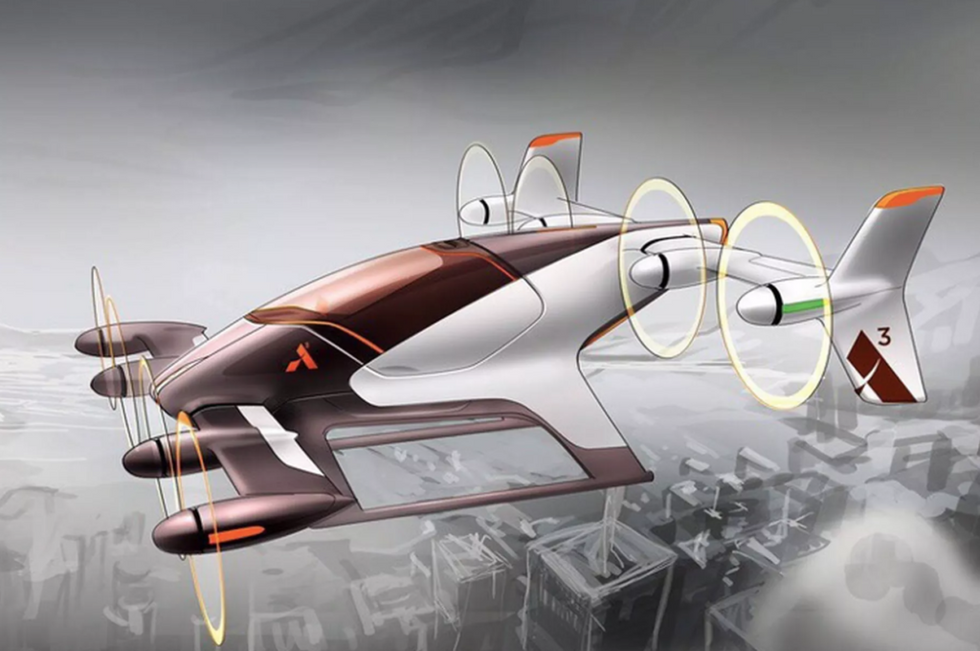 Airbus project Vahana concept car. Credit: Airbus
But an autonomous aerial taxi service is not the only possible future, as startup company Kitty Hawk, owned and backed by Google founder Larry Page, demonstrates. They are creating and developing real, usable flying cars for personal use — manual driver operation still required. Back in April Kitty Hawk released the first test-footage of their prototype all-electric aircraft, which is designed to operate on and over water.
After the recent acquisition of flying car startup Terrafugia, Volvo's parent Chinese company Geely claims they will beat everyone else to the market by delivering flying cars in 2019. But the "flying car" that the U.S. based startup promises to roll out in less than two years will operate more like a normal plane than a car. Terrafugia then hopes to debut a VTOL aircraft in 2023.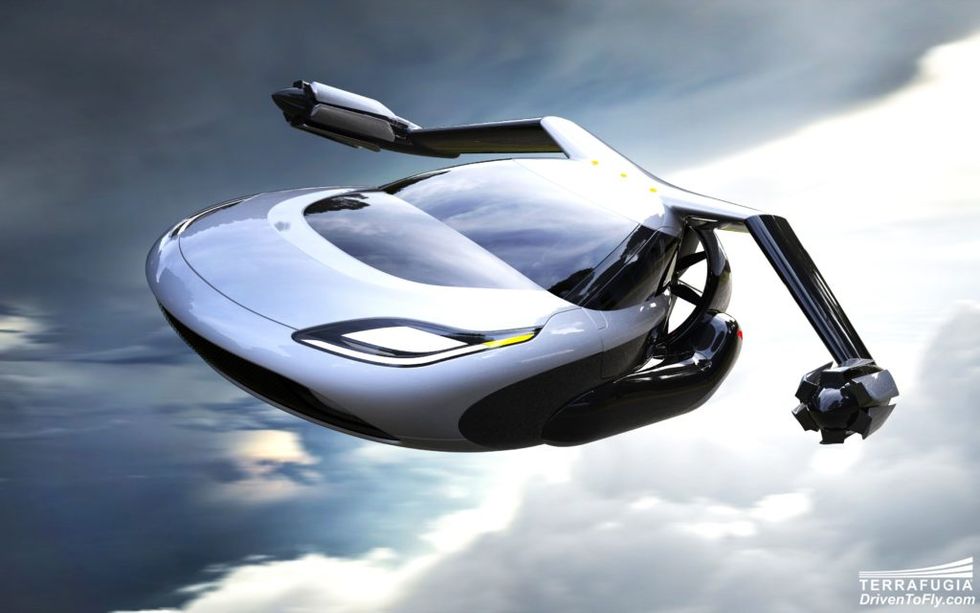 Terrafugia concept car. Credit: Terrafugia
Meanwhile, Uber has made significant progress of its own, partnering with aircraft manufacturers, real estate firms and regulators to not only build a fleet of fully-functional flying cars, but also build the infrastructure needed to make the aerial taxi service possible.
Despite not having a demonstrable aircraft, Holden insists that the Uber Elevate project is closer to fruition than people think.
"There's been a great deal of progress that's been hard to see from the outside because a lot of this is just hard work at the drafting table," he says, perThe Verge. "We feel really good. It's been a really interesting process getting our vehicle manufacturing partners aligned on performance specifications, so that they're building vehicles that align with what we need to make Elevate successful. So lots of good progress there."
To read more, please continue to page 3...
Flying Over Los Angeles Traffic During the Olympics
As for residents of greater LA, they could be jetting around the city skyline by means of UberAIR within the next three years. Holden said the decision to expand the flying taxi service to the city notorious for crawling commutes and perpetual gridlock was a natural one.
"It's one of the most congested cities in the world today," he said. "They essentially have no mass transit infrastructure. This type of approach allows us to very inexpensively deploy a mass transit method that actually doesn't make traffic worse."
Though the city's elected officials have already signed off, Uber plans to conduct community meetings to elicit residents' concerns about noise, pollution, and access. Uber has also signed an agreement with a local property management company, Sandstone Properties, to develop rooftop launch pads.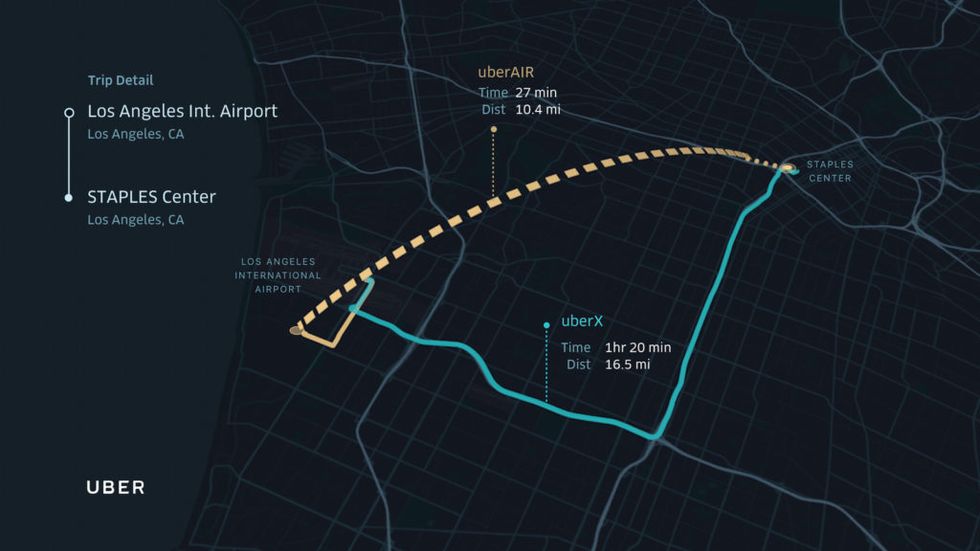 Sample Los Angeles route with UberAIR. Credit: Uber
Long has LA suffered from inadequate mass public transit, incapable of sustaining the city's population, and the Uber Elevate project could be the key to solving this growing crisis. Uber predicts the currently one-and-a-half hour car journey from the LAX airport to the Staples Center downtown could take less than 30 minutes using UberAIR.
"LA is the perfect testing ground for this new technology, and I look forward to seeing it grow in the coming years," said Mayor Eric Garcetti in a statement provided by Uber.
Holden anticipates LA residents will heavily rely on UberAIR by the time the city hosts the 2028 Olympics. He said, via MSN:
"Technology will allow LA residents to literally fly over the city's historically bad traffic, giving them time back to use in far more productive ways, whether more leisure time with friends and family or more time to work.
"At scale, we expect uberAIR will perform tens of thousands of flights each day across the city – at those levels, all the time savings will have a noticeable positive impact on the region's economy.
"By the time the Olympics come in 2028, we believe Los Angeles residents will be making heavy use of UberAIR, showcasing one of the most advanced urban transportation systems to the world, and because uberAIR is all-electric from day one, it will have a net positive impact on the environment."
Not Everyone Is a Believer
Of course, many people are skeptics with the notion that electric-powered flying cars are a realistic, economical pursuit, with experts predicting the engineering and regulatory hurdles preventing ventures like Uber Elevate from taking off. Elon Musk recently explained to Bloomberg why he doubts the future of flying cars widely populating the skies.
"Obviously, I like flying things. But it's difficult to imagine the flying car becoming a scalable solution."
Musk also shared his concern of objects falling from flying cars above, such as hubcaps or litter, subsequently injuring or killing pedestrians below.
But Holden dismisses Musk's wariness.
"We've studied this carefully and we believe it is scalable," Holden said. "We've done the hard work so we can build skyports, and can get the throughput operationally to move tens of thousands flights per day per city."
Regardless of how you look at it, Uber is proposing a Jetsons-inspired future that has been constrained, as yet, to the realm of science fiction and the imaginations of those like Jeff Holden. But that didn't stop German engineer Karl Benz from designing the first automobile, or the Wright brothers from the inventing the first successful airplane. Time will shortly tell if the metro transportation will see a future like the one Uber and others have envisioned.