[DIGEST: The Atlantic, Washington Post, Fortune, BBC, Business Insider, The Hill, NPR
Everyone deserves a vacation. Many of us get it: The average American receives 15 days of paid vacation per year after 25 years on the job (23 percent of workers receive no vacation time at all). But in three months in office, President Trump's frequent need for R&R at a variety of the luxury properties he owns has cost taxpayers more than Obama spent in an entire year.
---
Trump's travel expenses, combined with huge costs for maintaining the First Lady in a separate residence in NYC, and costs associated with the extensive business and leisure travels of his adult children and their families, has the public footing an unprecedented bill — much of which is paid right back to the Trump family business interests.
Fortune reported that Trump's first three trips to his Mar-a-Lago private resort in Florida cost taxpayers more than $10 million. By comparison, President Obama's travel expenses averaged $12.1 million for each year he spent in office, prompting the Washington Post to estimate that the U.S. Treasury will outspend Obama's eight-year bill in just one year of the Trump presidency. Trump has spent nearly every weekend in Florida since taking office.
In addition to costs to the federal government, the local communities in which Trump owns properties are experiencing skyrocketing security bills, which are passed onto local taxpayers. The Post noted: "The elaborate lifestyle of America's first family is straining the Secret Service and security officials, stirring financial and logistical concerns in several local communities, and costing far beyond what has been typical for previous presidents."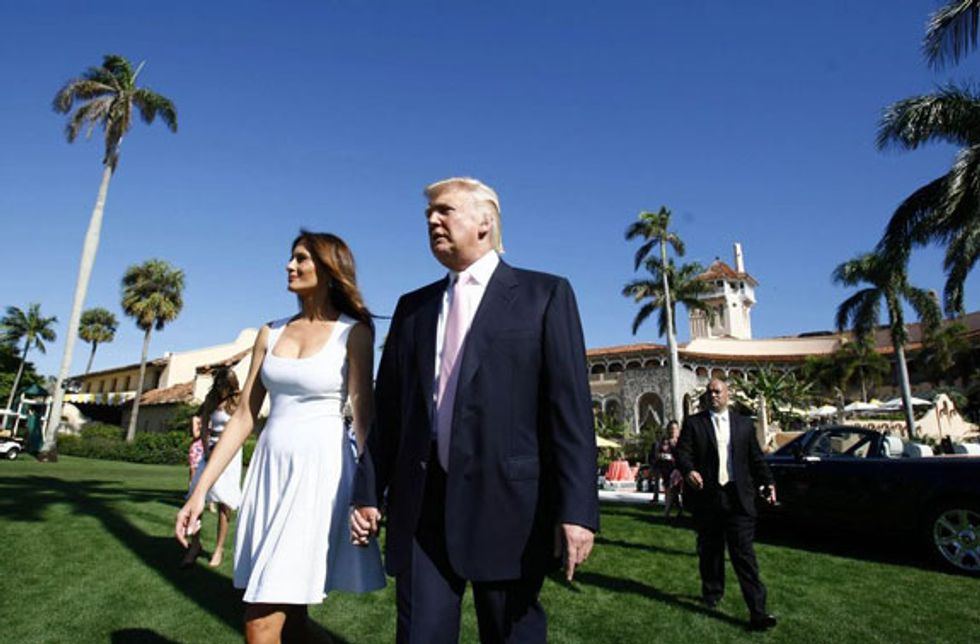 First Lady Melania and President Donald Trump on the grounds of Mar-a-Lago. (Credit: Source.)
New Yorkers bear the heaviest load. As Melania Trump has decided to live separately from her husband, taxpayers must foot a separate security bill for her and their son Barron, along with the additional security needed for the high-profile target of Trump Tower on Manhattan's Fifth Avenue. Fortune reports that costs for city police between Election Day and the inauguration alone ran about $308,000 per day, or $24 million before Trump had even taken office. The city now pays $500,000 a day to protect Trump Tower. The New York City Police Department estimates it will spend $97 million per year protecting the Trumps. In addition, the New York City Fire Department will spend another $4.5 million per year to protect the building. Trump's ex-wives Marla Maples and Ivana Trump also receive additional security and protection. Florida taxpayers are looking at a similar burden.
Golf Galore
Although he frequently complained via Twitter about President Obama golfing during his eight years in office, and claimed on the campaign trail that "I'm going to be working for you, I'm not going to have time to go play golf," Trump has visited his Palm Beach golf course 7 times in his first 10 weeks in office, at a cost to taxpayers of $3.3 million per weekend for his travel to Florida. Local police officer overtime costs run an additional $120,000 per day when Trump is in town.
"This is having a big impact on our budget," said Paulette Burdick, the Palm Beach County mayor, who is now looking at cutting parks, infrastructure and homeless services to cover the Trump expenses. "We fully understand the need to protect the president but it's unfair to ask local taxpayers to pay."
Trump also visited his Trump National Golf Club in Virginia, although Fox News reported, in an "Alert," that he was spending that weekend at the White House. It was quickly revealed in tweets by the golf course staff that he was in fact golfing in Virginia — his 13th trip to a golf course in the first 10 weeks in office.
Trump claims that he conducts business while vacationing, and previous presidents have done the same, often at Camp David, the traditional off-site meeting and resting place of presidents. Camp David has been in use since Dwight Eisenhower's time in office and costs $8 million a year to operate. Trump declared Camp David not fancy enough for his tastes, dismissing it as "rustic." (His own properties feature lavish, gold-plated décor.)
"This is an expensive way to conduct business, and the president should recognize that," said Judicial Watch President Tom Fitton.
Funding the Whole Family
With five children, eight grandchildren and three consecutive wives, Trump's family requires multiple sets of security teams, Secret Service retinues, government transport vehicles, and other supports. In early January 2017, Eric Trump jetted to Uruguay to visit the latest Trump Tower under construction in the resort town of Punta del Este, and as the president's son, the bill for this private business travel ($97,830) will go to taxpayers. The Trump sons next traveled to United Arab Emirates in February to open a Trump golf club dubbed "the Beverly Hills of Dubai," and they have enjoyed regular fishing and big game hunting trips. Ivanka Trump has conducted both her own company's and her father's business on international trips. The three eldest Trump children, their children and dogs traveled to Aspen for a ski vacation. Costs have not been released, although The Aspen Times reported that the Secret Service "signed a contract last week for more than $12,000 with the Aspen Valley Ski and Snowboard Club for rental ski equipment and clothing."
Local, state and federal budgets have been so strained by the costs of keeping up with the Trump family's jet-setting lifestyle that agents are being pulled off local criminal investigations to provide Trump security.
Profitable Presidency
Since Trump has refused to divest himself of his business, the U.S. government is now essentially funding the activities of the private Trump operations.
The government is also in the position of paying the Trump empire every time a member of the Trump family, a guest, staff or security detail use a hotel room, ballroom, or conference space in their own properties. With Trump refusing to use existing government properties in favor of combining business and pleasure at his own properties, he handily diverts public funds into Trump coffers under the auspices of doing the job of the President.
On the campaign trail, Trump made much over his willingness to forego the presidential salary. He ultimately chose to donate the first quarterly payment of that salary, $78,333, to the National Park Service — a move widely regarded as a cruel public relations stunt in the wake of his plans to slash the National Park Service's operating budget by billions, costing hundreds of jobs and leaving public lands, wildlife and resources vulnerable.
White House Press Secretary Sean Spicer announces President Trump will donate his first-quarter salary to the National Park Service. Trump's budget proposed a $1.5 million cut from the Interior. (Credit: Source.)
Meanwhile, Trump has profited enormously as president. In addition to a new, constant flow of government employees using his properties, which he no longer has to pay to secure, he's doubled fees to his Mar-a-Lago club to $200,000 per person, has plans to triple the number of Trump-branded hotels in the U.S., and has gained control over the regulatory agencies, such as environmental protection agencies, that could oversea his business activities in the U.S.
Additionally, he can now use his political influence to improve business conditions for himself in the 20 overseas countries in which he owns property. (Muslim countries in which Trump owns properties were exempted from the travel ban.) Among the many conflicts of interest posed by his business interests, foreign governments could easily bribe Trump by directing business, tax breaks, and money towards his overseas projects. In one example, Trump, who spent much of his campaign disparaging China, announced he would reverse his promise to review the One China policy — and shortly after, won a decade-long trademark dispute in that country, a victory which could be worth millions to the family that also manufactures Trump-branded products in that country.
"The working assumption," says former State Department official Michael Fuchs, "will be that there is an advantage to doing business with the Trump Organization."
Since Trump refuses to release tax returns, or to divest himself of conflicts of interest, the extent to which taxpayers are now directly supporting the world's most famous billionaire remains a mystery.