[DIGEST: Business Insider, RT]
Diabetes affects more than 29.1 million Americans nationwide, but only three companies make insulin worldwide. Steep price hikes in recent decades have prompted accusations of price gouging. According to Dr. Mayer Davidson, a professor of medicine at the Charles R. Drew University of Medicine and Science in Los Angeles who has monitored insulin costs, the price of insulin now "borders on the unbelievable." Dr. Davidson noted that in 2001, the wholesale price of a monthly supply of highly concentrated insulin was $45. That same amount now costs $1,447. These observations mirror the results of a study conducted by the Journal of the American Medical Association, which found that "the mean price of insulin increased from $4.34/mL in 2002 to $12.92/mL in 2013—a 200% increase."
---
The three companies that make insulin––Eli Lilly, Novo Nordisk, and Sanofi––claim they do not completely control costs. But all of these companies, says Merith Basey, who is the executive director for Universities Allied for Essential Medicines, have hiked prices "for decades." All three, Basey said, benefit from evergreening, the practice of slightly modifying drugs to help maintain patients' business. Evergreening also limits the competitive power of generic alternatives. Similarly, Kasia Lipska, an endocrinologist at the Yale School of Medicine, writes that between 2010 and 2015, "the price of Lantus (made by Sanofi) went up by 168 percent; the price of Levemir (made by Novo Nordisk) rose by 169 percent; and the price of Humulin R U-500 (made by Eli Lilly) soared by 325 percent."
The skyrocketing price of insulin has also compelled a Montana senator to reflect on the impact these hikes have on consumers. "This is price gouging, plain and simple," US Senator Jon Tester (D-Montana) said. "Just last week I was talking to my childhood best friend. He was diagnosed with diabetes in the 70s. He paid $2 for a drug that now costs him $175. That's a little higher than the rate of inflation." Peter Maybarduk, who serves as the director of Access to Medicines for Public Citizen, agrees. He called the price hikes "a longstanding scandal" and called for action "to make medical technologies affordable to all." Congress, Maybarduk says, "can enact legislation against these sorts of price spikes. It is not complicated. The challenge is in standing up to the lobbying power of the pharmaceutical corporations."
The companies also appear to increase their prices simultaneously according to prices gathered by Truven Health Analytics which compare Eli Lilly and Co.'s Humalog and Novo Nordisk's Novolog, two short-acting insulins.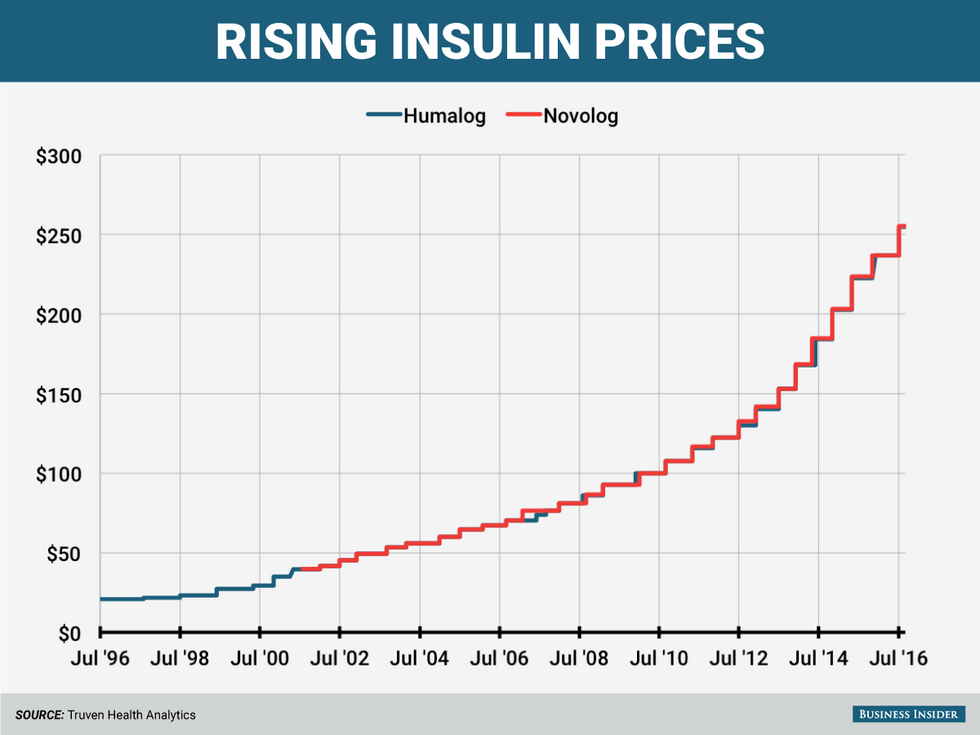 Credit: Source.
All three companies lack generic competition. They also pointed to discounts they provide and alleged that the problem is the fault of health insurers. Ken Inchausti, a spokesman for Novo Nordisk, told Business Insider that the company is aware "that many Americans with diabetes struggle to pay for their healthcare and, in some cases, this includes paying for medicines produced by us," but suggested
that high deductible plans are [a] still growing segment of all insurance plans... [In addition to] the significant rebates we provide insurance plans (including those who offer high-deductible plans) to secure formulary positions, we fund co-pay cards and vouchers that commercially-insured patients can use for up to two years to offset those out-of-pocket costs they're incurring."
Gregory Kueterman, a spokesman for Lilly, said that while the nature of the drugs might not have changed, that the company has upgraded, spending billions of dollars on eight separate facilities that produce and package insulin. "We're spending a considerable amount of time studying this issue internally and talking to experts externally in this space... There are no quick and easy answers, because the system is complex and complicated," Kueterman said. "Even just simply lowering prices, while that seems like an easy answer, it wouldn't necessarily lower the prices of the high-deductible plan. They'd have to keep paying till they hit that deductible."
Compared to other chronic diseases, diabetes tends to be well covered by insurers. Some families reported copays as low as $40 a month and others said their diabetic children are covered by certain state plans. However, many parents worry what will happen to their children once they age out of the system. Carole Andrew, the mother of an 18-year old son, told reporters that her son takes his insulin without fail now that he knows "the impact" of the prices. Jessica Parks, a 29-year-old who has lived with diabetes for the last decade, went into significant credit card debt to pay for her supply of insulin. She reported that after she lost her job in 2013, her pharmacy benefit manager asked her to pay $400 for a 90-day supply of insulin when she did not have health insurance. Parkes was forced to put the supply on her credit card, paying it off when she knew she could. "I need my insulin to work and pay for the things I need," she said. "So I made my own payment plan."
The accusations of price gouging in the case of insulin mirrors a recent scandal which beseiged Mylan, the pharmaceutical company behind the EpiPen. (The price of a standard two-pack of EpiPens increased from $100 in 2009 to $600 in 2016.)  Mylan's stock has taken a significant hit as tensions continue to rise over the staggering price increase. Shortly after the news first made headlines last month, Mylan's stock fell 12.4 percent. The company's average stock price decreased from a high of $49.20 per share on August 19 to $43.11 per share on August 24. Mylan's market cap has nosedived almost $3 billion over a five-day span.
Mylan CEO Heather Bresch. (Credit: Source.)
Mylan made a $1.2 billion profit from the sale of EpiPens in 2015. Many of Mylan's executives saw massive salary increases during this period, including Heather Bresch, the company's CEO, who raised her salary by 671 percent, from just under $2.5 million to nearly $19 million. She pledged to make the Epipen more affordable in a statement to CNBC. "As a mother, I can assure you that the last thing we could ever want is no one to have their EpiPen due to price," she said. Bresch is scheduled to appear before the U.S. House Committee on Oversight and Government Reform on Sept. 21 to answer questions about the price hike.