[DIGEST: National Geographic, CBS, Daily Mail, Fox News, NY Post]
Exploring the wilderness comes with some risks, and every year people die during adventure vacations around the world. Maykool Coroseo Acuña, a 25-year-old man from Chile, nearly joined these ranks when he disappeared in the Bolivian Amazon while on holiday. He survived nine days in the woods, without shelter or provisions — thanks, he says, to a friendly group of monkeys who gave him food and led him to water sources.
---
---
Acuña had been traveling with the tour company Max Adventures in Madidi National Park near the Tuichi River. One night, the guides led the group in a traditional Pachamama ceremony to thank Pachamama, or Mother Earth, for allowing them to enter the forest. Acuña had been acting strangely and seemed overexcited, according to witnesses on the trip, and slipped into the woods after dark and lost his way.
"It's because he offended the Pachamama," said Feizar Nava, owner of the agency. "He didn't want to participate in the ceremony."
Park rangers spent days looking for the man, with no clues. Family flew in to join the search. Spiritual shamans were called in as well, since some locals believed that a mischievous sprite named Duende had been the cause of Acuña's madness. Six days into the man's disappearance, searchers found a sock, which the shamans used to make contact with his soul. Three days later, searchers heard the man's cries, and located his along the riverbank, less than a mile from the camp.
The man was dehydrated, badly bitten by insects, and his feet were swollen. But he survived, he said, because a group of monkeys dropped fruit down to him from the treetops and led him to water. As for Duende, Acuña denied any intervention from the forest sprite. He says instead he was compelled to go into the forest by strange thoughts inside his own head. Some have speculated that he was having a reaction to anti-malarial drugs.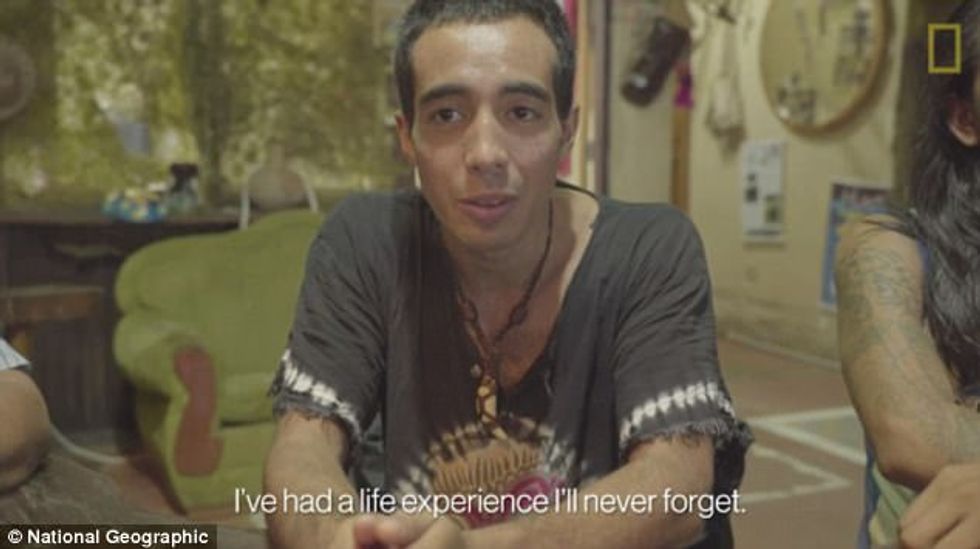 Credit: Source.
"I started running," he said. "I was wearing sandals and I said no, they would slow me down. I threw away the sandals, then the cell phone and my flashlight. And after running so much, I stopped under a tree and I started thinking. What had I done, what was I doing? And when I wanted to get back it wasn't possible."
This isn't the first time a tourist has disappeared in the area. In 1981, Yossi Ghinsberg was stranded by a fellow traveler in the Bolivian rainforest and was lost for three weeks. His story became the best-seller Back from Tuichi. A film adaptation starring Daniel Radcliffe, called Jungle, is scheduled for release later this year.
It's also not the first time monkeys have helped a human in trouble. Marina Chapman, subject of a National Geographic series and a book, The Girl With No Name: The Incredible True Story of the Girl Raised by Monkeys, claims that as a child in Colombia she was abducted and abandoned in the jungle. A group of capuchin monkeys cared for the child for five years, until a group of hunters found her. The monkeys remain the heroes in this story; the hunters brought the child to a brothel, which she then had to escape from.
Even captive primates can be heroes. In 1996, when a child fell into the ape pit in Illinois' Brookfield Zoo, the resident gorilla gently picked the boy up and cradled him in her arms until she could hand him over to a zookeeper. And who can forget the more recent Harambe case? Many witnesses claimed that the famous gorilla moved to protect the three-year-old boy who fell into his exhibit. Zoo security intervened in that case, and killed Harambe — in case you haven't forgotten.
---