[DIGEST: CNN, BBC News, National Geographic, IFLS]
History is never far away. Daniel Rom Kristiansen, a 14-year-old from Birkelse in northern Denmark, learned this lesson when he decided to study World War II by looking for it on his grandfather's farm.
---
Kristiansen's grandfather once told him about a German Luftwaffe plane that crashed near the family farm late 1944, but the family never took the story seriously. But when his teachers assigned a project on WWII, Kristiansen and his father decided to take a metal detector out to the farm and scan around, just in case it turned up something interesting.
"I hoped we might find some old plates or something for Daniel to show in school," said his father, Klaus Kristiansen. Instead, the pair found pieces of metal that seemed to confirm that the old plane story just might be true. The pair borrowed an excavator from a neighbor, dug down more than 20 feet into the boggy field, and turned up a German fighter plane with the pilot's skeleton still inside the cockpit, and an assortment of other artifacts that brought history to life for the student.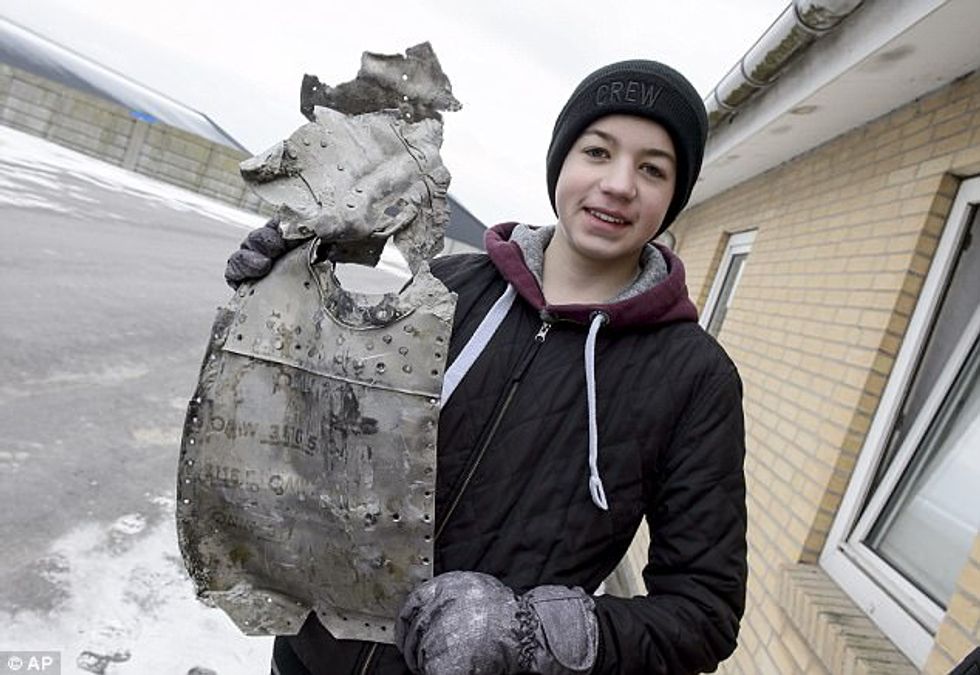 Daniel Rom Kristiansen holds up a piece of the wreckage from a World War II airplane. (Credit: Source.)
Inside the ME 109 Messerschmitt Luftwaffe fighter plane, the duo found papers, books, a wallet, three unused condoms, and the bones of a crew member. Representatives from the German embassy in Denmark and bomb disposal experts came to the farm to assist with the excavation process.
"It was maybe 2,000 to 5,000 pieces of a plane. And we found a motor... then suddenly we found parts of bones, and parts from [the pilot's] clothes," Daniel's father said. "And then we found some personal things – books, a wallet with money... Either it was a little Bible or it was Mein Kampf – a book in his pocket. We didn't touch it, we just put it in some bags. A museum is now taking care of it. I think there's a lot of information in those papers."
The Historical Museum of Northern Jutland together with German authorities confirmed the lost pilot's identity as Hans Wunderlich, a 19-year-old from Bavaria. Wunderlich's parents and only sibling have died, and no other relatives remain. Historians at the museum believe the plane came from the training base for German pilots in the nearby Danish city of Aalborg.
The book found with his body turned out to be a flight diary that included the date of his final flight, October 10, 1944. A watch found with his belongings is stopped at 2 p.m., presumably the time of the crash. The museum hopes to display the artifacts in a special exhibition. Wunderlich's remains will be reburied in Germany.
"Luckily my son has something to write about in his assignment now," Kristiansen told local reporters.