"When the last tree is cut, the last fish is caught, and the last river is polluted; when to breathe the air is sickening, you will realize, too late, that wealth is not in bank accounts and that you can't eat money." – Native American Proverb
In the last ten years, the disastrously intensifying consequences of climate change have cost Americans $240 billion per year, which according to the Universal Ecological Fund, corresponds to "about 40 percent of the current economic growth of the United States economy."
---
Sometimes it's necessary to state the obvious; Earth's climate is warming due to increasing amounts of carbon dioxide and methane in the atmosphere, which trap heat from the Sun. Though they do cycle naturally, the concentration of greenhouse gases in Earth's atmosphere is increasing at a faster rate than any time in our planet's history. For the first time, carbon dioxide has crossed the 400 parts-per-million threshold in the atmosphere. This is a direct consequence of human consumption of fossil fuels, which are finite in supply and inefficient as sources of energy.
Since the Industrial Revolution and the discovery of fossil fuels, the average global temperature has risen by 1 degree Celsius; a 2-degree increase is considered the point of no return by the clear majority of climate scientists around the world. As the average annual global temperature rises, hurricanes and typhoons have access to more energy, causing them to grow larger and stronger. Excess heat from warm air and ocean water also allows storms to form more rapidly; Hurricane Irma, for example, strengthened to a category 5 storm virtually overnight as it churned in the eastern Atlantic in September. Earth's average temperature is expected to rise 2 degrees by 2050; imagine what perils await humanity when a seemingly small one-degree bump is doubled. Climate change doesn't cause storms, wildfires or droughts, but it does increase their frequency and severity.
There is no doubt that human activity is causing unprecedented climate change. Decades of scientific consensus paired with more than a century of data collection and analysis have made that abundantly clear. The time for reasonable doubt and objective skepticism has long since passed. Scientists began sounding the alarms in the 1950s, but because of politics and unchecked corporate greed, the science and the climatic effects were treated as mere inconveniences, the brunt of which people who are not yet born will have to endure.
Natural disasters are costing Americans ridiculous amounts of money.
Hurricane Katrina, which inundated New Orleans in 2005 and caused over 1,100 deaths, ranks as the most expensive natural disaster in US history. It caused $160 billion in damage and losses in nine states. Recovery is ongoing twelve years later. Superstorm Sandy in 2012 had a price tag of $70 billion. Since 1980, events caused by climate change have cost Americans more than a trillion dollars.
In 2017 alone, the United States experienced 15 environmental disasters with a price tag of a billion dollars or more each. "For the first 9 months (Jan-Sept) of 2017, the U.S. has experienced 15 separate billion-dollar weather and climate disasters. 2017 ties the record year of 2011 for the most (15) billion-dollar disasters for the year to date," according to a report by the National Oceanic and Atmospheric Administration. "Overall, these events resulted in the deaths of 282 people and had significant economic effects on the areas impacted." According to National Geographic, this does not include 2017's three catastrophic hurricanes or 76 wildfires, and estimates place their economic toll near $300 billion. On January 8, 2017, the worst was confirmed; natural disasters cost Americans $306 billion in 2017. Also worthy of note, the official death toll in Puerto Rico from Hurricane Maria is 64, although officials believe the actual number to be over 1,000. 
Adding to the growing astronomical financial burden of our changing climate are the effects of environmental pollution on human health. The Third National Climate Assessment's Health Chapter recently released a report detailing just how profound these health effects are. In their summary of the report, the Centers for Disease Control states "the health effects of these disruptions include increased respiratory and cardiovascular disease, injuries and premature deaths related to extreme weather events, changes in the prevalence and geographical distribution of food- and water-borne illnesses and other infectious diseases, and threats to mental health."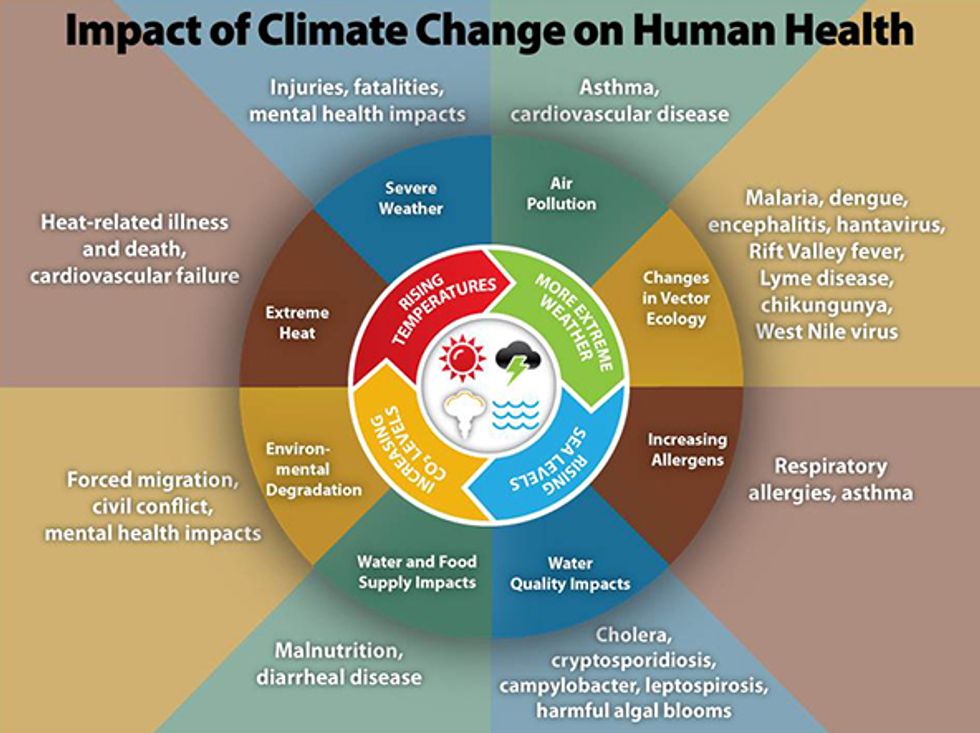 Source: The Centers for Disease Control and Prevention 
Wildfires are also becoming more widespread and destructive because of climate change. According to the report, "wildfire smoke contains particulate matter, carbon monoxide, nitrogen oxides and various volatile organic compounds (which are ozone precursors) and can significantly reduce air quality, both locally and in areas downwind of fires." Compounding the economic tolls from wildfires are the impacts on human health. "Future climate change is projected to increase wildfire risks and associated emissions, with harmful impacts on health," the report states. Particulate matter from smoke and debris will be associated with "hundreds of thousands of deaths annually, in an assessment of the global health risks from landscape fire smoke." Heat-related deaths, which carry an elevated risk in drought-prone areas, can also be expected to increase. Considering Americans already spend over a trillion dollars annually on health care, treating climate change-related illnesses will inevitably add further stress to an already overburdened system.
The environmental policies of the Trump administration are aggressively reckless and reprehensibly irresponsible.
Perhaps most disturbingly, however, are the actions by the Republican party and President Donald Trump.
When President Trump announced in September 2017 that the United States would no longer be participating in the historic Paris Climate Agreement, the US became the only country in the civilized world refusing to join the rest of the planet in combating climate change. This is despite overwhelming scientific consensus and the unavoidably obvious consequences of a rapidly changing global climate; stronger storms, hotter summers and longer droughts are only a few of the disastrous harbingers of what's to come.
Indeed, cutting and eliminating carbon emissions, and developing a renewable, sustainable power grid, should be treated with utmost urgency. In its press release, the Universal Ecological Fund also outlines the economic benefits of investing in renewable energy. Disruptions in the global climate are already costing hundreds of billions of dollars per year… and it's only just beginning.
In stunning defiance of science and financial responsibility, the Trump administration has doubled down on its belligerently anti-environmental policies since the president's inauguration. In fact, the 45th president has rolled back nearly 60 environmental protections since taking office.
29 rules have been overturned
Flood building standards
Proposed ban on a potentially harmful pesticide
Freeze on new coal leases on public lands
Methane reporting requirement
Anti-dumping rule for coal companies
Decision on Keystone XL pipeline
Decision on Dakota Access pipeline
Third-party settlement funds
Offshore drilling ban in the Atlantic and Arctic
Ban on seismic air gun testing in the Atlantic
Northern Bering Sea climate resilience plan
Royalty regulations for oil, gas and coal
Inclusion of greenhouse gas emissions in environmental reviews
Permit-issuing process for new infrastructure projects
Green Climate Fund contributions
Mining restrictions in Bristol Bay, Alaska
Endangered species listings
Hunting ban on wolves and grizzly bears in Alaska
Protections for whales and sea turtles
Reusable water bottles rule for national parks
National parks climate order
Environmental mitigation for federal projects
Calculation for "social cost" of carbon
Planning rule for public lands
Copper filter cake listing as hazardous waste
Mine cleanup rule
Sewage treatment pollution regulations
Ban on use of lead ammunition on federal lands
Restrictions on fishing
24 rollbacks are in progress
Clean Power Plan
Paris climate agreement
Wetland and tributary protections
Car and truck fuel-efficiency standards
Status of 10 national monuments
Status of 12 marine areas
Limits on toxic discharge from power plants
Coal ash discharge regulations
Emissions standards for new, modified and reconstructed power plants
Emissions rules for power plant start-up and shutdown
Sage grouse habitat protections
Fracking regulations on public lands
Regulations on oil and gas drilling in some national parks
Oil rig safety regulations
Regulations for offshore oil and gas exploration by floating vessels
Drilling in the Arctic Wildlife Refuge
Hunting method regulations in Alaska
Requirement for tracking emissions on federal highways
Emissions standards for trailers and glider kits
Limits on methane emissions on public lands
Permitting process for air-polluting plants
Offshore oil and gas leasing
Use of birds in subsistence handicrafts
Coal dust rule
7 rollbacks are in limbo
Methane emission limits at new oil and gas wells
Limits on landfill emissions
Mercury emission limits for power plants
Hazardous chemical facility regulations
Groundwater protections for uranium mines
Efficiency standards for federal buildings
Rule helping consumers buy fuel-efficient tires
Source: The New York Times
The administrator of the Environmental Protection Agency, Scott Pruitt, is a militant climate change denialist. As Attorney General of Oklahoma, Pruitt sued the E.P.A. more than a dozen times, hoping to block Obama-era environmental regulations. "Regulations have often been reversed as a direct response to petitions from oil, coal and gas companies and other industry groups," the New York Times reported. Thanks to the "almost daily" meetings between Pruitt and the fossil fuel industry, "the E.P.A. has been involved in nearly one-third of the policy reversals identified by The Times." Irony seems lost on this political party, which boasts about "fiscal responsibility" and "personal accountability" while simultaneously enacting policies that result in substantial amounts of preventable wasted money and loss of human life.
The short-sighted, purely-short-term-profit-driven and willful ignorance is having profound effects on not only the planet, but on the economy as well. Climate change denial is a crime against humanity. By refusing to acknowledge the undeniable realities of climate change, President Trump and the Republican Party have every climate change-related American death on their hands.