Kevin Sabo, a lawyer currently working for the United States Department of the Interior (DoI) in the Bureau of Reclamation, joined a list of conservative figures taking exception to recent gun control efforts by teenage survivors of gun violence.
Like many other gun advocates, Sabo's initial comment, made publicly on his Facebook account, attacked David Hogg. 17 year old Hogg is a favored target of many of the adults attacking the survivors of the mass shooting at Marjory Stoneman Douglas High School.
---
On February 14, a gunman entered the school in Parkland, Florida, and murdered 17 people. Since then, the students of the Parkland school have organized walk-outs, marches, and boycotts to try to enact gun control legislation.
These protests made the teens targets for the National Rifle Association (NRA), their members, and other gun advocates.
On March 24, the day of the March for Our Lives international protest against gun violence, Kevin Sabo, acting Chief of Congressional Affairs for DoI, shared a post from Ben Shapiro that featured a Daily Wire link.
The image with the article shows 17 year old Hogg raising his fist in the air after a speech at the Washington D.C. March for Our Lives event.
"Is this child giving a nazi salute? What the hell is the left doing to these kids?" Sabo captioned the post.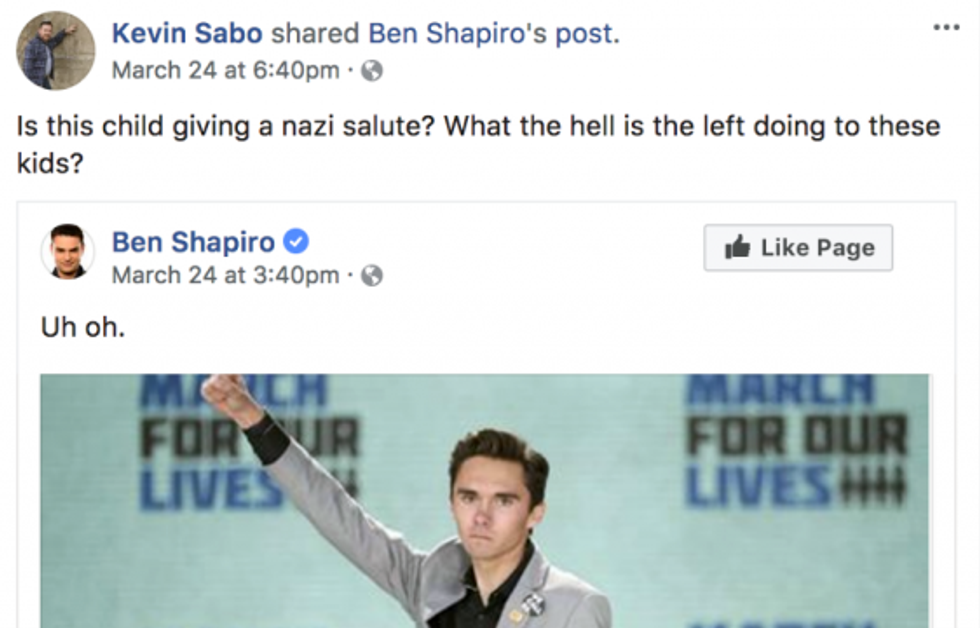 Kevin Sabo/Facebook
Sabo has a history of posting controversial content and of criminal activity.
In 2000, Sabo was disbarred in Washington D.C. and sentenced to 18 months in prison, serving 12, after his conviction for "attempting to maliciously wound" his ex-girlfriend. Sabo cut the brakes on her car causing her to crash. Despite Sabo's efforts, the woman was uninjured.
In 2009 Sabo was charged with "larceny by false pretenses" involving a dispute at Home Depot. Sabo did 75 hours of community service to avoid a trial and another conviction. Sabo regained his license to practice law in 2012.
People on Facebook were quick to correct Sabo, pointing out the difference between the open handed Nazi salute and the raised power fist, such as used by athletes during the 1968 Summer Olympics.
"This is what a Nazi salute looks like Kevin. What the hell is the right doing to these people?" commented Matt Lievens, who also included YouTube footage from a White Nationalist event where the Nazi salute was used while attendees chanted "Hail" or "Heil Trump."

Kevin Sabo/Facebook
Sabo made several posts regarding the Parkland students and the mass shooting at their school, but deleted or made private all but the Ben Shapiro article. In another post, no longer publicly available, Sabo wrote:
The Nazis took everyone's guns away too. A lot of similarities with these kids."
That specific comment is very common rhetoric used by gun advocates as a rebuttal to a call for any forms of gun reform or control. The claim that gun control led to the Holocaust has been repeatedly debunked by numerous sources.
Another post shared by Sabo claimed a conspiracy tied to Florida Democratic Representative Debbie Wasserman Schultz and the CIA's "Project MKUltra mind control techniques" was responsible for the shooting, not the actual gunman arrested for the crime.
Sabo, as a career civil servant, was not appointed or elected to his position within the DoI. Sabo has been in his current position since April 2016.
Civil service employees fall under the federal Office of Personnel Management, not a specific political party or presidential administration. They are by necessity neither hired nor fired at the direction of elected officials as one of the checks and balances of the federal government.
A spokesperson for the agency stated DoI has "no comment on the personal views expressed on his Facebook page..." adding "civil servants are guaranteed First Amendment rights to communicate their own views on their own time on their own social media sites, even if some would find those views disagreeable or the primary sources erroneous."
While the Department of the Interior doesn't have a comment, plenty of other people do.