59 percent of American voters say in a Quinnipiac University poll released yesterday that President Donald Trump's job performance is poor, citing his moral character deficits. Trump received low marks despite the 63 percent of those surveyed who said the economy is "excellent" or "good." Even so, more people credited former President Barack Obama (45 percent, including 29 percent of Republicans) than Trump (29 percent) for that success.
The president's grades on most character traits are as follows:
---
62 percent of those surveyed say he is dishonest, compared to 34 percent who say otherwise.
62 percent believe he has not demonstrated good leadership skills, compared to 35 percent who believe he has.
62 percent say Trump "does not care about average Americans." By contrast, 37 percent say he does.
70 percent say Trump is not "level headed," indicating he lacks the temperament to be president. 28 percent say Trump is, in fact, level headed.
57 percent of those surveyed believe he is a "strong" person. 40 percent believe the opposite.
52 percent believe Trump is intelligent, while 45 percent believe he is not intelligent.
65 percent believe the president does not share their values, while 32 percent say otherwise.
A story in the @washingtonpost that I was close to "rescinding" the nomination of Justice Gorsuch prior to confirm… https://t.co/wu6B3WTgX0

— Donald J. Trump (@Donald J. Trump) 1513696021.0
Those who participated in the survey gave Trump negative ratings for the way he has handled several key issues:
33 - 62 percent for handling foreign policy;
45 - 48 percent for handling terrorism;
37 - 60 percent for handling immigration;
29 - 64 percent for handling health care;
35 - 58 percent for handling taxes.
Even more damning: Fifty percent of American voters, including 59 percent of women and 41 percent of men, say Trump should resign because of the sexual assault allegations against him. Democrats (85 - 12 percent) have been the most vocal about calling for Trump's resignation. Independents are more finely split (52 - 44 percent) while the overwhelming majority of Republicans 92 - 7 percent say the president should not resign.
Wow, more than 90% of Fake News Media coverage of me is negative, with numerous forced retractions of untrue storie… https://t.co/nyZJca6Hnm

— Donald J. Trump (@Donald J. Trump) 1513170172.0
Still, the poll notes, voters are divided 44 - 44 percent "on whether they approve of how the Democratic Party is handling the issue of sexual harassment and sexual assault in politics" (which is an improvement on the negative 30 - 52 percent approval rating December 6). By contrast, voters disapprove 65 - 23 percent of how the Republican Party is handling sexual harassment and sexual assault in politics, and Republicans only approve by a "lackluster" 46 - 37 percent.
The survey results also show that most people (66 - 30 percent) believe Trump does not respect women as much as he respects men. Those numbers include 73 - 25 percent among women and 59 - 36 percent among men.
"Confidence in the economy is eclipsed by profound doubts about the president's level headedness, honesty, empathy for fellow Americans and handling of foreign policy," said Tim Malloy, assistant director of the Quinnipiac University Poll. "A big bag of coal under the Mar-a-Lago tree from a voting public that has little confidence in the president."
Quinnipiac University surveyed 1,230 voters nationwide from December 13 - 18 with a margin of error of +/- 3.3 percentage points, including the design effect. Live interviewers called landlines and cell phones.
The Quinnipiac University poll comes on the heels of a USA Today editorial which issued a scathing rebuke of the president, accusing him of impugning the dignity of the Oval Office.
The editorial board eviscerated Trump as "not fit to clean the toilets in Obama's presidential library or to shine George W. Bush's shoes" after he attacked Senator Kirsten Gillibrand when she called on him to resign. Many criticized the president's words as sexually suggestive and demeaning, though the White House denied there was anything suggestive about the post.
Lightweight Senator Kirsten Gillibrand, a total flunky for Chuck Schumer and someone who would come to my office "b… https://t.co/L8fAyMgZ8M

— Donald J. Trump (@Donald J. Trump) 1513083815.0
A new NBC News/Wall Street Journal poll has even more disappointing news for the president and his supporters: Just 36 percent of Americans say they would vote for Trump in 2020, while half indicate that they'll definitely or probably support his Democratic general election opponent.
Just 18 percent of those surveyed believe that they will "definitely" support Trump if he runs in the next presidential election; another 18 percent were less decisive, saying that they'll "probably" choose him. But, NBC notes, "a significant chunk — 38 percent — say they're dead set on voting against the GOP commander-in-chief, with an additional 14 percent saying that they'll probably vote for the Democrat on the ballot."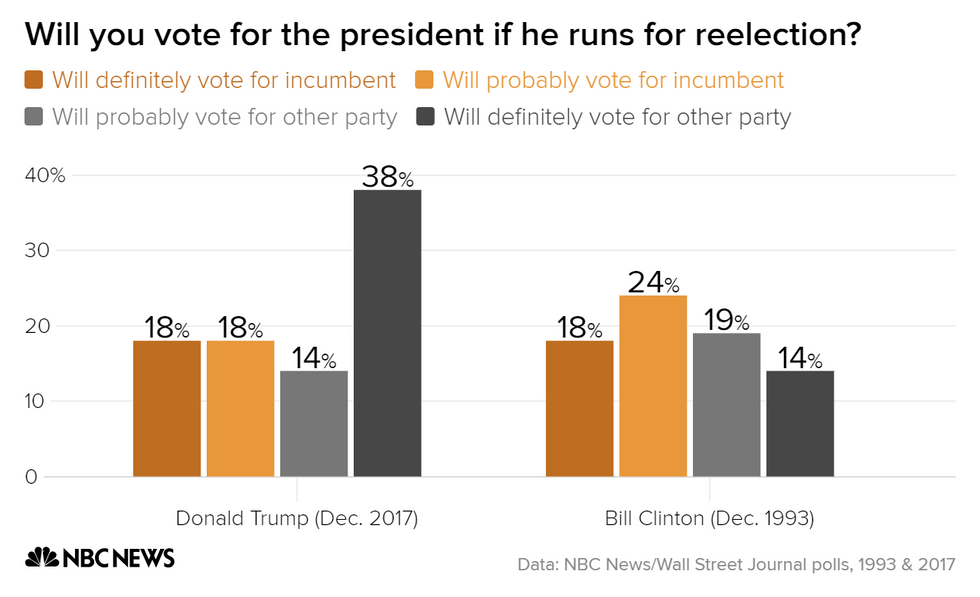 NBC News/Wall Street Journal poll, December 2017.
The report continues:
The partisan breakdown for Trump's reelection support also shows signs of some potential fracturing within his own party. Among Republicans, 43 percent say they will definitely vote for Trump, while another 40 percent say they probably will. But among Democrats, three quarters — 73 percent — say they will definitely vote against Trump.

Additionally, some of Trump's key coalition groups have shown a drop in their support since the 2016 election. For example, according to exit polls, 66 percent of white voters without a college degree backed Trump over Hillary Clinton, but just 47 percent now say that they will definitely or probably support him in 2020. The decline is similar among rural voters; 61 percent of rural voters supported Trump in 2016, while just 43 percent say they're confident they'll be in his corner in three years.

As Trump's first year in office comes to a close, three-in-ten Americans overall say that the country is better off than it was when he became president, while 45 percent say it is in worse shape. Another 24 percent say that the state of the nation is about the same as when Trump took office.

NBC News/Wall Street Journal poll, December 2017.