At a Trump rally in San Jose, California, supporters and protesters were at each other's throats, throwing raw eggs and debris. Inside the hall, Trump called for his opponent to be "jailed," while outside the rally, protesters gathered in the streets, with encounters becoming increasingly violent and unruly. They surrounded vehicles, including police cars, and smashed tail lights. One supporter claimed that a protestor had seized his hat, which featured the Trump campaign slogan "Make America Great Again," and set fire to it. Local police declared the crowd an "unlawful assembly," and arrested several protesters. When the crowd continued to taunt the police, who were dressed in full riot gear, authorities formed lines to push them out of downtown San Jose. Tom Llamas of ABC News tweeted that "the police in San Jose have appeared to [have] lost control" and deemed it "the most violent demonstration" to date.
Hardly a Trump event now passes without reports of violence among supporters, protesters and local authorities. Trump's public appearances on the campaign trail have fostered a dangerous cycle of violence, media saturation, and a new baseline of acceptability. Trump holds a rally and violence erupts, sometimes a scuffle among a few attendees, sometimes a full-blown brawl in the streets. Trump responds with a shrug and a glib remark. The media gives the incident wide play, and, a few days later, it happens all over again.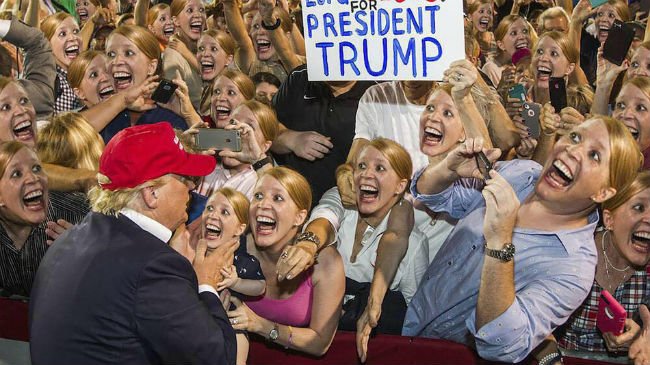 In late May, for example, at a San Diego rally, police arrested 35 people for throwing rocks and water bottles during Trump's appearance. San Diego's population is about thirty percent Latino, and many protesters showed up to oppose Trump's plans to round up undocumented immigrants and build a wall along the border. Just a few days earlier, in Albuquerque, New Mexico, another area with a large Latino population, Trump addressed a throng of supporters while his security escorted several protesters out of the rally. Outside the event, crowds threw items at police, who again were in full riot gear, before the authorities responded with pepper spray. Shattered glass spurned a panic about possible gunshots, a rumor later disproved. For his part, Trump merely smiled and even mocked a young protester being removed by security, drawing attention to his youth, amid jibes that he was "still wearing diapers." Protests at his Anaheim, California rally unfolded the following day with large numbers again facing police officers in riot gear, who this time were on horseback and motorcycles.
At a Trump rally in Orange, California, Trump supporters and protesters clashed almost immediately. True to pattern, there were fist fights, smashed windows and a few bloodied faces. Orange, once the Republican epicenter of Southern California, is now diversely populated with young first generation Americans who traditionally do not vote Republican. Many of these protestors specifically took issue with Trump's comments about undocumented workers. Rojelio Banuelos carried a sign that read, "Liberation not deportation." Other protesters waved Mexico's flag.
Other rallies have featured a woman assaulted by Trump's manager, a reporter attacked by a member
To read more, please continue to page 2.