[DIGEST: International Business Times, Washington Post]
Millions of Americans will vote on November 8 on whether to legalize access to marijuana. Five states will consider legalizing recreational pot use, and the latest polls indicate that voters favor passage in all five states. These polls track national sentiment: According to recent polls, the majority of Americans nationwide support the legalization of marijuana. A Gallup survey gauged support at 58 percent, while another found that 1 in 8––13 percent––of U.S. adults say they smoke pot, up from 7 percent in 2013.
---
California
Proponents and opponents alike have the bulk of their attention on Proposition 64 in California, also known as or the Adult Use of Marijuana Act, which would legalize, tax and regulate the sale of recreational marijuana. "As California goes, so goes the nation," said University of California, Berkeley political science professor Alan Ross. The battle there has been hard fought, with individual ballot committees formed both to back and oppose the measure raising nearly $19 million.
Prop 64 is supported by 52 percent of the state's electorate according to a post-debate SurveyUSA poll of 751 likely voters.  The ballot measure requires a simple majority vote to pass. It would allow adults ages 21 and older to possess, transport and use up to an ounce of cannabis recreationally. The initiative would also allow individuals to grow as many as six plants for recreational use. Smoking marijuana would remain prohibited in places where tobacco use is already off limits, including restaurants and bars. Both recreational and medical marijuana sales face an initial 15% excise tax. Cities and counties would retain the right to impose their own fees and taxes, if not ban pot-related businesses altogether.
Arizona
Proposition 205, or Arizona's Marijuana Legalization Initiative, is similar in nature to California's proposal, and would allow adults 21 and older to possess and recreationally use one ounce or less of marijuana and permit individuals to grow up to six plants in their home. According to an Arizona Republic/Morrison/Cronkite News poll of 784 registered voters conducted in late August, 50 percent supported legalization in the state, while 40 percent opposed it and 10 percent remained undecided. These findings lie in stark contrast to a July poll which found that only 39 percent supported the measure.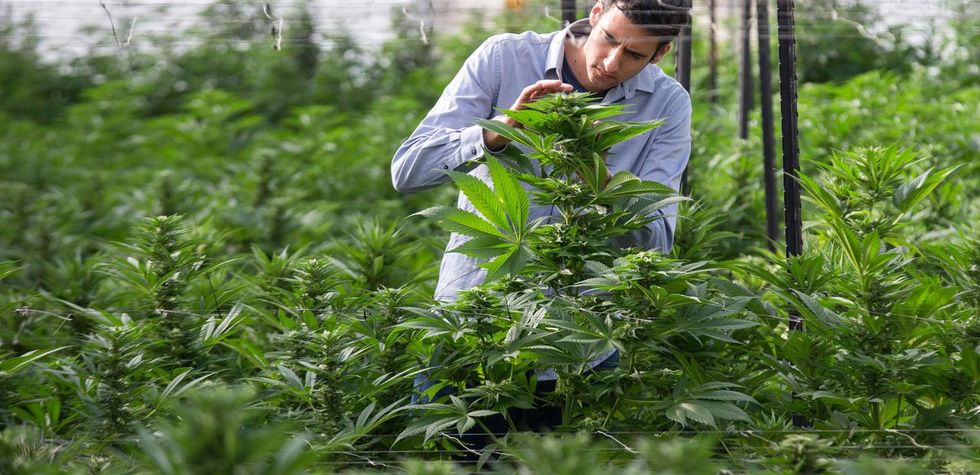 Credit: Source.
Massachusetts
Question 4, or the Regulation and Taxation of Marijuana Act, would fully legalize marijuana with regulations similar to those already imposed on the sale and consumption of alcoholic beverages. Polls show that 53 percent of likely voters support the measure, according to a recent WBZ-UMASS Amherst survey. A much smaller 40 percent oppose it, while another 7 percent are undecided. These numbers indicate a strong shift in public opinion; a poll in March found that only 41 percent of likely voters supported the measure.
Of those opposed, 36 percent of those opposed cited "harm to individuals and society" for voting "no." Nearly 25 percent claimed they found the idea of citizens growing pot in their own homes "troubling" while 41 percent said they would not approve if a pot store opened in their neighborhood. A majority--52 percent--of those against the measure also opposed the idea
of marijuana ads on television.
The data indicates that while the notion of legal pot may be theoretically palatable, when it comes to practice, many express some doubts. "Asking the simple question––do you support legalization of marijuana––leads to a majority level of support," says Tatishe Nteta, associate director of the UMass Amherst Poll. "But if you ask people to think about it, I think they still may have some reservations."
Maine
A late September poll of 505 likely voters found 53 percent support Question 1, or the Maine Marijuana Legalization Measure. The number has remained steady since the spring. The law would legalize recreational use of marijuana throughout the state and permit adults 21 and older to use and possess pot. Medical marijuana has been legal in the state since 1999.
Credit: Source.
Nevada
A poll of 500 likely voters in Nevada found 57 percent support Question 2, or the Initiative to Regulate and Tax Marijuana. An earlier Review-Journal survey of 800 likely voters conducted at the same time found the measure leading by just 1 percentage point. The law would permit adults 21 and older to possess and use up to one ounce of marijuana for recreational purposes.
Medical Marijuana
These five states are not the only ones with marijuana proposals on their ballots. Three other states––Florida, Arkansas and North Dakota––will decide whether to permit marijuana for medical purposes. Montana will decide whether to loosen restrictions on an existing medical marijuana measure.
With so many ballot measures in various states, proponents are hoping to deal a decisive blow to the criminalization of pot and, they hope, cause a change in laws and enforcement at the federal level.