CNN's Jake Tapper took President Donald Trump to task for his past anti-Semitic statements after he condemned Minnesota Democratic Congresswoman Ilhan Omar, who posted tweets over the weekend criticizing the number of political donations from the American Israel Public Affairs Committee (AIPAC).
Omar's tweets proved controversial as many felt that accusing the PAC of using money to control Washington fed into the anti-Semitic conspiracy theory that a network of Jewish people uses their money to sway world affairs in their favor.
---
Omar soon apologized, which is more than Trump has done, Tapper pointed out. He used a series of different video clips to support his statements.
.@jaketapper shows President Trump's hypocrisy over Democratic Rep. Ilhan Omar's anti-Semitic tweet with a little h… https://t.co/RXvuvrdzuC

— The Lead CNN (@The Lead CNN)1550095600.0
Tapper presented the following above chyrons that read: "Double standard? Trump's hypocrisy on anti-semitism as he calls for Rep Omar to resign":
A clip of Trump accusing a Jewish group of wanting to "control" Washington: "I'm sorry that was the wrong clip, that was then-candidate Trump in front of Republican Jewish Coalition suggesting that haggling Jews like to control their politicians with their money," Tapper said. "We wanted the clip of Congresswoman Omar. Control room, I want the Omar clip.")
A clip of a deleted retweet from the president of a Star of David next to a picture of Hillary Clinton and flanked by stacks of cash: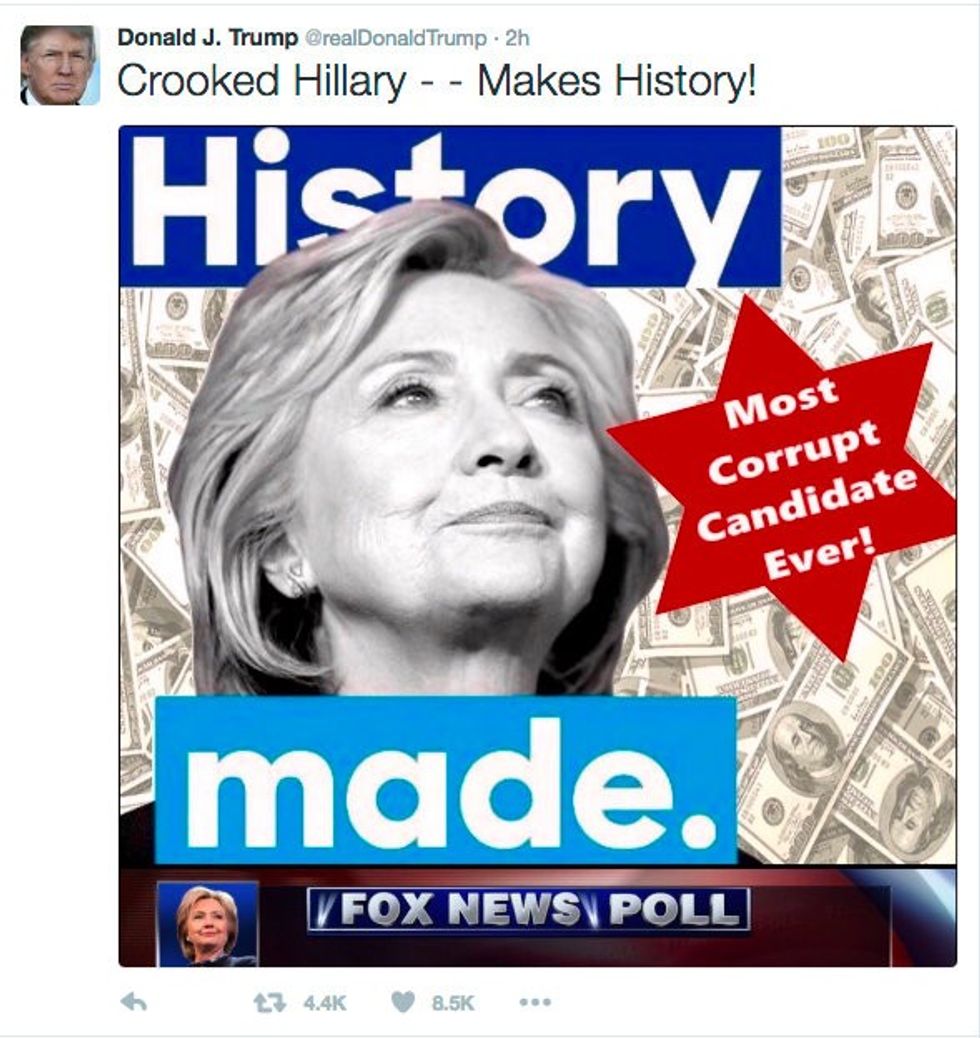 "Wait no, that's not it either," Tapper said. "Control room, I'm not looking for stuff about Trump, I'm looking for the Congresswoman Omar clip. Do you have it? Okay, I'm being told we have it. Thank you. Run it please."
The clip of Trump declaring that there were "very fine people" at the "Unite the Right" rally attended by white supremacists in Charlottesville, Virginia.
A since-deleted tweet from from House Republican Leader Kevin McCarthy accusing wealthy Jews, including George Soros, of wielding undue influence on the 2018 midterm election cycle.
Majority Leader Kevin McCarthy posted this tweet AFTER a bomb was sent to Soros' house. Up until a couple of minute… https://t.co/IMOYfsSXnD

— Judd Legum (@Judd Legum)1540407299.0
"We seem to have some issues here sorting out which anti-Semitic tropes are offensive and which are not," Tapper joked.
Many concurred with Tapper's assessment and responded well to his humor.
@TheLeadCNN @jaketapper Awesome. The 60% of Americans who don't live in Trump's altered universe see right through this hypocrisy.

— Kellye Stuart (@Kellye Stuart)1550142902.0
@TheLeadCNN @jaketapper Just when I stopped watching @CNN , @jaketapper pulls me back in. Sigh.

— Poonam Kumpatla (@Poonam Kumpatla)1550097600.0
@TheLeadCNN @jaketapper I'm starting a GoFundMe page to support the "rogue" control room.

— Eclecticity (@Eclecticity)1550096601.0
@TheLeadCNN @jaketapper THERE HE IS! There's Jake Tapper, the journalists! More of THIS and less of panelists like Rick Santorum, please. 🙏🏽

— Chet Powell (@Chet Powell)1550097251.0
The controversy surrounding Omar's comments began after she implied that money spent by the American Israel Public Affairs Committee (AIPAC), a lobbyist group, was responsible for many pro-Israel positions among politicians in Congress.
After legislators on both sides of the aisle condemned her remark, Omar issued an apology.
Listening and learning, but standing strong 💪🏽 https://t.co/7TSroSf8h1

— Ilhan Omar (@Ilhan Omar)1549914419.0
That wasn't enough for the president, who called on her to resign.
"Anti-Semitism has no place in the United States Congress. And I think she should either resign from Congress or she should certainly resign from the House Foreign Affairs Committee," Trump said.
President Trump says Rep. Omar's apology for Israel tweets was 'lame' https://t.co/Pux5QOncwm https://t.co/JNNBi5r5OX

— TIME (@TIME)1550008814.0
Omar soon fired back.
"You have trafficked in hate your whole life––against Jews, Muslims, Indigenous, immigrants, black people and more," she wrote. "I learned from people impacted by my words. When will you?"
Hi @realDonaldTrump- You have trafficked in hate your whole life—against Jews, Muslims, Indigenous, immigrants, b… https://t.co/FmaD0tcsGu

— Ilhan Omar (@Ilhan Omar)1550066222.0
When asked if Omar would be removed from Congressional committees as Republican members of Congress demanded, House Speaker Pelosi said: "No. A newcomer member of Congress has apologized for her remarks. It took them what, 13 years to notice Steve King?"
Pelosi just reiterated this now, and said: "No" when asked if Omar would be removed from committees as GOP is deman… https://t.co/0sWpPW8sPI

— Manu Raju (@Manu Raju)1550097454.0
King, a Republican from Iowa, has continued to win re-election despite a long history of sympathetic behavior toward white supremacist groups.