In a snap vote today, German lawmakers voted to legalize same-sex marriage across the nation. The historic vote came after Chancellor Angela Merkel said she would allow members of Parliament to vote on the issue as a question of "conscience," in an unexpected break from her conservative party's opposition. Merkel's center-left rivals called for a quick vote, adding it to the agenda for Parliament's last regular session before September's national election.
"If the Constitution guarantees one thing, it is that anyone in this country can live as they wish," Thomas Oppermann, the parliamentary leader of the Social Democrats, said in opening the floor debate. "If gay marriage is decided, then many will receive something, but nobody will have something taken away."
---
Lawmakers voted 393-226 to legalize "marriage for everybody," with four abstentions. Merkel ultimately voted against the measure, and the "no" votes came entirely from her conservative bloc. The measure now goes to the upper house of Parliament for formal approval––where it could face legal challenges––and then requires the signature of President Frank-Walter Steinmeier.
In a statement, Amnesty International hailed the law as a "victory for equality."
"Germany has become the 23rd country to recognize same-sex marriage and has sent a clear message to the world that gay and lesbian people should be entitled to the same rights as everyone else, and to full and equal protection of the law," said John Dalhuisen, Amnesty's Europe director.
Speaking to reporters after the vote, Merkel said she maintained her view that marriage remained a union between a man and a woman, though she added she supported the rights of gay couples to adopt.
"It was a long, intensive, and for many also an emotional discussion. That goes for me personally too. And I'm hopeful not only that there will be respect for either side's opinions, but that it will also bring about more peace and cohesion in society," she said.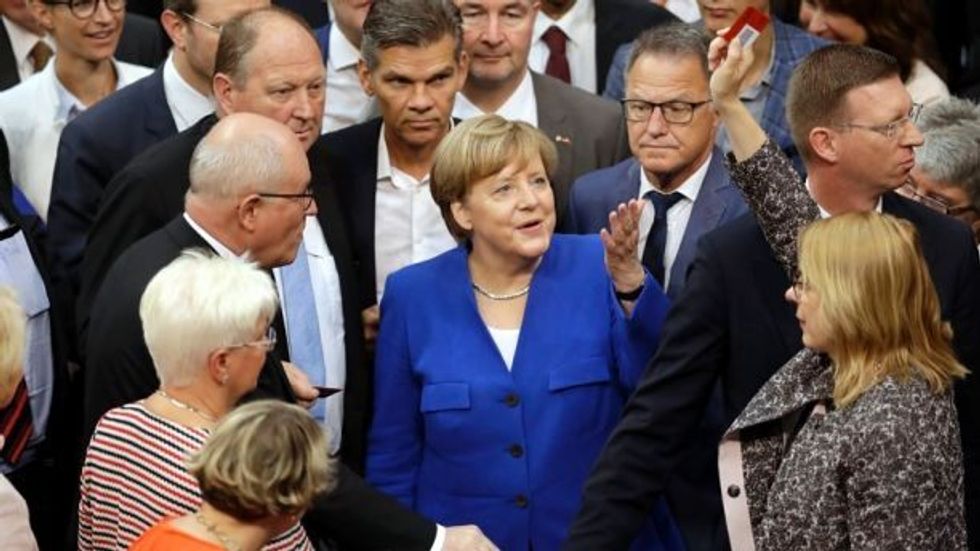 Credit: Source.
Axel Hochrein, a board member of the Lesbian and Gay Federation in Germany who attended the parliamentary debate, said he felt no bitterness toward Merkel.
This is perhaps part of her religious education," he said. "I think it is more honest of her than to say yes. In the end, she fought for a long time against it and always argued it was in her feelings, and this was a feelings decision. It's her decision."
Johannes Kahrs. a gay Social Democrat (SPD) lawmaker, was less forgiving, telling the chamber, "We deserve equality. Mrs. Merkel, I can not spare you: it was pathetic, it was embarrassing. Since 2005, you have supported discrimination against lesbians and gays. Mrs. Merkel, thanks for nothing!"
Analysts posit that by allowing a same-sex marriage vote, Merkel, ever pragmatic, removed an issue her opponents could have used against her during an election cycle. Martin Schulz, the leader of the rival Social Democrats, had planned to make a pledge to legalize same-sex marriage a cornerstone issue of the party's platform for September's elections. By this point, roughly 83 percent of Germans favor same-sex marriage and, notes NPR's Soraya Sarhaddi Nelson, "a majority even in Chancellor Merkel's CDU party are said to favor it."