Several Fox News employees are embarrassed and humiliated by their own network's lack of coverage of the Mueller investigation, according to CNN.
Last week, the news cycle was consumed by the first indictments in special counsel Robert Mueller's investigation into possible Russian collusion last year, the surrendering and arrests of former Trump campaign manager Paul Manafort and his aide Rick Gates, and the revealed plea bargain by former aide George Papadopoulos. Every major news source was talking about it, except for one.
---
Fox News, in the meantime, focused on such segments as millennials ruining Halloween, Reese's Pieces, and Google's new burger emoji. Late Show host Stephen Colbert gleefully criticized and mocked Donald Trump's favorite show, Fox & Friends, for going to great lengths to avoid the giant orange elephant in the room.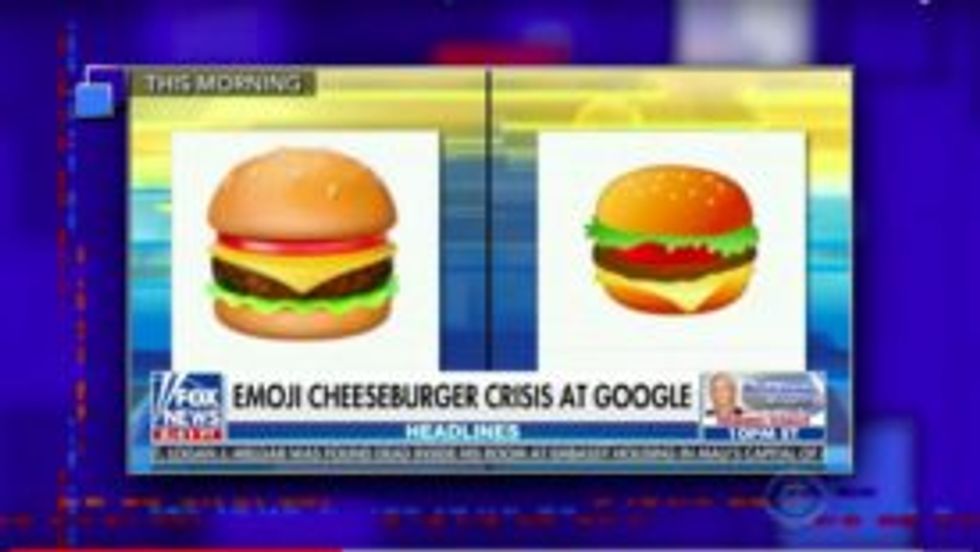 'Fox & Friends'/Youtube
"This is huge news, and all the networks scrambled to cover the latest from the Mueller investigation. Except, of course, for the president's roadside petting zoo over at Fox & Friends," said Colbert on his show's Monday evening broadcast.
Colbert added: "It seems like Fox News is going out of its way to cover anything other than the Mueller investigation."
A number of Fox employees confided to CNN their embarrassment. They asked to remain anonymous, as they would otherwise be fired for speaking publicly without authorization.
One Fox News television personality sent a text message to CNN while watching the network's coverage: "I'm watching now and screaming."
"I want to quit," added the Fox News personality.
Though Fox News, the highest rated cable network in the country, did cover and acknowledge Mueller's indictments as their top story, they then buried the story with segments on the NFL protests, North Korea, and Trump's tax reform. In addition, the network extensively questioned and ridiculed Mueller's credibility, and focused on Trump's condemnation of the indictments. Fox News personality Sean Hannity called the investigation a "witch hunt," echoing Trump's angry tweet on Sunday.
Numerous Fox employees expressed their frustration and embarrassment:
"It is another blow to journalists at Fox who come in every day wanting to cover the news in a fair and objective way," said a senior Fox News employee. "Fox feels like an extension of the Trump White House."
"This kind of coverage does the viewer a huge disservice and further divides the country," said another Fox News personality.
"That segment on Outnumbered [questioning Mueller's integrity] was absurd and deserves all the scorn it can get," said one Fox News employee, who added that is was "laughable seeing Hannity and [Laura] Ingraham," two Fox News opinion hosts who are Trump supporters, "tripping over themselves saying [Mueller's team has] found nothing thus far."
"It's an embarrassment," another Fox News employee echoed to CNN. "Frankly, there are shows on our network that are backing the President at all costs, and it's that short term strategy that undermines the good work being done by others."
CNN also reports that there were "many eye rolls" in the Fox newsroom on Monday.
A Fox News spokesperson said that their network covered the breaking news accurately and fairly across both news and opinion programming.