President Donald Trump acknowledged bipartisan concerns over Ronny Jackson, his nominee to lead the Veterans Affairs Department, amid allegations, The New York Times points out, that Jackson "oversaw a hostile work environment as the White House doctor, allowed the overprescribing of drugs and possibly drank on the job."
Calling Jackson "one of the finest people that I have met," the president indicated that Jackson might soon withdraw from consideration and blamed Democrats for what he referred to as an "ugly" confirmation process:
---
He is a high-quality person. It's totally his decision. So he'll be making a decision. I don't want to put a man through a process like this. It's too ugly and too disgusting. So, we'll see what happens. He'll make a decision.
"I don't want to put a man through a process like this," Trump added, calling the allegations about Jackson "ugly." He said: The fact is, I wouldn't do it. What does he need it for? To be abused by a number of politicians?"
This abuse, the president underscored in his remarks, is the culmination of anger from Democrats because they failed to block Mike Pompeo, the president's nominee to become the next secretary of state.
"They failed to stop him, so now they say 'who's next?'" the president told reporters. (Earlier today, the Senate committee opted to delay tomorrow's confirmation hearing for Jackson after two former White House medical staff members brought Jackson's past indiscretions to their attention.)
BREAKING: Senate committee says it has delayed Wednesday's confirmation hearing for Trump's VA nominee Ronny Jackson.

— The Associated Press (@The Associated Press) 1524578843.0
Senators Johnny Isakson of Georgia, the committee chairman, and Jon Tester of Montana, its top Democrat, released a joint statement which did not detail the allegations:
The Senate Committee on Veterans' Affairs is postponing the hearing to consider the nominee to be secretary of the U.S. Department of Veterans Affairs in light of new information presented to the committee.

We take very seriously our constitutional duty to thoroughly and carefully vet each nominee sent to the Senate for confirmation. We will continue looking into these serious allegations and have requested additional information from the White House to enable the committee to conduct a full review.
Members of the media took to social media to weigh in on the president's comments. The general consensus: That Trump had "set up a good man to fail."
Trump nominated Ronny Jackson to head the VA with no vetting, no consultation with Senators - he completely set up… https://t.co/90gpndJoOA

— Tommy Vietor (@Tommy Vietor) 1524591096.0
Trump just gave Dr. Ronny Jackson a ton of room to bow out, while putting possible nomination withdrawal on him rat… https://t.co/RHZIKBZFuw

— Jonathan Lemire (@Jonathan Lemire) 1524590926.0
Jackson, for his part, told reporters that he "can answer the [Senate commitee's] questions absolutely," even as the Senate committee acknowledged that it has not yet substantiated the claims, and that there is little supporting documentation available.
"I'm looking forward to rescheduling the hearing and answering everyone's questions," Jackson said.
In a letter to the president, Senators Isakson and Tester requested "all documentation pertaining to Rear Admiral Jackson's service in the White House Medical Unit and as Physician to the President."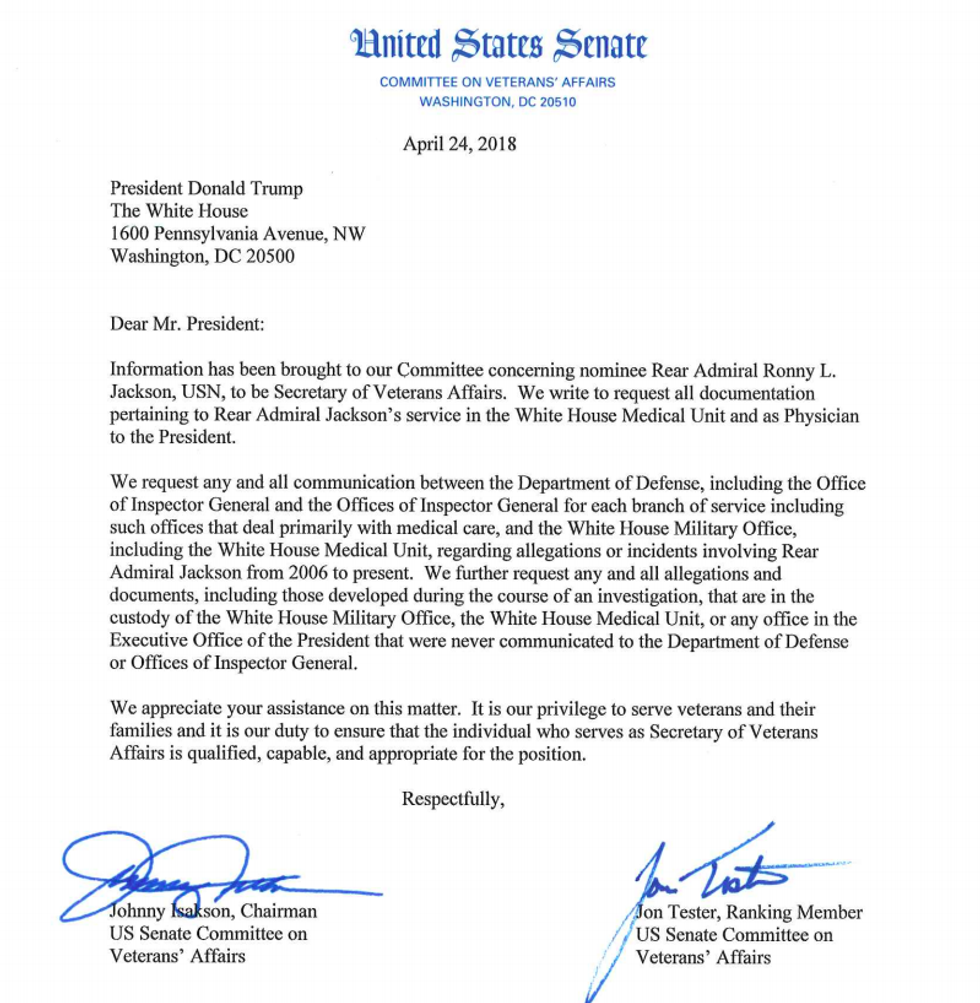 The New York Timesnotes that the White House "did little or no vetting" of Jackson's background before announcing his nomination on Twitter, and the Senate "received paperwork from the Trump administration formalizing Dr. Jackson's nomination only last week."
It has been really careless, maybe even negligent about the vetting in a number of these nominations," said Senator Richard Blumenthal (D-CT).
-
READ: The most distinctive causes of death in each state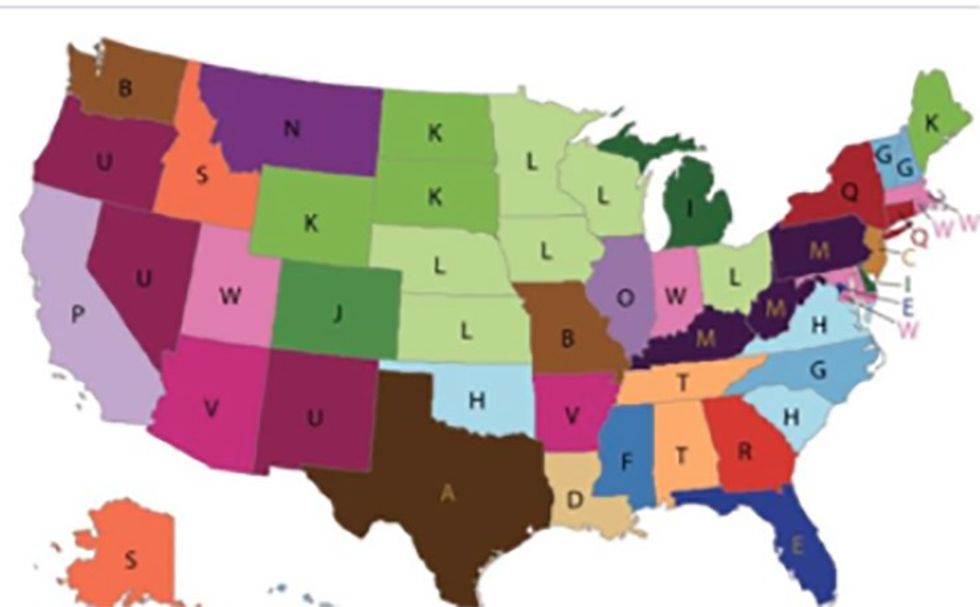 (Center for Disease Control)
IN AN EFFORT TO REMIND us of our own mortality, the Center for Disease Control has published a map of the most distinctive causes of death in every state. Seriously, they mention social media interest in their findings.
But what does "most distinctive cause of death" mean? Find out the answer and see the map:
Sponsored