[DIGEST: Politico, Bipartisan Report]
Overnight, Republican leaders cut off House Democrats' gun control sit-in. They've adjourned the House until July 5 without voting for new gun control measures. The move came 15 hours after Democrats vowed to block any legislative action until Speaker Paul Ryan promised to allow votes on several proposals, including blocking suspected terrorists on the no-fly list from purchasing guns. Democrats continued their sit-in even after the House adjourned. As of Thursday morning, the sit-in is ongoing and Democrats continue to live stream the events online, bypassing the shutoff of the chamber video cameras.
---
Minority Whip Steny Hoyer says he doesn't know how long the demonstration will go on. "I mean tomorrow, and the next day. ... You've seen folks in the [House] gallery, they're pretty fired up on this. It could go through Friday."
However, Rep. John Lewis, one of the leaders of the sit-in, hinted the sit-in was only the beginning. "This is just one bridge. We have other bridges to cross," he told reporters shortly after the House adjourned.
Rep. John Lewis. (Credit: Source.)
Nor will a few hours on the House floor appease Lewis and his supporters, a sentiment echoed in his opening remarks earlier in the day: "Sometimes you have to do something out of the ordinary, sometimes you have to make a way out of no way" he said. "There comes a time when you have to say something, when you have to make a little noise, when you have to move your feet. This is the time. Now is the time to get in the way. The time to act is now. We will be silent no more."
However, House Republicans still have the opportunity to remove the demonstrators by force if necessary. Speaker Ryan has hinted
he might do just that, as his attempts to restore order in the chamber have been unsuccessful. Ryan adamantly insisted that complying with Democrats' demands will encourage more protests and stymie whichever bills reach the House floor. Ryan dismissed the sit-in almost from the moment it began, telling reporters it was "nothing more than a publicity stunt." An interview with CNN emphasized his stance further: "We're not going to take away a citizen's constitutional rights without due process," he said.
But Democrats will not be so easily dismissed. Once Democrats seized the House Floor, they began chanting. Guests in the gallery joined in. The resounding cry, "No bill, no break," a reference to the upcoming July recess captivated the nation as lawmakers held up signs with the names of victims of gun violence. The number of victims, a tally from January 1 to Wednesday evening, is approximately 6,381. In one of the defining moments of the protest, those on the floor began to sing the civil rights hymn "We Shall Overcome," later greeting a crowd that gathered outside the House to lend their support.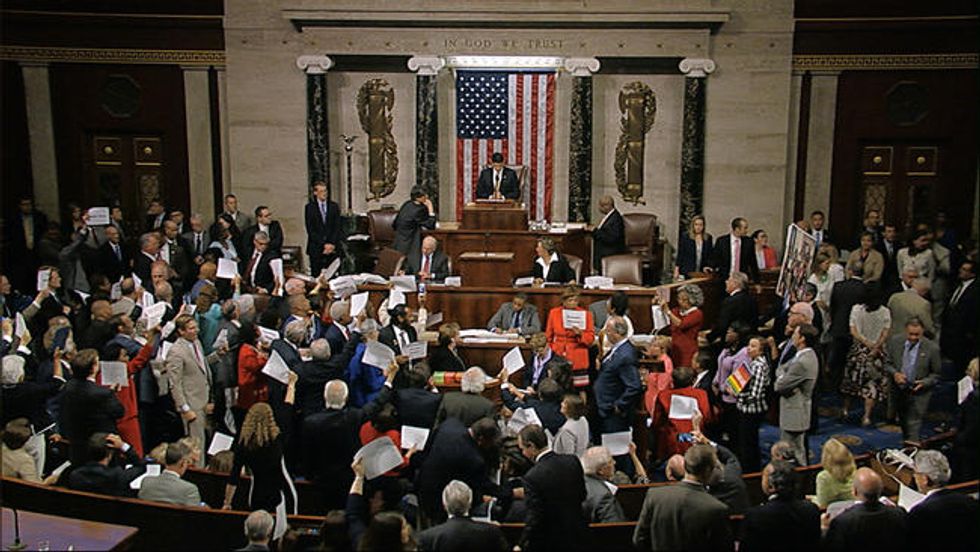 Credit: Source.
Tensions have brewed significantly in Washington since a mass shooting June 11 at Orlando's Pulse nightclub which left 49 dead and 53 injured. The attack was the deadliest mass shooting by a single gunman in American history. Ryan––and his fellow House Republicans––will face a tough and bruising battle if yesterday's events are any indication. As calls for tougher gun control legislation and increased pressure from other political leaders grows in opposition to the Senate's recent rejection of a series of gun measures, Ryan may have to double down on his support or walk back from the current laws he has committed to defend.